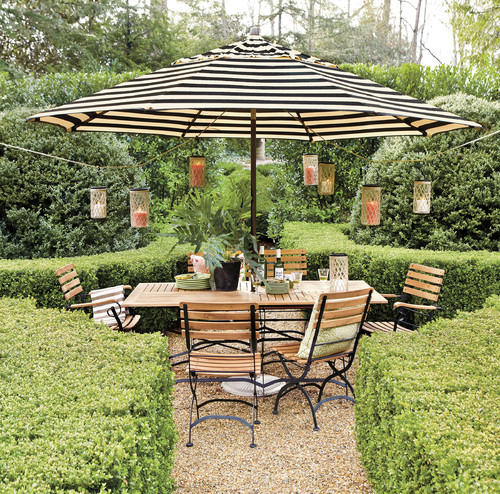 There are only a couple more months of cold, if that, and bright sunny days are on the horizon. If you've been considering sprucing up your outdoor area, now is the time to start planning! In our neck of the woods, spring weather can be unpredictable, so having a warm chimenea to sit by or a grill ready to fire up are key backyard essentials. We gathered some quick ways to add some flare and freshen up your backyard patio during springtime.
1. Spruce up your patio with bright, tropical colors in the form of pillows, cushions, and accessories. Keep prints modern (think stripes and florals) to evoke a sophisticated, yet festive feel.
2. Make an umbrella statement. An umbrella is to a patio what a rug is to a living room: a key piece that unifies the space's palette, so choose wisely. This umbrella's graphic print complements the look of the bench cushions and stands out against the wooden furnishings.
3. Let your storage multitask. Solve two outdoor problems – a lack of seating and storage – at once! You can transform wooden chests into seats with paints and custom cushions (made with waterproof foam and fabric), or buy one already assembled. We like these DIY storage boxes from Garden Grove!
4. Set up space for a garden party! Setting up a covered area with weatherproof tables, chairs, and place setting encourages you to eat outside with friends and family on the days that weather permits. In Texas, the summer can bring on brutal heat, so springtime is ideal for outdoor entertaining.
5. Sofa it up! Adding a wicker or rattan sofa with comfy cushions and pillows to your outdoor seating area will invite guests to come over and enjoy your outdoor oasis. Add a tiny side table and some hanging lanterns for an easy, less expensive way to make your backyard feel luxe.
6. Add a hammock to outdoor areas for a laid-back, bohemian vibe. Don't have sturdy trees near each other? They sell hammock stands that can stand independently – no trees required. Take it a step further by adding an umbrella or shade structure on top.
7. Add a chiminea for decoration, but also, as a way to add some warmth if an unexpectedly chilly day occurs. They can be purchased at most home and garden stores, and are much more cost effective than a fireplace.
8. Cook up an herb garden with herbs that grow in the spring! Planting herbs such as mint, parsley, rosemary, and sage just outside the back door can convert the garden into the extension of the kitchen. Use these fresh herbs in your cooking for an amazingly cozy aroma.
9. Set up a campfire for a fun-for-the-whole-family area. Edge an area (much like you would a garden) and fill it with sand to level the surface and absorb charcoal and flyaway sparks. Set up your wood on top, and voila… instant beach campfire. Set up chairs around the perimeter and cook some s'mores!
10. Set up a blanket box with outdoor-friendly blankets in case the weather gets chilly – or you want to have an impromptu picnic! Use the previously mentioned storage boxes if you like. Slightly used blankets or ones that are less expensive are best for this.