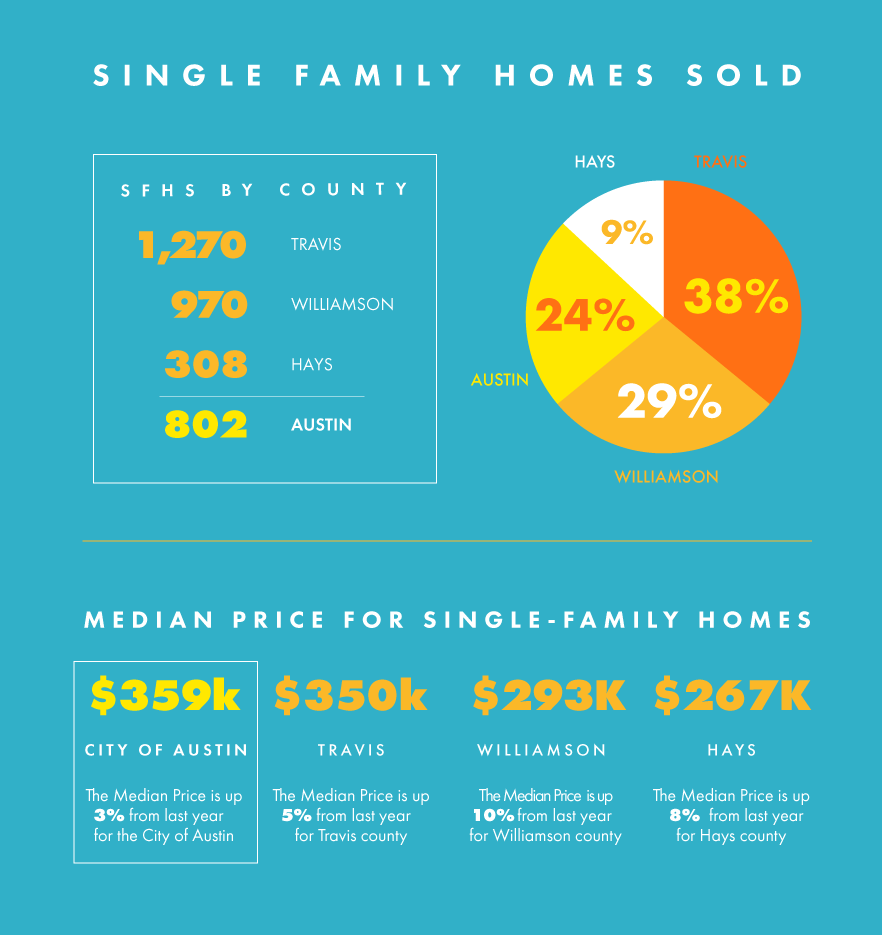 AUSTIN, TX – Central Texas had yet another record-breaking year for total homes sold, according to the December and Year-End 2017 Central Texas Housing Market Report released today by the Austin Board of REALTORS® (ABoR). State and national events such as flooding from Hurricane Harvey and the overhaul of the U.S. tax plan didn't impact the housing market locally. Even rising home prices didn't stop the market from growing in 2017.
In the Austin-Round Rock MSA, the 31st largest metropolitan area in the U.S., the price of homes increased by 5.4 percent to $299,900 in 2017. Home sales increased annually by 2.4 percent to 30,059 sales, an all-time high for the area.
"While the Austin area continues to break records, the pace at which annual home sales and prices are increasing in Central Texas is beginning to normalize, indicating a more stable market," Steve Crorey, 2018 president of Austin Board of REALTORS®, said. "Affordability in Austin and the surrounding areas remains a concern for potential buyers. It's important to address this issue in the coming years through policies and development codes that allow for more diverse housing options so that everyone can participate in home ownership."
City of Austin
In the city of Austin, the median price for single-family homes increased annually to $362,000—an all-time high—and sales increased annually by 2.5 percent to 9,278 sales. In December, sales increased by 13.4 percent to 802 sales for the month, a contrast from October and November when the city saw declining sales. Housing inventory decreased year over year from 1.6 months of inventory in 2016 to 1.5 months of inventory in 2017.
While the number of houses available in Austin declined, inventory gradually increased in the suburbs. Home sales indicate families continue to move to surrounding areas, seeking more affordable housing options.
Williamson County
By the end of 2017, Williamson County saw steady increases in single-family home sales and inventory. Leander experienced the greatest growth with a 7.4 percent increase in sales, followed by Cedar Park (4.5 percent) and Round Rock (3.7 percent). While the median home price in Williamson County increased to $275,000, it still remains significantly lower than pricing in Austin. Housing inventory in Williamson County steadily increased from 1.8 months of inventory to 2.1 months of inventory.
"As more families move outside city limits, the city of Austin will lose out on economic development opportunities," Crorey said. "Initiatives such as CodeNEXT can pave the way for smarter more sustainable growth in Austin, and in turn make housing more affordable across the region. It's imperative that we get a handle on our growth as a region through these types of initiatives."
Hays County
Annually, single-family home sales increased by 4.8 percent to 3,472 sales in Hays County. Buda contributed to this growth with a 2.9 percent increase in homes sold, while sales in Kyle declined by 3.3 percent. The median price of homes in Hays County rose to $259,000, and inventory levels grew year over year from 2.2 months of inventory in 2016 to 2.4 months of inventory in 2017.