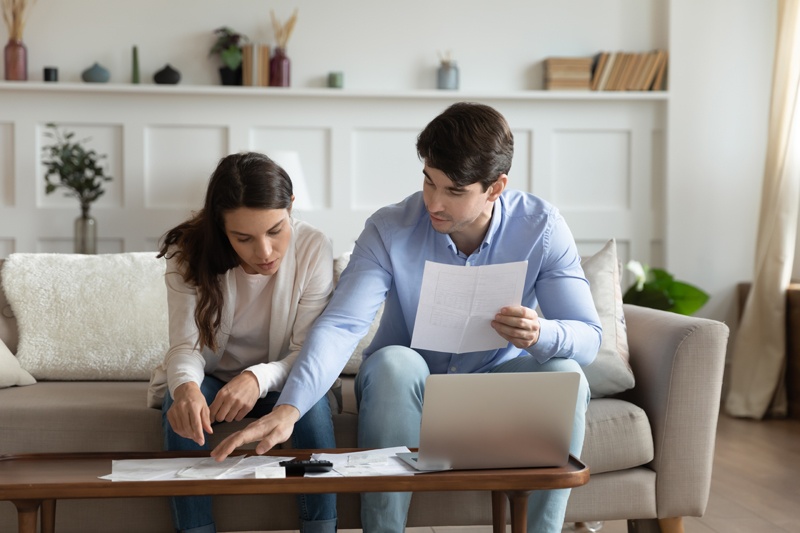 So you want to buy a house? Fantastic! Maybe you're ready to welcome a new bundle of joy into the world or start your ideal career in a new city, and you're not sure how everything will fall into place.
The truth is that the timing for buying a property can vary depending on various factors such as financing requirements, whether it's a buyer's or seller's market, the time of year, and the sort of home you're looking for. However, it takes an average of four and a half months to browse for a home, plus an additional 30-45 days to close on a home once under contract.
There are numerous processes involved in purchasing a home, and any of them can cause a delay, especially if you are unprepared. Here's a step-by-step breakdown of the home-buying process so you can stay in control.
How Fast Can You Buy a House?
Purchasing a home often takes four to five months. This includes two to three months to discover the perfect home. And another one to two months between contract and closure. However, keep in mind that this is only a rough average. Numerous factors can affect the speed with which you buy a home, depending on your circumstances and the market.
For example, if a buyer has the cash and produces evidence of finances, an all-cash offer can be accepted in as little as two weeks. When an offer is accepted, the buyer will most likely want to inspect the property within the next week. If the home inspection goes well or post-inspection negotiations are completed swiftly, attorneys can prepare the transfer documents for a rapid closing.
If, on the other hand, a buyer obtains a mortgage, the procedure from the time the offer is accepted to the time the buyer receives the keys to their new house might be substantially lengthier.
So, from offer to keys, most purchasers who take out a mortgage should plan on 50 to 60 days. Some lenders advertise that they can close loans faster—and sometimes they can. To be on the safe side, though, a buyer should not anticipate closing in less than 45 days.
Step-By-Step Home Buying Timeline
To buy a property, you'll go through several procedures with their respective timelines, some of which are quick and simple, while others are time-consuming and difficult.
Let's take a closer look at each of the steps and their average timelines:
1. Do Your Research
Time: 1 to 14 days
Dreaming about owning a home is one thing; making it a reality is another. To move beyond the dream stage, you must conduct necessary market research in your area, determine how much house you can afford, and list your must-haves.
A quick chat with individuals currently living in the area can be of great help. You may also consider checking online for information about the neighborhood and other relevant information.
2. Get Pre-Approved For A Loan
Time: 1 to 2 weeks
You must first secure financing before you can begin looking for a home. A pre-approval letter informs you of the amount of money the bank is ready to lend you; thus, obtaining one will give you an idea of how much house you can purchase.
To obtain pre-approved for a loan, you must provide the following financial documentation to your lender:
* W-2s (or tax returns if self-employed) for the previous two years
* Copies of your most recent pay stubs, including your year-to-date earnings
* Current bank account statements in your name
* Recent statements from any assets you own (401(k), IRA, and so on).
* Recent statements from any recurring debt sources (student loan, car loan)
* A means of identification
Once your lender obtains these documents, they will review your finances, including your credit score, to determine how much money they are willing to lend you. You can speed up the process by submitting your documents as soon as possible to the lender.
3. Search for a Real Estate Agent
Time: 1 to 2 days
A basic internet search could quickly locate a real estate agent in your area. However, finding an excellent one may take a little longer. Therefore, it's a good idea to use that time to interview a few agents so you can sort out the amateurs and hire only the most excellent fit for your needs.
4. Look For A House
Time: Typically, a few weeks to a few months
Once you've determined how much you can afford to spend, you'll work with your real estate agent to find your new house. Your agent will link you with properties that match your search criteria, and when you find one you like, you'll see it in person. This is when the home-buying schedule varies the most.
According to the National Association of Realtors, the average homebuyer who uses online tools searches for ten weeks and visits roughly ten homes. You should also consider your must-haves when looking for a home. Figuring out your must-haves could involve researching locations for neighborhoods, schools, community spaces, shopping centers, and commutes that fit your lifestyle.
5. Make an Offer
Time: 1 to 7 days
Make an offer when you find a home you like! But, remember that it may not be approved immediately. According to a recent poll of Zillow Premier Agents, most of the buyers' agents in the survey reported they filed an average of four offers per client — and 13% submitted six or more.
When they respond, they will either accept your offer immediately, or you will negotiate pricing and terms. Once everyone agrees, both sides will sign the contract, and the purchasing procedure will commence.
Negotiate the deal's price, conditions, and other details with your agent. A few pointers to make this process go more smoothly:
* Include your lender's pre-approval letter in your offer, and put down earnest money. (If you commit 3% to 4% of the sale price instead of the standard 1% to 3%, you may light a fire under them.)
* Respond as soon as possible if you receive a counteroffer. You don't want to allow another buyer time to make a better offer.
6. Plan And Carry Out Inspections
Time: 7 to 15 days
At this stage, the schedule for purchasing a home begins to overlap so that you may be working on multiple tasks simultaneously.
So, as soon as you're formally under contract, you should try to schedule all of the home inspections that you've chosen to undertake as soon as possible. Remember that inspectors typically take a few days to arrive at the home, so you'll want to get on the books with them as soon as possible.
The inspections themselves typically take a few hours (except for radon examinations, which can take many days), and you should receive a report shortly after they are completed.
First, you'll be given a few days to go over the report and create a list of repair requests if any work is needed. The sellers are then given a few days to react. You will then negotiate back and forth until an agreement is achieved.
7. Obtain a Home Appraisal
Time: 5 to 14 days, depending on lender feedback
The appraisal is critical when obtaining a mortgage. If the home does not appraise for the mortgage amount, you may be required to put more money down or renegotiate the deal. Therefore, you should schedule an appraisal as soon as you have a house under contract.
Unlike a home inspection, this report is sent to the lender rather than you and takes longer to complete since the appraiser must conduct more research on what properties are selling for in the area.
8. Request A Title Search
Time: 2 to 3 weeks
Before you can go to settlement, you must establish that no one else has a claim to the property and that the current seller has the right to sell it to you free and clear. A title search ensures that any concerns, such as unresolved liens or judgments against the property are remedied before you close on the home.
You won't have to worry too much about this phase as the buyer. Typically, your lender will order the title search and insurance policy on your behalf, and the fees will be rolled into your loan payments. Several jurisdictions have additional restrictions when it comes to real estate transfers and title insurance policies. Check with your lender or real estate agent to see if there is anything else you should think about.
9. Purchase Your Insurance Policies
Time: 1 to 7 days
You will be responsible for purchasing any insurance coverage required by your lender. A simple homeowners insurance policy is usually sufficient. Still, depending on where your new home is located, your lender (and state/federal law) may require additional policies that cover events that homeowners insurance policies do not, such as flood insurance, wind insurance, or earthquake insurance.
The actual procedure of ordering a policy should take no more than an hour or two once you settle down to do it. However, it is critical to take the time to shop around. You'll want to get a policy that meets your coverage requirements and your budget.
10. Wait For The Closing Process To Finish
Time: 3 to 5 days
You should expect some delay at this point in the process as your lender moves the loan into underwriting. You may need to submit more papers for your lender to clear your loan for closing, and the lender will order an appraisal to determine the home's value during this period.
Because of the various examinations and paperwork required, it may take a little longer depending on the loan you take out. On average, an FHA purchase loan (61 days to close, according to the latest Ellie Mae data) or a VA purchase loan (60 days to complete) can take a few extra days to gain final approval.
If your financial status has changed significantly after you were pre-approved, your loan may be delayed. Your lender will send you a copy of your closing disclosure at least three working days before the closing date once your mortgage has been approved. The closing disclosure lays out all of the loan terms, fees, and terms and the closing charges you'll have to pay to complete the transaction.
11. Obtain Final Mortgage Approval
Time: A few days to three weeks
Getting pre-approved for a mortgage does not guarantee that you will acquire a loan on the home you have under contract. Once the seller has accepted your home purchase offer, the lender will request an inspection and assessment. They'll also want to examine more recent versions of your financial records.
The average mortgage loan took roughly 53 days from start to finish in February 2021. Because of the additional documentation, VA and FHA loans typically take a few days longer than conventional loans.
12. Make One Last Walkthrough
Time: 1 day
The final walkthrough, which gives buyers one more chance to see a home before closing, is essential in the home-buying process. You may believe you know everything there is to know about your new home at this point, but it's crucial to double-check that everything is in the same or better shape than it was before.
If you asked for repairs as a condition of the sale, double-check that the seller accomplished them before signing the closing documents.
13. Close On the Home
Time: 1 to 2 hours
Attending the closing is the final stage in the home-buying process. You'll sign all of the final paperwork and provide any cash you'll need to finish the deal during closing.
Following closing, whoever is in charge of the cash (typically a settlement agent, escrow firm, or title business) will distribute all funds, including your mortgage, to the relevant parties, minus any fees the lender keeps to cover its loan fees and third-party expenses.
After it's all said and done, you'll be handed the keys to your new house and become a homeowner. Congrats!
14. Begin Preparing For The Relocation
Time: 1 week to 2 months
Before closing, it's helpful to call a local moving company to schedule your relocation. In addition, you should notify the post office of your change of address and research how to set up utilities in your new home. You must give your landlord notice per your lease conditions, generally at least 30 days if you're renting.
The Bottom line
Buying a property is a lengthy and complicated process, but understanding the processes will help you, as a home buyer, better grasp what to expect at each step.
Are you looking for ways to expedite the home-buying process? Being financially prepared to apply for a mortgage or buy a home with cash is some of the best ways to save time. So take some time now to learn more about the mortgage and home buying process if you're ready to buy a home.
Are you ready to buy a property in Texas? Click here to begin the search for your new house in Texas.