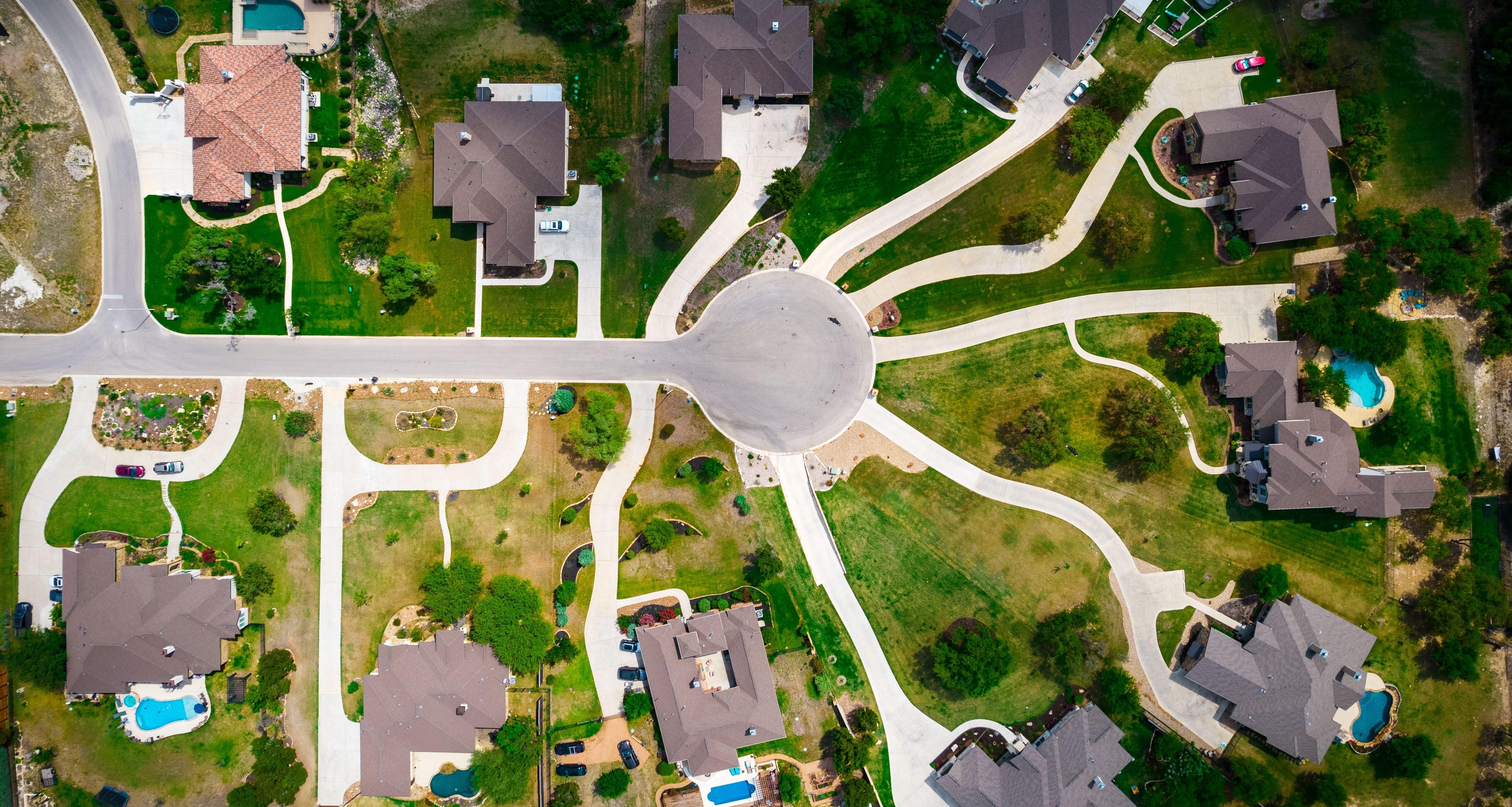 Many homeowners prefer to live in suburban neighborhoods that are out of the hustle and bustle of downtown but still close to everything they require. Master planned communities are known for having it all, including cutting-edge amenities, essential stores, businesses, employers, and top-tier schools.
Most master-planned communities in Austin for families have a variety of home styles to choose from, though the most common are single-family homes built by a few home builders with varying options and price ranges.
Austin master planned communities are known for being more affordable than their urban counterparts, providing homebuyers with more bang for their buck. If you're looking for new single-family homes in Austin, here are our picks for the master-planned communities in Austin.
1. Avery Ranch
Land Area: 1800 acre
County: Williamson County
ZIP Code: 78717
Year Built: 2001-2018
Highschool: Vista Ridge or McNeil
Median Home Price: $667,500
The Avery Ranch neighborhood is located in NW Austin and is bordered by Cedar Park and West Round Rock. Prized for its excellent location and manicured neighborhood streets and homes, this area is sought after by relocation and local buyers.
Avery Ranch is divided by Parmer Lane. Generally, homes to the north of Parmer are zoned to Round Rock ISD schools, and homes to the south of Parmer are zoned to Leander ISD schools.
There are plenty of outdoor activities to do in the area around Brushy Creek Park, Kelly Reeves Sports Complex, Brushy Creek Sports Complex, Avery Ranch Morningside Park, and more! There are two different HEB grocery stores you can go to in this neighborhood. Either by Lakeline and Hwy 183 or O'Conner Dr and FM 620. Other grocery stores nearby are H-Mart, Dana Baazar, and Target.
When buying a home in Avery Ranch the average home has two to six bedrooms and bathrooms, one to four-car garages, and 1,200 to 6,000 square feet of living space. Homebuyers can find both single-story and multi-level homes on lots that span up to one-half acre. Many Avery Ranch homes also include an open floor plan, a gourmet kitchen, and landscaped yards with scenic greenbelt views.
Standout Feature: Its recreational lake
2. Belterra
Land Area: 1600 acre
County: Hays County
ZIP Code: 78737
Year Built: 2003-Today
Highschool: Dripping Springs
Median Home Price: $695,000
Belterra is a 1,600-acre master planned community off of State Highway 290 West, about 18 miles from downtown Austin and seven miles from Dripping Springs, Texas. The community offers many amenities, close proximity to the Texas hill country and nearby state parks, rivers, and lakes, and is convenient to shopping, schools, restaurants, and entertainment.
The community's many amenities include a pond, twelve parks, 17 miles of biking and hiking trails, three pools, and a community center with a gym, event center, full kitchen and patio, basketball court, and a shaded children's playscape.
Belterra residents also have convenient access to shopping and restaurants. Fifteen minutes to the west is the town of Dripping Springs, with an H-E-B supermarket, Walgreens, and Home Depot. The town has a wide range of restaurants, from upscale dining, to casual and family establishments, to fast food. For those with kids, Belterra is part of the excellent Dripping Springs Independent School District, and residents send their children to Dripping Springs Middle and High School.
Standout Feature: Its resort-style pool
3. Barton Creek
Land Area: 3434 acre
County: Travis County
ZIP Code: 78735
Year Built: 1920s till date
Highschool: Austin High School
Median Home Price: $1,864,795
Barton Creek is a quiet, safe, upscale neighborhood in west Austin where upscale Austinites and retirees shop, dine, and enjoy nature. There are multiple dining and nightlife options along the borders of the neighborhood. The neighborhood is close to major thoroughfares and downtown Austin is a short drive away. There's not much in the way of public transportation here, so most residents drive.
Amenities here complement the upscale lifestyle. There are large, luxury homes, designed and landscaped to complement the local scenery, top-rated public and private schools, and a country club resort with several golf courses.
Residents here include young professionals, families, and retirees. The schools are among the best in the state. Housing is priced higher like in many parts of west Austin; Barton Creek is one of the most livable neighborhoods in town.
In terms of real estate, Barton Creek has a wide range of homes, many of which were built in the early 20th Century. There are more modest homes here as well as mansions. Barton Creek is one of the more affluent areas of Austin and the home prices range from $900K up to the millions. There are also a few luxury apartment complexes in the area.
Standout Feature: Their country club resort and multiple golf courses
4. Mueller
Land Area: 711 acre
County: Travis
ZIP Code: 78723
Year Built: 2007-Today
Highschool: Reagan
Median Home Price: $835,773
Mueller is located on the 711-acre site of the former Robert Mueller Municipal Airport, which was the main airport in town until it was closed in 1999. The site stood deserted for about eight years until an award-winning master plan was approved to convert the site to a commercial and residential area with modern housing and state-of-the-art retail and office facilities.
Open to new residents since 2007, the neighborhood is already home to many individuals and families. When fully built, Mueller will include over 5,700 homes with 13,000 residents, a town center with shops, including 30 percent locally-owned businesses, a major children's medical center, and medical research complex, a film studio, rental properties, and top-tier office space. It will also include over 140 acres of parks and green space and 13 miles of new hike and bike paths.
In terms of real estate, the Mueller community offers a wide selection of detached houses, townhomes, and condominiums with prices ranging from $600K to over a million dollars.
Standout Feature: Acres of recreation parks and green space
5. Circle C Ranch
Land Area: 4000 acre
County: Travis
ZIP Code: 78739 and 78749
Year Built: 1988-2021
Highschool: Bowie
Median Home Price: $707,718
Circle C Ranch is one of Austin's premier master-planned communities, as well as one of its oldest. The first homes were built in 1987 after planning began in 1983. Circle C is primarily a residential neighborhood populated by families, particularly young families with small children. There are also some retirees, empty nesters, and couples in the neighborhood.
Circle C is a family-friendly neighborhood with plenty of green space and outdoor recreation opportunities. The neighborhood's amenities include a private Olympic-size swimming pool and a kids' pool, a golf course, a tennis club, and the Veloway, a 3.1-mile bike and rollerblading track. Miles of hike and bike trails, a disc golf course, several soccer fields, a playscape, a basketball court, picnic tables, and two sand volleyball courts are all nearby at Circle C Ranch Metropolitan Park and Slaughter Creek Trail.
More shopping, dining, and entertainment venues have been added as the area's population has grown, including an Alamo Drafthouse Cinema, Whole Foods, Costco, and other popular Austin restaurants and businesses. Circle C houses were built between the 1980s and 2013. Houses range in size from 1,500 to 4,000 square feet.
Standout Feature: 3.1-mile bike and rollerblading track
6. Steiner Ranch
Land Area: 4600 acre
County: Travis
ZIP Code: 78732
High School: Vandegrift
Year Built: 1988-Today
Median Home Price: $680,248
Steiner Ranch is built on 4,600 acres in the Texas hill country. The neighborhood is bounded by Lake Austin, Lake Travis, and the Balcones Canyonland Preserve. The neighborhood was designed to complement and enhance the natural setting, leading the Austin Business Journal to name it Austin's "Best Master Planned Community" in 2004.
The neighborhood has about 20 miles of hiking and bike trails, and three community centers with Olympic, wading, and splash pools, playgrounds, tennis, and basketball courts, playing fields, a covered pavilion, and an indoor club room with a kitchen. The Lake Club on Lake Austin offers a private waterfront area for boating, fishing, and water skiing. Other public marinas are ten minutes' drive or closer.
Steiner Ranch neighborhood contains its own shopping centers and restaurants, as well as highly regarded schools, for the convenience of residents. The neighborhood is also close to major area shopping centers. Four Points Shopping Center, the Arboretum and The Domain, and the Hill Country Galleria are within 15 minutes drive. The neighborhood is very attractive to younger families with kids because of its safety, natural scenery, and amenities.
With over 3,600 homes in Steiner Ranch, there are a wide variety of styles, sizes, and price ranges. Home prices range from the low $500K range to over $3 million for a lakefront estate. The majority of houses were built in 2000 or later and have three or four bedrooms.
Standout Feature: Direct lake access
7. Highpointe
Land Area: 780 acre
County: Travis
ZIP Code: 78737
Year Built: 2010 till present
Highschool: Dripping Springs High School
Median Home Price: $805,000
Highpointe is an exclusive, gated master-planned community on the far southwestern edge of Austin. For all intents and purposes, however, the community could be considered a suburb of Austin, as it has direct access to the city and many people who work in downtown or west Austin live here. It's located at the foot of the central Texas hill country and offers relaxing views of the woods and prairies.
The community has many amenities to enhance residents' enjoyment of the outdoor landscapes including lush parks, hike and bike trails, pools, playgrounds, a children's water park, soccer and baseball fields, basketball and tennis courts, and designed open spaces.
Located 20 miles from Austin, Highpointe offers highway access to the attractions of south and southwest Austin and downtown (depending on when you travel, however, the infamous Austin traffic can be a problem). It also gives access to historic towns to the west, such as Johnson City and Fredericksburg.
Highpointe offers homes from several leading area builders, each with decades of local building experience. Homes start in the $700s and range from 2,000 to over 4,000 square feet.
Standout Feature: Their children's water park
8. Rob Roy
Land Area: 7500 acres
County: Travis
ZIP Code: 78733
Year Built: 1979
Highschool: Westlake High School
Median Home Price: $2,300,000
Rob Roy is located on a choice property on Hwy. 360 overlooking Lake Austin and the Texas hill country. A private, gated neighborhood with its own security patrol and neighborhood association, Rob Roy's 300 families enjoy custom homes with large lots (all are over one acre) and plenty of green space to go along with the outstanding views.
The neighborhood is 15 minutes drive from downtown and 20 minutes away from Lake Travis. Excellent schools and golf courses are just minutes away, and several major shopping centers are also close. Just three miles east is the upscale Village at Westlake shopping center, containing national chain stores, local shops, and restaurants.
For outdoor recreation, 227-acre Wild Basin Wilderness Park is just across the highway for hiking and biking. The neighborhood itself also has several walking trails. Rob Roy was first developed in the early 1980s and was mostly completed by the late 1990s. Houses come in many traditional and modern styles; many use local stone facades to help blend into the hill country landscape. The neighborhood is in the highly rated Eanes school district, one of the most prestigious school districts in Austin.
Standout Feature: Their exquisite golf course
9. Grandview Hills
Land Area: 6976
County: Travis
ZIP Code: 78726
Year Built: 1980s till mid-2000
Highschool: Vandegrift High
Median Home Price: $986,770
Grandview Hills is a planned community in the hill country, conveniently located near shopping, dining, and the recreation facilities of Lake Travis. The earliest section of the neighborhood began development in the 1980s and the newest section started construction in 2004. The neighborhood is near Hwy. 2222 and 620, two major thoroughfares in west Austin, providing access to the city and the western neighborhoods.
Waterton Parke has a neighborhood swimming pool. Right across Hwy. 620 is Four Points Centre, a 333-acre commercial site that includes a shopping mall, supermarket, restaurants, Target, Home Depot, a gym, medical offices, and leased office space. Lakeline Mall is 15 minutes drive away.
Along with the neighborhood amenities, Lake Travis is five minutes drive from the neighborhood, offering boating, fishing, picnicking, and camping. Aside from the new elementary school in the neighborhood, residents also have access to other schools in the highly-regarded Leander school district. There is a wide range of homes in Grandview Hills, the majority have 3,000 to 4,000 square feet. Prices start in the $460K range and go over $1 million depending on size and location.
Standout Feature: Proximity to local parks
10. Westview On Lake Austin
Land Area: Not Available
County: Travis
ZIP Code: 78746
Year Built: 1990s
Highschool: Westlake High
Median Home Price: $1,496,843
Westview On Lake Austin is a desirable neighborhood for many because of its prime location. Located in the Texas hill country near Lake Austin, the area is also close to shopping and just a few miles from downtown. The neighborhood has limited access and there are no through streets so there is relatively little traffic.
Homes here come in a range of styles including traditional, classical, Mediterranean, and contemporary. Most are on large lots of 1 1/2 to two acres. Many are on double lots because of a development during the 1990s in which some homeowners were given the opportunity to purchase the empty adjacent lot.
Lake Austin is just a short distance away, which provides residents with nice views as well as boating, swimming, and fishing. For other outdoor recreation, Mount Bonnell is close by for picnics, hiking, and taking in panoramic views of the city and the lake. Wild Basin Wilderness Preserve is also nearby for hiking and biking. The neighborhood is in the top-rated Eanes Independent School District.
Standout Feature: Proximity to Lake Austin and Mount Bonnel
11. Deerbrooke
Land Area: Nil
County: Williamson
ZIP Code: 78641
Year Built: 2000 till date
Highschool: Glenn High
Median Home Price: $553,500
Located in the serene natural landscapes of the Texas Hill Country is Deerbrooke. This master-planned community was designed to bring together the appeal of small-town living with big-city amenities.
Homes in this area have access to family-friendly amenities like a flex-use community center, an open-air pavilion, a fitness center, and a resort-style infinity pool with a splash pad. The fitness center has indoor and outdoor yoga spaces, cardio equipment, free weights, and several machines. Deerbrooke has miles of trails integrated into the master-planned neighborhood. This neighborhood is dog friendly and provides a fenced dog park for residents with furry friends.
The community is located within the highly acclaimed Leander Independent School District (LISD). Children of Deerbrooke residents attend Jim Plain Elementary, Stacy K. Danielson Middle School, and Tom Glenn High School. Home prices in Deerbrooke start from the $300's. More importantly, the neighborhood is minutes away from fine dining, local sporting events, Lakeline Mall, Shops at Leander, and downtown Leander.
Standout Feature: Hill Country views
12. Crystal Falls
Land Area: 2327 acres
County: Williamson
ZIP Code: 78641
Year Built: 1994-Today
Highschool: Leander
Median Home Price: $701,250
If you love the Texas Hill Country and have a passion for a master-planned community with stunning homes and impressive amenities, Crystal Falls in Leander, TX, is captivating. From the sprawling views and peaceful surroundings to the world-class facilities for residents, you're sure to fall in love with one of the five incredible neighborhoods within the community: Grand Mesa, The Fairways, The Highlands, The Boulders, and Cap Rock.
Home sizes range from 1,500 square feet to more than 6,000 square feet in Crystal Falls, typified by larger lots ranging in size from .25 acres to seven acres. The community consists of tract, semi-custom, and fully-custom homes, with some homes nestled on the 18-hole Crystal Falls Golf Course.
In addition to golf, Crystal Falls features two amenity centers with swimming pools, playgrounds, a disc golf course, a fishing lake, and hike/bike trails. Located moments from world-class shopping, entertainment, foodie heaven, and spectacular Lake Travis, Crystal Falls is also only 30 minutes from legendary Downtown Austin.
Standout Feature: Crystal Falls Golf Course
13. Sweetwater
Land Area: 1400 acre
County: Travis
ZIP Code:78738
Year Built: 2012-Today
Highschool: Lake Travis
Median Home Price: $724,925
Located at the foot of Texas Hill Country near the intersection of Bee Creek Road and Bee Cave Parkway off of Hwy 71, the 1,400-acre Sweetwater community is just five minutes west of RR 620 in Bee Cave and just over 20 miles west of Downtown Austin. With its prime location, the community is surrounded by vistas of canyons and rolling hills while remaining conveniently near to all of the amenities and conveniences the city has to offer.
Residents of Sweetwater enjoy access to resort-style amenities. Among these is the 10-acre residents-only Sweetwater Club complex, which features three swimming pools, splash pads, indoor space for events, an outdoor pavilion, athletic fields, yoga classes, and community events designed to please the entire family. The community is also home to plenty of open space and trails for residents to explore. In fact, miles of hike and bike trails weave through the community as they connect with the 700 acres of preserved canyons and ridges surrounding the community.
Offering immediate access to Highway 71 and located near Downtown Austin, the Sweetwater community also serves as the perfect location for enjoying all of the amenities and conveniences the city has to offer. Many outstanding retail and dining opportunities can be found just five miles from the community, while the airport is only 27 miles away.
The master-planned Sweetwater community is served by the Lake Travis Independent School District. Considered one of the best school districts in the Austin area, Lake Travis ISD boasts top-notch schools with an A+ rating. Specific schools serving the community include West Cypress Elementary School, Serene Hills Elementary School, Lake Travis Middle School, and Lake Travis High School.
Standout Feature: The Sweetwater Club Complex
14. Tessera on Lake Travis
Land Area: 875 acres
County: Travis
ZIP Code: 877
Year Built: Nil
Highschool: Lake Travis High
Median Home Price: $529,450
Situated on the shores of Lake Travis in the Lago Vista area, the 877-acre Tessera on Lake Travis is at the doorway of Texas Hill Country. Framed by Balcones Canyonlands Wildlife Refuge to the west and north and Lake Travis to the south, the master-planned community offers the best of hill country living while remaining conveniently near to city amenities and attractions.
Residents of Tessera on Lake Travis enjoy the use of a variety of resort-caliber amenities. Among these are a community infinity pool, an event pavilion, a clubhouse, and a park with a playground all situated on the shores of Lake Travis. Miles of carefully manicured greenbelt hike and bike trails also meander through the community, while the location on Lake Travis provides residents with the tranquility and recreational opportunities that can only come with waterfront living.
With its location just west of Lago Vista on the North Shore of Lake Travis, residents can also easily enjoy all of the amenities and attractions the area has to offer. Nearby attractions include the Lago Vista Golf Course and the Highland Lakes Golf Course. The Balcones Canyonlands National Wildlife Refuge is also located nearby, while Austin is just an hour away.
Residents of Tessera on Lake Travis are served by the highly-acclaimed Lago Vista Independent School District, which has a total enrollment of around 1,300 students. Schools serving the community include Lago Vista Elementary School, Lago Vista Middle School, and Lago Vista High School.
Standout Feature: Community infinity pool
15. Easton Park
Land Area: 1500 acres
County: Travis
ZIP Code: 78744
Year Built: 2015-Today
Highschool: Del Valle
Median Home Price: $576,500
Located just about 12 minutes away from Downtown Austin, Easton Park is an urban-planned community that offers a welcoming lifestyle, amenities, and gorgeous homes for the leading home building in Central Texas.
Easton Park has a size of 1,500 acres and has 350+ acres of green space for its residents. Inspired by popular parks around the world, the community's goal is to create a community that is an extension of Austin and all things that Austinites love. There are currently four neighborhoods in Easton Park; Bryant Park, Knob Hill, Union Park, and Skyline Park.
The community has a 14,000-square-foot amenity center located in Union Park. Residents in the area enjoy resort-style amenities, fitness facilities, event venues, hiking trails, and playscapes for children.
Standout Feature: A state-of-the-art community center
Each of these distinctive master-planned communities offers its residents an entertaining way of life. These communities have a lot to offer people looking to relocate to the Austin area, with gorgeous views, great amenities, and easy access to the city of Austin. Homes in these communities are available at a wide variety of price points and are designed to meet a variety of needs.
One thing these communities have in common is that they have plenty of parks and trails to enjoy the many warm months that Texas gets each year. These communities provide a beautiful and engaging place to live, with plenty to do.
Have you found a master-planned community in Austin that sparks your interest? If you need help finding the right master-planned community in Austin for your family, reach out to us at BHGRE HomeCity today to speak to a local real estate expert in Austin!