Deep in the heart of Texas, the stars at night are big and bright. Unfortunately, Texas is also the place where rent prices are big and bright. How do we know this? No, not from a country song. RENTCafé created a top of the priciest ZIP codes for renters in Texas. According to the study, renters in Austin pay the most for an apartment, followed by those in Dallas and Houston.
Here's how much rent costs in the top 10 most expensive ZIP codes in Texas: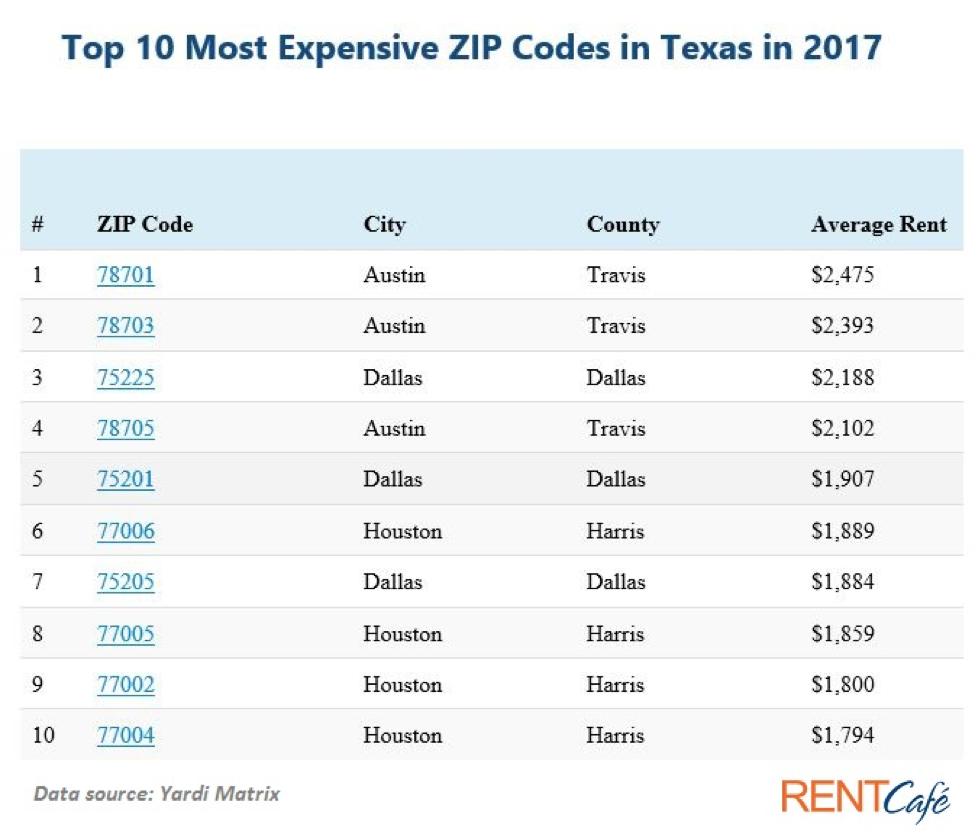 The average rent in each of the 50 priciest ZIP codes in the state is above the national average, which hovers right above $1,300/month, but rent growth is slowing down. Compared to last year, rent rose in less than half of the 50 ZIP codes that were analyzed. As a matter of fact, prices fell in 23 ZIPs with 2 of them seeing two-digit drops. In 6 ZIP codes prices remained unchanged.
Austin is the Most Expensive
The two most expensive Texas ZIP codes are in Austin. At the top of the list is 78701 (Downtown) with an average rent of $2,475, followed closely by 78703 (mostly Tarrytown and Clarksville) with a monthly rent of $2,393. While 78705 (approximately Central Austin) only took the 4th place in the RENTCafé top, with a monthly price of $2,102, these three adjoining ZIP codes make up the most coveted area of Austin.
Renting an apartment here means shelling out more than twice the state's average rent of $1,063. The two most expensive ZIP codes actually saw prices dipping by 3% and 5% year-over-year, respectively, whereas the cheaper ZIP of the three (78705) saw a 5% increase year-over-year. In total, 10 out of the 50 most expensive ZIP codes are located in Austin.
Dallas Gets the Silver
In 3rd, 5th and 7th places are apartments in Dallas, located in 75225 (roughly the University Park area), 75201 (mostly Downtown) and 75205 (Highland Park). Average prices in these ZIP codes are $2,188, $1,907, and $1,884 per month, respectively. ZIP code 75225, the priciest of the three, saw a price increase of 6% compared to last year, even though apartment inventory also rose by 6%. All in all, 10 of the top 50 spots belong to Dallas.
Houston Comes in Third
Houston is the third most expensive city in Texas with 77006 (parts of Montrose) in the 6th place commanding an average monthly rent of $1,889. The city also takes the 8th and 9th places with 77005 (parts of the West University Place), where rents average $1,859 and 77002 (Downtown area), where people pay $1,800 in monthly rent.
Now, prices may not be sky-high in Space City, but it certainly grabbed the most spots on the list, more precisely 15 from the 50 priciest Texas ZIP codes are in Houston. It also produced the two most spectacular price decreases of the 50 ZIPs. Average rent prices in 77005 dropped by 10% and in 77046 by an even higher 11%, compared to where they were last year.