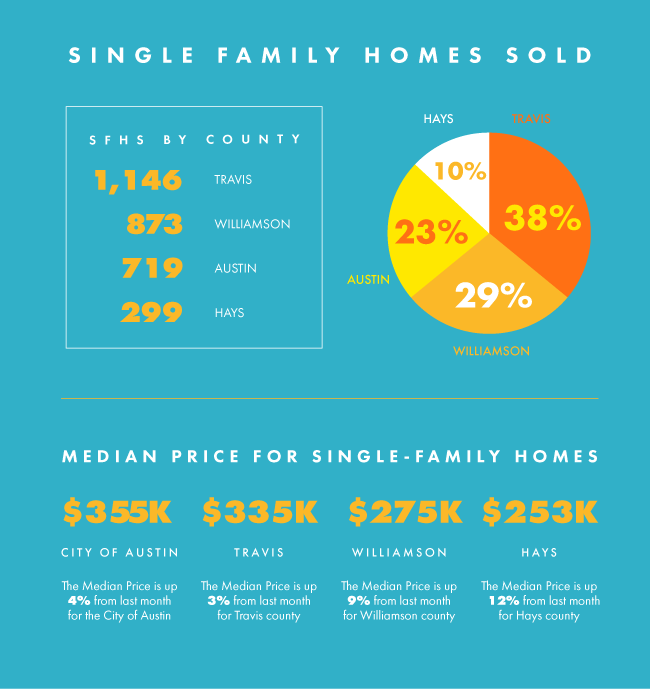 Single-family home sales declined across most of the Austin-Round Rock Metropolitan Statistical Area (MSA) in September, while inventory levels continued to increase, according to the September 2017 Central Texas Housing Market Report released by the Austin Board of REALTORS®.
>Brandy Guthrie, 2017 President of the Austin Board of REALTORS­® commented, "Despite last month's dip in home sales activity, it's important to remember that we're comparing our current figures to the record-breaking housing market activity in 2016 and it's not necessarily indicative of a downturn."
Lawrence Yun, Chief Economist and Senior Vice President of Research at the National Association of REALTORS®, agreed: "Austin has had one of the fastest job growth rates in the country over the past decade and consequently one of the strongest housing markets with rising sales. But steady depletion of housing inventory is resulting in a fast rise in home prices and affordability challenges. The construction of single-family homes as well as condominiums needs to ramp up higher in order to fully satisfy housing demand and maintain housing affordability. Otherwise, job growth could stall and bring less dynamism to the local economy."
Single-family home sales in the Austin-Round Rock MSA decreased 4.3 percent year-over-year to 2,433 home sales in September 2017. Single-family home sales also declined in most of the counties in Central Texas, with the exception of Williamson County (up 1.0 percent year-over-year to 873 home sales). Home sales declined in Travis County (down 8.6 percent year-over-year to 1,146 home sales), Hays County (down 0.3 percent year-over-year to 299 home sales) and the city of Austin (down 4.1 percent year-over-year to 719 home sales).
"For 2018, slightly higher mortgage rates will further pressure affordability and therefore attest to even greater need for new home construction to tame home price pressure," commented Yun. "Home sales, based on recent past job creation, should continue to modestly increase in 2018. But home sales in 2019 will depend critically on inventory availability."
Home prices in the five-county MSA continued to rise at a steady pace in September. During the same time frame, the monthly housing inventory for single-family homes in the Austin-Rock MSA continued to rise for the ninth consecutive month increasing 0.3 months to 3.0 months. In the city of Austin, median price increase 4.0 percent to $355,000 in September, while monthly housing inventory remained unchanged at 2.4 months of inventory. The increase in housing inventory has led to a recent spike in new and active listings.
Guthrie concluded: "The City of Austin's latest draft of our new Land Development Code, CodeNEXT, shows that there's still a long way to go to create a code that ensure all types of housing at all price points throughout our great city. True housing affordability will never be achieved until we have a land development code that allows this type of healthy, balanced and diverse housing stock. The Austin Board of REALTORS® will continue to advocate for policies which support this happening.