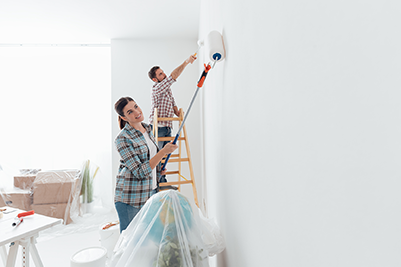 If you're sitting around at home like we are and are wondering what projects to tackle, we have a few suggestions. Now is a great time to take on that "honey do" list you've been keeping. Whether you are preparing to sell your home or just want to freshen up your living space, make these days at home count with projects that will give you a feeling of accomplishment and increase the value of your home. Here are a few ideas from our residential real estate experts to get you started.

Spring Cleaning
The time honored tradition of Spring cleaning is a great way to kick off your home improvement efforts. Take a rag to those neglected areas in your home - clean baseboards, light fixtures and switches, wash doors, and give all of your windows a good scrub. Take down and wash your window treatments and steam clean your carpets to get rid of musty smells and clean out your fireplace, if you have one.
Give the Lawn Some Love
Curb appeal is is a powerful way to draw potential buyers to a property. If a yard looks neat and inviting, it sets the right first impression that the house is also in good condition and well kept. "Just because you may be stuck at home doesn't mean you need to stay indoors. Your home includes your yard, and for many of us, something that we usually don't have time to take care of the way we want. " explained Jonathan Bane, Realtor. "Even something as simple as trimming back bushes, or spreading weed and feed on the grass can help maintain the health and look of your lawn." Once you've done the maintenance, plant flowers for a cheery splash of color and inviting atmosphere.
Pressure Wash
One of the most instantly gratifying home improvement projects is pressure washing your sidewalk and driveway. The day and night difference will undoubtedly have you itching to "power wash" everything in sight. With minimum effort, you can blast away dirt to give everything a sparkling clean finish. "Power wash is your friend," said Rhonda Riley, Realtor. "Power washing is very important in walk ways and drive ways; lots of hidden dirt there. The other places to power wash are outdoor furniture and patios and the house itself." Most big box home improvement stores have them for rental, so there is no need to purchase expensive equipment to get the job done.
Fresh Paint
A quick coat of paint can do wonders to freshen up a space. Whether you are covering up an outdated color or just repainting a high traffic area, it will be worth your effort. If you are planning on selling your house in the near future, opt for a neutral color that will appeal to a wide range of palates.
Tackle A Big Project
If you're feeling ambitious, there may be no time like the present to take on that big project that's been on your wish list for years. "Home Depot and Lowes are delivering, so there are no limits to home improvement projects." Alex Jaffe, Realtor, pointed out. "Its really just a matter of ambition." Whether you want to build a stone patio, repair a falling fence, install shelving in the garage or put in a pedestal sink, now is a great time to take it on.