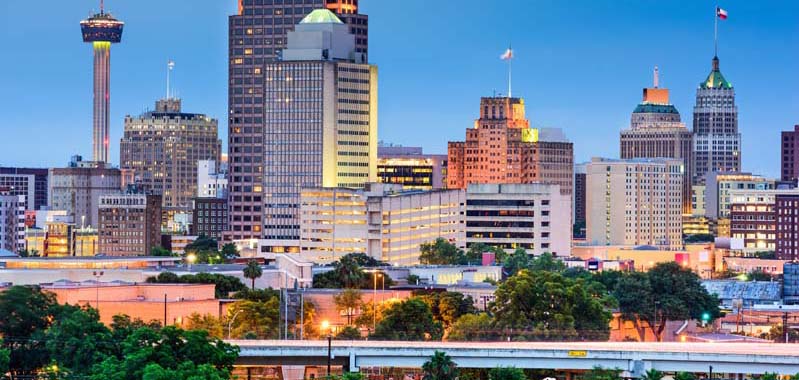 If you're looking to move or buy a home in a city with a lot of character, look no further! San Antonio will provide you with something unique. Also referred to as the "Alamo City," its vast 505-square-mile territory is home to a thriving arts scene and a wide range of culinary pleasures.
And with San Antonio welcoming around 41 million tourists each year, it has gradually cemented its place as one of the top travel destinations in the state of Texas. Keep reading to find out fifty local places to explore in San Antonio, from natural treasures to intriguing modern attractions and everything in between. Either as someone moving to San Antonio, a visitor, or a local looking to rediscover the city— you'll find a hidden gem for you.
1. San Antonio Museum of Art (SAMA)
Location: 200 W Jones Ave, San Antonio, TX 78215, United States
The San Antonio Museum of Art is an expansive universal museum where you can find works of art from across the world covering a period of thousands of years. You will not only find contemporary art here but also older works from Asia, Europe, and Latin America. It even has one of the largest collections of Latin American and ancient Egyptian, Greek and Roman works that you will find in the southern states.
Review: "Wonderful artistry of all genres. A very enjoyable place to get cool and see great art by both local and non=local artists. Staff were knowledgeable and helpful." - Tripadvisor
2. Old Time Wooden Nickel Company's Museum
Location: 345 Old Austin Rd, San Antonio, TX 78209, USA
The saying goes, "don't take any wooden nickels," but this one won't fit in your pocket no matter what. The massive coin, one of the world's largest wooden nickels, rests right outside the Old Time Wooden Nickel Company and Historical Museum in San Antonio, Texas. Inside the museum, visitors can observe original wood nickel printing machines, related artifacts and antiquities, and hundreds of wooden nickels on display.
Review: "Wooden nickels. This place is a running printing company and the museum inside is open during regular business hours throughout the week. We enjoyed a quick stop to see the vault and ended up buying a HUGE wooden nickel" - Tripadvisor
3. Lost Propaganda Posters
Location: 600 Soledad St, San Antonio, TX 78205, USA
For the World War II history buffs in the audience, one particular section of the Central Library (Downtown San Antonio) may be of unique interest. The Texana and Genealogy Department boasts a rediscovered collection of vintage World War I lithographs. Almost lost amongst various archives for over 70 years, several of these propaganda posters are available to the public on the 6th floor!
Review: "World-class. One of the best public libraries in the world. A tremendous used book store in the basement, a gorgeous palm-filled garden, and a massive Chihuly sculpture on the second floor - go look around. It's free!" - Tripadvisor
4. San Fernando Cathedral
Location: 115 Main Plaza, San Antonio, TX 78205, USA
The San Fernando Cathedral was founded in 1731 and is the oldest, continuously functioning religious community in the State of Texas. The Cathedral building has the added distinction of being the oldest standing church building in Texas, and for all of its more than 281 years, has been serving the people of the Archdiocese and San Antonio.
Review: "Serene. This is a beautiful and serene cathedral. Upon my research, it's the oldest cathedral in the State of Texas and one of the oldest active churches in America. It's free to tour and there's paid parking nearby." - Tripadvisor
5. Witte Museum
Location: 3801 Broadway, San Antonio, Texas, United States
Located next to Brackenridge Park in beautiful San Antonio, the Witte Museum is the city's world-class collection of historical artifacts, dioramas, relics, fossils, and displays of Texas heritage, natural history, and science. Gaze at a T-Rex, dig for dinosaur bones, learn to tie a lasso like a real cowboy, and more at this interactive and unforgettable place.
Review: "A+ Attraction! This museum gives you a historical overview of Texas that covers 9,000 years. The diversity of Texas is explained and you will be much better educated than when you came. We Loved It". - Tripadvisor
6. The Alamo
Location: 300 Alamo Plaza, San Antonio, TX, United States
The Alamo is San Antonio's most famous preserved Roman Catholic mission, open to the public today as a living history site and museum. The mission was originally established as Mission San Antonio de Valero in 1744 and operated for over seven decades until its conversion into a Spanish military fortress in 1793. It is best known as the location of the famed Battle of the Alamo, which led to the deaths of as many as 600 Texas revolutionaries and eventually precipitated the state's successful secession.
Review: "Educational and Historic There have been changes to the exhibits since we last visited. Always an interesting and educational place to visit when in Texas. Free admission, but you do need a ticket. There are audio tours available." - Tripadvisor
7. San Antonio Missions National Historical Park
Location: 6701 San Jose Dr, San Antonio, TX 78214, United States
San Antonio Missions National Historical Park preserves the sites of four former Spanish Catholic frontier missions constructed between the 15th and 18th centuries by Spanish colonial settlers. The park was established in 1983 and has been designated as a UNESCO World Heritage Site today.
Visitors can explore the park's Missions Concepción, Espada, San Jose, and San Juan for free daily, which are all located approximately two to three miles apart along the San Antonio River just past the city's downtown district.
Review: "Relive the early days... fantastic restoration project! Wonderful long guided tour put on by the National Park Service. Great pics of Ancient Stone Buildings and flower gardens. Very very safe area with lots of free parking. $5 Electric Rental Bikes. Free Entry." - Tripadvisor
8. La Villita Historic Village
Location: 418 Villita St, San Antonio, TX 78205, United States
La Villita is a historic art community located right off of the RiverWalk in downtown San Antonio. The La Villita area is on the National Registry of Historic Places due to its unique architecture. Here you will find historic structures ranging from adobe to Victorian.
Review: "A Gem of a Shop! What a gem along the River Walk! Such a cute store, with great gifts for children and adults." - Tripadvisor
9. Brackenridge Park
Location: 531 Brackenridge Way, San Antonio, TX 78212
Located just below the headwaters of the San Antonio River, not far from downtown, Brackenridge Park has been a gathering spot for native Americans since prehistoric times (dating back 11,000 years) and has since evolved into one of the most popular family hang-outs in San Antonio.
This beautiful park is covered with Live Oak trees and offers visitors dozens of privately situated picnic tables and barbeque pits to choose from. Brackenridge offers three pavilions (available for events), a playscape for children, a softball field, a walking path around the pond, where you'll find all sorts of ducks and other wildlife, and best of all, a charming mini-train that runs right through the park.
Review: "Family friendly - and inviting. What a great way to spend the day in the shaded areas in the park. There are so many things to do for the family including walking the paths throughout the park. The park is soooo close to the zoo." - Tripadvisor
10. San Pedro Creek Culture Park
Location: 715 Camaron St, San Antonio, TX 78204, USA
Located on the western edge of downtown, near the Alamo, San Pedro Creek Culture Park is a merging and celebration of this city's nature, art, and culture. The first section opened in May of 2018 and showcases the Plaza de Fundacion and its stunning "Rain from the Heavens" public art installation of custom tile work that adorns a dozen generational benches.
Review: "Recharge. Peaceful and calming stroll through the city. Tranquil environment to stop, breathe, and recharge your soul." - Tripadvisor
11. Phil Hardberger Park
Location: 13203 Blanco Rd, 78216, San Antonio, United States
Phil Hardberger Park is a 311-acre urban park and living history center in San Antonio that is located on farm property formerly belonging to Max and Minnie Voelcker. Since 2010, the park has been operated by the City of San Antonio, preserving former farm structures alongside outdoor recreational amenities such as basketball courts, children's playgrounds, and picnic facilities. Over four miles of walking and cycling trails are offered throughout the park, including the Geology Trail and the Savanna Loop Trail.
Review: "Great Park System. Hardberger is a great little hike & bike park in an extensive trail system within San Antonio. It is hard to believe you are in the middle of a city in what feels like a wilderness area with deer and other wildlife." - Tripadvisor
12. Yanaguana Garden at Hemisfair
Location: 434 S Alamo St, San Antonio, TX 78205, USA
With multiple unique art installations, playgrounds, a splash pad, and over 500 events per year, Yanaguana Garden presents a perfect spot to let loose with your family. Guests can take advantage of free access to games such as chess, checkers, cornhole, and ping pong tables or simply relax on one of the tiled benches. Afterward, indulge in one of the many restaurants nearby.
Review: "Great Kids' Park. This is honestly a great place for kids. I came here with 4 adults and 7 kids- ages ranging from 1 to 10. They all had a great time." - Tripadvisor
13. Slab Cinema Outdoor Movies
Location: 127 Devine St, San Antonio, TX
Slab Cinema started in 2004 and has been a favorite family activity ever since. From The Little Mermaid to War Games and even a Coen Brothers triple feature which includes Raising Arizona, Big Lebowski, and Fargo, Slab Cinema pops up at the coolest, most iconic venues, ranging from the San Antonio Museum of Art (at Confluence Park) to Hemisfair Park and even the Alamo.
Review: "Unique experience. I have followed this group since films were shown on the cement slab. Check the website and try to attend every film as they are always fun and free too." - Yelp
14. Six Flags Fiesta Texas
Location: 17000 W I-10, San Antonio, TX 78257, USA
This fantastic theme park, built on a rock quarry and developed as a major entertainment module, is 200 acres of pure enjoyment. You will be spoilt for choice deciding what and where to head first; from pulse-quickening roller coasters like the 105 ft high Goliath to gentler rides for toddlers, and from cooling off at White Water Bay, to having fun on one of the many family rides like The Buckaroos. There really is a great attraction for everyone and also a great choice of restaurants serving scrummy food!
Review: "Get to Fiesta Texas NOW!! Great theme park. We drove four hours to get there. Fifth visit this year. When we leave we can't wait to come back. Clean and friendly. Great shows. Great mix of coasters and rides. Great value." - Tripadvisor
15. McAllister Park
Location: 13102 Jones Maltsberger Rd, San Antonio, TX 78247, USA
Located right in the center of town, McAllister Park is a great way to escape into nature. The free park boasts gorgeous vistas, beautiful vegetation, and many walking and biking trails. McAllister Park is also home to several sporting fields including baseball, soccer, and rugby.
Review: "Nice park. Nice trails throughout the park. The signage isn't great, so I would advise looking up the park map beforehand. We saw a lot of deer." - Tripadvisor
16. Cibolo Center for Conservation
Location: 140 City Park Rd, Boerne, TX 78006, USA
Located a short drive outside of San Antonio, TX toward the city of Boerne, The Cibolo Nature Center has 3 miles of walking trails for visitors to enjoy. Millions of years ago, the Cibolo Nature Center was home to dinosaurs that roamed this area. Evidence of that can still be found in the tracks that are located inside the public park.
Review: "Lovely hiking with our dog. The woodland and creek trails were beautiful and the creek was covered with a blanket of cypress fronds. Plenty of shade and a delightful picnic area." - Tripadvisor
17. Travis Park
Location: 301 E Travis St, San Antonio, TX 78205, USA
Travis Park is an outdoor park that sits on land formerly belonging to San Antonio's famous Alamo Spanish mission. Since 1870, it has been operated as a public park facility overseen by the City of San Antonio, located adjacent to the beautifully restored Saint Anthony Hotel.
Today, the quaint park offers landscaped grounds, public benches, seating areas, and food truck pop-ups on weekdays between 11:00 am and 2:00 pm, highlighting some of the city's most unique and delicious food vendors.
Review: "Nice park to relax. We came here to start a scooter tour. I'm glad we got to experience the area. Very enjoyable little peaceful area." - Tripadvisor
18. Kiddie Park
Location: 3903 N St Mary's St, San Antonio, TX 78212, USA
Kiddie Park was created in 1925 and renovated in 2009, making it the oldest children's amusement park in the United States. This old-style, traditional park has so much to offer your little ones, from the park's traditional Ferris wheel to the wonderful hand-carved Herschell Spillman carousel together with many other classic children's rides like the Helicopter and Flying Saucers (which parents are able to ride, too). There is also face painting, donkey rides, and lots more.
Review: "Hidden Gem. Cute little place... great fun just outside the zoo. This is a great place to spend some time and tire out the kids. I suggest riding the train." - Tripadvisor
19. Eisenhower Park
Location: 19399 NW Military Hwy, San Antonio, TX 78257, USA
Eisenhower Park offers a variety of natural sites for guests who are looking to take their dogs for a walk. The site also features an incline for hikers and walkers seeking to boost their workout regimen.
Review: "Nice trails. Nice park, There are several trails. I like the natural trails. You can take your dog to this park. It's very quiet and peaceful once you go out to some of the longer trails." - Tripadvisor


20. Roadmap Brewing Co.
Location: 723 N Alamo St, San Antonio, TX 78215, USA
The tasting room at Roadmap is one of the best spots in town—oh, and the beer is delicious, too. IPA fans especially will love the selection here; the Mama Dukes IPA is Roadmap's take on the classic West Coast style, and the Minivan Dad Double IPA is packed full of Simcoe and Mosaic hops, giving it a tantalizing citrus aroma.
If you want something lighter (and weirder), sample the truly unique Boom Gose the Dynamite, a salted wheat beer with the perfect balance of salt and sour.
Review: "Great time. This place is pretty close to the Riverwalk. Great beer with many choices and a friendly environment. Highly recommend it." - Tripadvisor
21. Southerleigh Fine Food And Brewery
Location: 136 E Grayson St Suite 120, San Antonio, TX 78215, United States
If you know anything about San Antonio (or beer, for that matter), you've probably heard the name Southerleigh. Foodies and beer aficionados alike won't want to miss this one which has a menu developed by the acclaimed Chef Jeff Balfour.
The microbrewery and Texan eatery is housed in the historic Pearl District, boasting an absolutely stunning dining room complete with dark wood floors, leather chairs, high ceilings, and a view of the brewing tanks at work on the upstairs balcony.
Review: "Friend in town so we made a reservation. Overall this place is cool. Food was good. It is expensive. They take reservations thank goodness. Chicken is yummy. Go try it." - Tripadvisor
22. Dos Sirenos Brewing
Location: 231 E Cevallos St, San Antonio, TX 78204, USA
Dos Sirenos Brewing offers up over 10 beers and is a great spot to bring the dog and hang out on the outdoor patio. Owners Mike and Kari Sireno transformed an abandoned space in the artsy Lone Star District with some art of their own: a large outdoor mural of two mermen drinking beer — a play on their last name — and a large indoor mural of a merman with a trident under the sea. There's plenty of seating inside and an outdoor beer garden large enough to host Oktoberfest.
Review: "LOVED THIS PLACE!! My husband and I stopped here on a beer tour by Craft Cruiser. What a gem! The owner and his wife were so sweet! The beers were fantastic and the food was wonderful. The pricing was a great deal!" - Tripadvisor
23. Longtab Brewing Company
Location: 4700 Timco W Suite 105, San Antonio, TX 78238, USA
The menu at Longtab Brewing Company is ever-changing, but past favorites have included Belgian onion soup as well as the seasonal Irish lamb and lentil stew. Add a sandwich to your soup thanks to staples like the grilled Cubano with braised pork shoulder and the three-cheese sandwich (made with gruyére, sharp cheddar, and Swiss cheeses).
Review: "Perfect brewery! It was an amazing experience! Perfect atmosphere and perfect food! Small menu but done beautifully! The beer was so yummy and I love supporting a veteran-owned business!" - Tripadvisor
24. Boudro's on the Riverwalk
Location: The Riverwalk Level, 421 E Commerce St, San Antonio, TX 78205, USA
Step into Boudro's, a Texas bistro, and experience why it has been one of the most treasured and popular attractions on the San Antonio River Walk since 1986. Settle into a table along the riverwalk's bank and bask in our warm and welcoming hospitality as you enjoy a prickly pear margarita and then delight in the tableside guacamole presentation that's a San Antonio treasure.
Order a bottle of wine from our extensive cellar that's specifically chosen to pair with the big and bold flavors of executive chef Danny Ibarra, who marries the traditions and history of South Texas with the finesse of the world's finest restaurants.
Review: "A nice surprise in the heart of Riverwalk. Great spot right on the Riverwalk. Walked in without reservations, got a good table, food was great and the service was excellent. Recommended for an impromptu stopover for sure." - Tripadvisor
25. Mi Tierra Cafe Panaderia
Location: 218 Produce Row, San Antonio, TX 78207, USA
Located in San Antonio's Historic Market Square and open 24 hours, Mi Tierra Cafe and Bakery can satisfy your Tex-Mex cravings any time of day. Enjoy handmade tamales, rolled enchiladas, or a sizzling pan of fajitas in a perpetually festive atmosphere filled with twinkle lights, pinatas, and mariachi music. Or browse the long glass case filled to the brim with delicious sweets.
Review: "The best pan ever. We wish we bought more conchas. There was a line outside the cafe that moved fast and it was worth it! The food was fresh and we wished we brought more home." - Tripadvisor
26. Botika Pearl
Location: 303 Pearl Pkwy #111, San Antonio, TX 78215, USA
Another Pearl District San Antonio restaurant go-to, this fusion restaurant melds Peruvian recipes with Asian flavors. Chef Geronimo Lopez of Caracas, Venezuela dazzles at this historic Pearl Brewery outpost that features both "Chifa" (Chinese-Peruvian) and "Nikkei" (Japanese-Peruvian) cuisine, prepared in a charcoal oven.
Review: "A good choice. The food and the service are good. An interesting mix of different cuisines. A little expensive, but you are essentially paying for the prime location at the Pearl." - Tripadvisor
27. Carnitas Lonja
Location: 1107 Roosevelt Ave STE B, San Antonio, TX 78210, USA
Nestled just south of downtown, this family-owned hidden gem attracts devotees from around town with its traditional Michoacán carnitas. The food: Carnitas by the pound or half-pound, quesadillas, and an extensive seafood menu featuring ceviche, oysters, and fish tacos lead the charge.
Review: "Excellent food and customer service. These are real Carnitas. Everything is homemade and daily. Awesome customer service as well. Will definitely recommend it and come back!" - Tripadvisor
28. The Esquire Tavern
Location: 155 E Commerce St, San Antonio, TX 78205, USA
The Esquire Tavern is the oldest San Antonio bar on the Riverwalk. It is famous for having the longest wooden bar top in Texas featuring 100 feet of elbow-rubbed, beer-soaked old wood. The Esquire Tavern is a real, old-world bar, cool and dark, with lovely old wood paneling, a favorite watering hole for downtown patrons looking for cold beer, hot food, and interesting conversation.
Review: "Great Atmosphere. We loved coming to the Esquire Tavern. The place just has good vibes, and they were playing a lot of fun old school music like Boston and ELO when we went." - Tripadvisor
29. Cowboys Dancehall
Location: 3030 NE Interstate 410 Loop, San Antonio, TX 78218, USA
This happening night spot in San Antonio plays live country music and features an indoor rodeo arena, a mechanical bull, and also offers dance lessons. The DJ plays melodious country western tunes while a huge dance floor will allure you to join other couples on the floor.
When there is an in-house band, you are sure to have a blast irrespective of your age, being single or married, or having come here with a group of friends.
Review: "Killer place. Best dance floor I've ever been on, the bar area is huge, and the house band is fantastic. Didn't get to see the whole venue as it was closed off that night. No food to speak of and nothing close to either, so eat before you go there." - Tripadvisor
30. Howl at the Moon San Antonio
Location: 111 W. Crockett Street St. #201, San Antonio, TX 78205, USA
With two dueling piano players, a raucous atmosphere, and audience participation near 100%, Howl at the Moon is a great place to let loose. Musicians keep things boisterous with witty banter, good-natured ribbing, and familiar tunes that all seem to be crowd favorites. Get your courage up with tube or jello shots or an old-fashioned mixed bucket of beers.
Review: "Party driven! Downtown's premier party scene. Situated at the very heart of San Antonio's Riverwalk. Howl at the moon features unique high-energy entertainment that will get you right into the middle of the party!" - Tripadvisor
31. Sternewirth
Location: 136 E Grayson St, San Antonio, TX 78215, USA
If you want to show a newcomer one of the most talked-about locations in town, make sure their visit includes a stop at the Hotel Emma's signature bar.
Hardwood floors and upholstered sofas contrast with the concrete walls and industrial light fixtures that belie the building's past life as part of the Pearl Brewery; take a stroll around the hotel either before or after your visit for an even better look at the impressive renovation. Craft beers and carefully selected wines are on offer, of course, but make sure to order a Three Emmas cocktail.
Review: "Incredible. One of the most incredible-looking bars you'll ever experience. Inside of the old pearl brewery, they made this place one of a kind. Delicious drinks and Pearl beer of course." - Tripadvisor
32. The Bang Bang Bar
Location: 119 El Mio Dr, San Antonio, TX 78216, USA
Welcoming, unpretentious neighborhood spot A self-described "vinyl-spinning, cocktail-slinging, vintage dive bar heaven," Bang Bang brings just enough of an edge to feel fun without feeling like you're walking too much on the wild side.
It's the sort of place where the walls are painted black, your bloody mary comes garnished with an entire turkey leg, and the house special shot comes with Pop Rocks. Grab your drink and play a few rounds of skee ball in the game room, or settle into one of the antique armchairs and catch an "I Love Lucy" rerun on the vintage TV set.
Review: "Never disappointed! Great place to chill and relax during the week, Friday & Saturday can get crowded and pretty loud, but again NEVER DISAPPOINTED! The pizza is delicious, so I ordered it extra crispy. Drinks are AMAZINGLY DELICIOUS!" - Yelp
33. Sparky's Pub
Location: 1416 N Main Ave, San Antonio, TX 78212, USA
Off Main Street is Sparky's, a welcoming and friendly pub that'll make any visitor feel right at home. This spot is away from the traditional tourist route, so a visit here will give travelers a more local San Antonio feel. It's also one of San Antonio's new nightlife hotspots in the LGBTQ community, and every night brings new excitement.
Review: "Nice and clean. A great little bar and grill, gets very busy at weekends and late evening, good food and service in a quiet area not too far from downtown and in the gay area." - Tripadvisor
34. Burleson Yard Beer Garden
Location: 430 Austin St, San Antonio, TX 78215, USA
Located on the east side of downtown, Burleson Yard Beer Garden is simply one of the most enjoyable venues in all of downtown San Antonio. Although they have an indoor bar, this is the preeminent place to go when you just want to kick back outside with your friends and a few brews. Bring your dog, kids, parents, or co-workers— the vibe is always super chill.
Review: "Decent hangout spot. Pretty solid beer garden. They had food available for purchase and a decent beer selection. There was inside seating and there was also a sizable outdoor area with plenty of tables and chairs." - Tripadvisor
35. Morgan's Wonderland
Location: 5223 David Edwards Dr, San Antonio, TX 78233, USA
Morgan's Wonderland, the world's first ultra-accessible family fun park, encompasses 25 acres of rides, attractions, and activities for everyone, and all are welcome!
This is where the common element of play creates an atmosphere of inclusion for those with and without disabilities, encouraging everyone to understand one another better. The overwhelming success of Morgan's Wonderland led to the creation of Morgan's Inspiration Island, the world's first ultra-accessible splash park.
Review: "Beautiful carousel. We enjoyed riding the vibrantly painted horses on the carousel. Highly recommend a trip for kids and adults of all ages!" - Tripadvisor
36. SEA LIFE San Antonio
Location: 849 E Commerce St Suite 600, San Antonio, TX 78205, USA
If your little ones love aquatic critters and a visit to SeaWorld only sparked their passion and curiosity, then a trip to the beloved San Antonio Aquarium is a great idea. Your kids will get the opportunity to interact with marine life of all types in a variety of informative ways, such as feedings, keeper talks, and dynamic exhibits. It's the perfect opportunity to teach them about conservation, too!
Review: "Great place for exploring marine life. Great place to see if you like sea life and aquariums, nice place to get out of the heat, relax, learn and explore. Highly recommend" - Tripadvisor
37. LEGOLAND Discovery Center San Antonio
Location: 849 E Commerce St Suite 910, San Antonio, TX 78205, USA
Take a break from your adventures down the Riverwalk and discover a whole world of LEGO magic hidden inside the LEGOLAND Discovery Center. Take an exciting LEGO-themed elevator ride to the Discovery Center, then walk into a replica of San Antonio built from thousands of LEGO bricks. Every few minutes, the whole room goes dark, and the exhibits light up to reveal a view of the miniature Riverwalk, the Alamo, and various city landmarks at night.
Review: "Excellent!! Friendly staff, lots of entertainment for such a small space, and food quality was good. The 4D movie is a must." - Tripadvisor
38. Splashtown San Antonio
Location: 3600 North Interstate Highway 35, San Antonio, TX 78219, USA
Major cities and downtown water parks may not seem to go hand in hand, but in San Antonio, you can travel less than five minutes from where the Spurs play to a water park with 50+ rides. Like at many other attractions, we recommend a weekday visit if it fits in with your plans. Weekends can be crowded, which often leads to the bathroom facilities becoming questionable.
Review: "Inexpensive Fun. We were first-time visitors to the San Antonio area and decided to cool off at Splashtown. The park was older but clean and we liked that it was smaller since we have five kids to supervise." - Tripadvisor
39. Urban Air Trampoline and Adventure Park
Location: 11791 Bandera Road Suite A. San Antonio, Texas 78250
If you're looking for the best year-round indoor amusements in Helotes, Leon Valley, Grey Forest, and Northwest San Antonio areas, Urban Air Adventure Park is the perfect place!
With new adventures behind every corner, we are the ultimate indoor playground for your entire family. Take your kids' birthday party to the next level or spend a day of fun with the family and you'll see why we're more than just a trampoline park.
Review: "Sunday Funday. Nice and clean place. Friendly workers. They have chairs in the kid's area and also they have a room for adults with massage chairs and a tv. You can do birthday parties and they sell pizza, drinks, ice cream, and more." - Tripadvisor
40. Government Canyon State Natural Area
Location: 12861 Galm Rd, San Antonio, TX 78254, USA
With over 40 miles of scenic trails that crisscross over rugged canyonlands and gently rolling grasslands, Government Canyon State Natural Area provides a peaceful respite from the chaos of the city.
If you're up for a long hike, do the Far Reaches Trail and Twin Oaks Loops—this 9.5-mile trail showcases many of the features that make this natural area so special, including diverse flora and fauna (watch out for roadrunner, fox, wild hog, and bobcat), deep canyons, creeks, and ridges offering lovely views.
Review: "First time and surprisingly nice visit. We had a nice 5-mile hike to dinosaur treks in rock. Some spots are very rocky— very well marked. Gate volunteer was fabulous with info. We will be back!" - Tripadvisor
41. Headwaters Sanctuary Trails
Location: 4503 Broadway Street San Antonio, TX,78209
Headwaters Sanctuary Trails consists of one main loop trail with moderate traffic located close to San Antonio Texas. Passing through the trail promises a chance to see unique wildlife inhabitants while on a nature trip with friends, walking alone for some space, hiking with the family, or bird watching with your loved ones. Their walking trails are purposely made with connecting points to nearby parks and nature-inspired areas.
Review: "I loved being out in nature. The trails between The Blue Hole, Grotto, and the Headwaters Sanctuary were all well maintained. Most of the trails were wide enough for two people to walk side by side. It's a picturesque location." - Yelp
42. Oakwell Trailhead Park
Location: 150 Ira Lee Rd, San Antonio, TX 78218, USA
Oakwell TrailHead Park appeals to hikers of all skill levels with its moderately trafficked trail loop featuring a river. A hiker's path is well decorated with bursting wildlife and oak trees providing the needed shade. It is a fairly easy trail that can be explored at any time with its zero elevation change.
Review: "A Different Experience! The trail is scary and cool. I love the vegetation, huge oaks, and wildlife." - Yelp
43. McAllister Park Trailhead
Location: San Antonio, TX 78247, USA
McAllister Park Trailhead provides not only a medium for nature exploration but also presents a space where an individual can reflect and relax their stresses from the fast-paced city life. Its loop trail stretches all the way to 6.7 miles of heavily packed hiking area situated close to the San Antonio area. While on the hike, one can have a chance to see native flowers and wild grasses paving the way.
Review: "I love this park. It's huge. You can seriously get lost here, driving around and walking. There are quite a few trails and more than one playground. A dog park, soccer field, and basketball court. Great for bike riding and Pokémon hunting." - Yelp
44. North Star Mall
Location: 7400 San Pedro Ave, San Antonio, TX 78216, USA
If you're looking for an escape from the Texas heat, head indoors to the North Star Mall near the San Antonio airport. Upon arrival, you'll be greeted by a larger-than-life cowboy boot sculpture at the mall's entrance, welcoming you to an air-conditioned shopping oasis, where you'll encounter all the latest stores, including H&M, Apple, and Steve Madden.
Review: "As Malls Go, This One is Fine and Modern. Covered parking is easy and plentiful. It is a long mall and has many stores, food, and general merchandise. It is air-conditioned and spacious, but many of the shops are dedicated to tourism" - Tripadvisor
45. Shops at Rivercenter
Location: 849 E Commerce St, San Antonio, TX 78205, USA
Between two of the most famous attractions of San Antonio, which are the Alamo and the famous River Walk, you will find the Rivercenter mall. This charmingly designed and centrally located indoor mall in the heart of San Antonio has more than 100 shops, including all the familiar fashion shops such as Macy's, H&M, Victoria's Secret, and American Eagle, but also interesting places for the youth, such as the Disney Stores and Legoland Discovery Center.
There is even an IMAX theater, where you can watch the latest movies in pretty much the highest quality available.
Review: "Enjoyed! I really enjoyed my visit here. You really need to find parking somewhere though. So be prepared to spend a pretty little dime on your visit." - Yelp
46. Historic Market Square
Location: 514 W Commerce St, San Antonio, TX 78207, USA
This vibrant, three-block outdoor plaza in downtown San Antonio, Market Square is billed as one of the "largest Mexican markets outside of Mexico." Shoppers can peruse over 100 locally-owned stores and stalls in festive indoor malls filled with authentic Talavera pottery and specialty clothing.
If you get hungry, there's plenty of local Mexican food to keep you satiated during your shopping extravaganza. On that note, be sure to stop by Mi Tierra—this Mexican café and bakery is a San Antonio institution.
Review: "Like Old Mexico. Indoor and outdoor markets have a feeling of old Mexico. Friendly people, great prices, and restaurants. Beautiful Talavera pottery." - Tripadvisor
47. Alamo Quarry Market
Location: 255 E Basse Rd, San Antonio, TX 78209, USA
Minutes away from San Antonio Airport is the Alamo Quarry Market. This premier lifestyle center is a great place for casual dining and strolling through trendy stores like GAP, Bath & Body Works, Sephora, and more. After a few hours of retail therapy, catch a movie at the Quarry's Regal 16-Plex Cinemas, or tap out with a treatment at The Woodhouse Day Spa.
Review: "First Time Visiting. This is a really nice area! Plenty of stores for shopping and food! I would say go early before it gets crowded, but it's much to do and see!" - Tripadvisor
48. Ten Thousand Villages
Location: 302 Pearl Pkwy #114, San Antonio, TX 78215, USA
It's always a joy to shop at the Historic Pearl, as it's full of wonderful and eclectic upscale shops filled with unexpected treasures! The majority of the shops at Ten Thousand Villages sell truly unique and beautiful fair-trade crafts and housewares from around the world. From amethyst earrings made in Peru to a Phoenician blue decanter made in the West Bank or a salt crystal glow lamp from Pakistan, they have a little something special for everyone.
Review: "Exciting experience. This is such a fun store with welcoming and super helpful and enthusiastic staff. The merchandise is great, you can find unique gifts here that are handmade from around the world." - Yelp
49. Ingram Park Mall
Location: 6301 Northwest Loop 410, San Antonio, TX 78238, USA
Another top shopping destination in San Antonio is the Ingram Park Mall conveniently located at the intersection of Interstate 410 and Ingram Road. This super-regional shopping center opened its doors in 1979 and has ever since attracted many shopaholics.
Spend a pleasant family outing by shopping at Ingram Park Mall, where you'll find a mix of retail shops which consist of H&M, American Eagle Outfitters, Victoria's Secret, James Avery Craftsman, and the Disney Store.
Review: "Great mall. They definitely worked and improved the place the last time I was there. It looks better and is cleaner. Long lines but I can handle waiting (unlike other people)" - Yelp
50. Rolling Oaks Mall
Location: 6909 N Loop 1604 E, San Antonio, TX 78247, USA
Located on the northeast side of San Antonio, this mall provides a variety of shopping options. Shoppers enjoy over 100 specialty shops, including Aeropostale, Agaci, American Eagle Outfitters, Bath and Body Works, GameStop, Inflatable Wonderland, Journey's, PacSun, Perfumania, Wet Seal, and many others. You will find traditional department stores like Dillards and Macy's as well as a tattoo salon.
Review: "Sleepy Hallow mall. Very quiet mall. Doesn't seem busy. Many go here for exercise... walking around the mall. Many great stores, and food courts." - Tripadvisor
If you're considering a move here or just moved to San Antonio, the above are some of the unique attractions in San Antonio that you can visit with your family or a group of friends. Other activities in this city include taking a boat trip, trying out wonderful cuisines and tacos, wandering around ghost tours, bar-hopping along the San Antonio River, touring the city's oldest museums, and enjoying a picnic at the San Antonio Botanical Gardens.
In terms of entertainment and adventure, the city will never fail you. And the best time to explore these lovely attractions in the city of San Antonio is from November to April when the weather is lovely and peaceful. Thinking of buying a house in San Antonio, think of BHGRE HomeCity for all your San Antonio home-buying needs.