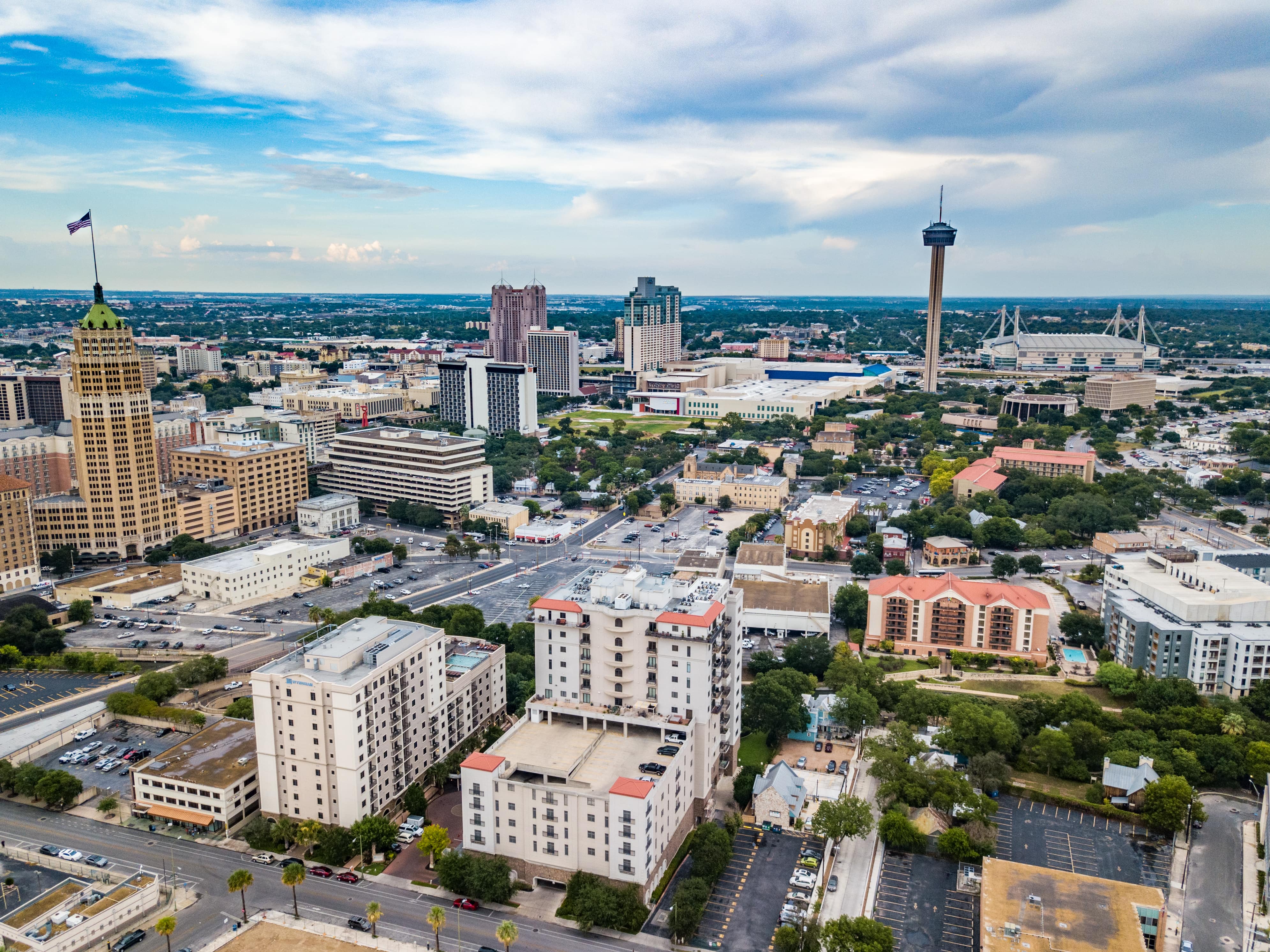 San Antonio is every American's dream. Cheap real estate, low taxes, small-town feel, big-city amenities, a major sports team, mild winters, and a booming economy.
The Alamo City is Texas' best-kept secret, and San Antonians want to keep it that way for a reason. If you've always wanted to live in a city like the one I just described, here are a few things you need to know about San Antonio before you move here.
1. Be Prepared to Channel Your Inner Batman
Living in San Antonio also means you are a hop, skip, and a jump away from two of the best bat spotting areas in Texas. In fact, Bracken Cave Preserve, located right next to Natural Bridge Caverns about 30 miles from downtown San Antonio, is home to the largest known bat colony in the world of approximately 15 million Mexican free-tailed bats!
If you're not up for the trek but still wish to see these fascinating nocturnal creatures, there is also an urban colony of approximately 50,000 Mexican free-tailed bats in the center of San Antonio underneath the Camden Street bridge.
(Fun fact: Texas is the battiest state in the entire country. 32 of the 47 species of bats found in the United States call the Lone Star State home. Summer is the best time to catch a glimpse of these bats emerging from their roosting area to hunt because Mexican free-tailed bats migrate to Mexico for the winter.)
2. This City Loves Our Military
Lovingly referred to as 'Military City USA', San Antonio has no shortage of military installations and employees. The largest military base in the area Joint Base San Antonio consists of Randolph Brooks Air Force Base, Fort Sam Houston, and Lackland Air Force Base.
San Antonio is home to 300,000 active military personnel and also hosts the US Defense Department's only Level 1 Trauma Center. With 15 VA hospitals within 50 miles of San Antonio, there is no better city in the country for veterans to relocate to.
3. Nothing Tops Drinking Margaritas on the Riverwalk
The River Walk is the epitome of San Antonio history and culture. Centered in the heart of the city, it borders the San Antonio River as it snakes through downtown.
This urban waterway is the city's most popular tourist attraction and the setting for many of the city's most important cultural celebrations such as the Texas Cavelier's River Parade which takes place during Fiesta. Whether you prefer exploring the area by barge or on foot, there are endless cuisine and shopping options to choose from.
4. The City Has Presidential Pedigree
Teddy Roosevelt and the Rough Riders called San Antonio home for a time. During the Spanish-American War, Teddy Roosevelt and his regiment of Rough Riders trained on the banks of the San Antonio River while on their way to Cuba. They occupied what was then called Camp Riverside, whose location is now commemorated as Roosevelt Park here in San Antonio.
In addition, they used the Menger Hotel's patio as their recruiting post in San Antonio, and the hotel still survives to this date!
5. Be Sure to Remember the Alamo
This historic site stands today as a symbol of the spirit of Texas. The defenders of the Alamo knew they faced certain death at the hands of Santa Anna's army, yet they fought till their final breath to defend the ideals and integrity of the great State of Texas.
The silhouette of the Alamo is a common symbol found all across the city, ingrained in the collective character of the residents of San Antonio. This monument to bravery and sacrifice represents the resilient spirit of the city of San Antonio in a way that no other city in the world can relate to.
6. San Antonio Is UNESCO Verified
UNESCO San Antonio Missions National Historical Park – was home to four 18th-Century Spanish Colonial missions: Mission Concepción, San José, San Juan, and Espada. San Antonio Missions National Historical Park is a National Historical Park and part of a UNESCO World Heritage Site preserving four of the five Spanish frontier missions in San Antonio, Texas, USA.
The missions provide San Antonians the privilege of encountering physical manifestations of South Texas history and culture, allowing individuals the opportunity to expand their knowledge of the past while contemplating how that past influences South Texas culture here in the present.
7. You Can Find Your Zen
The Japanese Tea Garden–listed in the U.S. National Register of Historic Places, this modern botanical sanctuary was once an abandoned limestone quarry. Located at the Northwest edge of Breckenridge Park near the San Antonio Zoo, this historic garden is home to a koi pond, a traditional Japanese pagoda, and a network of bridges and walkways. It's a perfect place to contemplate deeply while surrounded by pleasant scenery near the heart of the city.

8. High School Football Is Big
High school football in Texas is a BIG deal. Entire families attend games to watch their sons fight for glory and recognition from college recruiters, and they even tailgate!
San Antonio high school football teams such as Alamo Heights HS, Lee HS, New Braunfels HS, Jefferson HS, Judson HS, Steele HS, Churchill HS, Reagan HS, Johnson HS, and Clark HS are constantly in the conversation for state and regional championships, so a good game is always around the corner.
9. Breakfast Is a Little Different
Breakfast tacos are a quintessential staple of any San Antonian's diet. Whether it be bean & cheese, bacon & egg, potato & egg, or chorizo & egg, every San Antonio resident loves their breakfast tacos.
If you're looking for the best breakfast tacos in the city, we recommend you start with The Original Donut Shop, Chapala Taco House, Thousand Oaks Cafe II, or Las Palapas to get your fix.
10. You Can Watch How the Real Cowboys Do It
San Antonio Stock Show and Rodeo (Feb. 6-23, 2020) is a powerful display of Texan ranching tradition and has something for everyone in the family. With over 2 million visitors each year, it is one of the most well-attended events in San Antonio.
It boasts a stellar history of excellence as a 14x PRCA Large Indoor Rodeo of the Year winner, and there is a carnival for the kids within the outdoor fairgrounds with a plethora of options for live music, drinks, and food for the adults. Past musical performers have included Brad Paisley, Willie Nelson, Pitbull, and J Balvin among others.
11. Nothing Beats South Texas BBQ
Nobody does Hill Country BBQ quite like San Antonio. This city is known for its 16-hour smoked brisket and its unbeatable German-influenced sausage links. If you're looking for the best bar-b-que in Texas, we recommend you start by checking out these San Antonio staples: B&D Ice House, Two Bros BBQ Market, Barbecue Station, and 2M Smokehouse.
12. Tubing Is More Than Just a Hobby
On a hot summer's day, "Float the Lupe" is a common catchphrase to hear in San Antonio. Locals can either bring their own tube or rent one from many of the entry-point locations along the Guadalupe River.
San Antonio residents enjoy a short 30-mile drive northwest of the city to reach New Braunfels and the entry points for the river. From there, one can spend the entire day with a group of friends, a cooler full of beverages from home, and the beautiful natural scenery along the banks of the river.
13. You'll Find Tons of Amusement for the Whole Family
For high-flying thrill-seekers and land lovers alike, Six Flags Fiesta Texas is guaranteed fun for all those who visit. This amusement park is home to the world's tallest vertical loop which can be found on its SUPERMAN: Krypton Coaster attraction as well as the world's first 4D free-fly coaster in the form of BATMAN™: The Ride.
For those who prefer less of a high-flying thrill, there are 50+ attractions ranging from a relaxing water lagoon in the shape of Texas to classic bumper cars so that there is an experience for anyone in the family to enjoy.
14. Prepare to Upgrade Your Auto Situation
In Texas, with so much land to cover, personal vehicles are nearly a necessity, and San Antonio is no exception. Unlike the more densely populated areas like New York and LA, you'll be left high and dry without a vehicle.
Don't fret if you need to buy one, with all the savings you receive from lower taxes and lower housing prices, you'll have more than enough saved up to dish out on a sweet new ride.
15. This City Loves Their Wildlife
With over a million visitors per year, this spectacular 56-acre zoo is located in the serene Brackenridge Park. The San Antonio Zoo boasts 750+ species and 3,500+ animals among its diverse array of exhibits.
Its newest addition, Africa Live!, is home to an underwater viewing area for hippos and Nile crocodiles. For bird lovers, this zoo is home to the second-largest aviary in the world.
This bustling zoo allows visitors to gaze in awe at the majesty of the animal kingdom from the safety of viewing platforms while granting visitors countless opportunities to engage with the exhibits and educate themselves on the conservation efforts of the zoo.
16. You Can Swap Out Your Bolo Tie for a Black Tie
The Tobin Center for Performing Arts is the go-to venue for San Antonians to catch a theatrical performance or an opera here in the Alamo City. The Tobin Center features a state-of-the-art, multi-purpose 1,746 seat (2,039 seats with flat-floor configuration) performance hall, so space isn't an issue! While San Antonians may not always like to dress up, this is where we go on the rare occasions that we do.
17. It's a Doorway to Other Worlds
The Witte Museum sits neatly on Broadway and Hildebrand, with the San Antonio River flowing smoothly along its western edge. Newly renovated and expanded, this house of wonders contains a wide array of exhibits that find the right balance between fun and educational.
Our favorite exhibits here find a way to engage visitors in a way that excites them about the subjects on display. H-E-B Body Adventure educates children about fitness and health in a dynamic and interactive environment which makes learning about the body fun.
The Naylor Family Dinosaur Gallery allows visitors to walk around the skeletons of dinosaurs that lived here in Texas more than 110 million years ago such as the mighty Tyrannosaurus Rex while granting children the opportunity to excavate bones like paleontologists in the Dinosaur Lab.
18. College Football Rivalries Run Strong
Longhorn and Aggie football are the two main events in town during college football season. Not only are both the University of Texas and Texas A&M's football stadiums within a day's drive of San Antonio, but the city is also home to both university's satellite campuses: The University of Texas-San Antonio and Texas A&M San Antonio. Be careful who you discuss college football with because there is always a chance you may be fraternizing with the enemy.
19. Basketball Is King
Relocating to San Antonio means moving to one of the country's most passionate professional basketball cities. San Antonio Spurs basketball is no joke. On any given regular-season game day from October to April, the AT&T Center and downtown San Antonio are covered with fans decked out in Spurs jerseys of future hall-of-famers and champions of the recent past such as Time Duncan, Manu Ginobili, and Tony Parker.
The entire town celebrates. From pre-game house parties to fans honking their car horns to celebrate regular-season victories, this city lives and breathes San Antonio Spurs basketball, the organization that five-time world champion head coach Gregg Popovich and General Manager R.C. Buford have built over the past two decades.
20. Lake Fun Is Available Each Weekend
Going outdoors and enjoying some time on the water is a time-honored Texas tradition, and there are no better places to go visit in Texas than Canyon Lake and Medina Lake.

Canyon Lake is approximately 43 miles northeast of San Antonio, and Medina Lake resides approximately 40 miles northwest of San Antonio. Their close proximity to the city makes it convenient and easy for San Antonio residents to escape the summer heat and density of the city to these pristine water holes on the weekend. Lakes allow Texans to enjoy swimming, boating, tubing, waterskiing, wakeboarding, sun-bathing, or simple walks in nature.
21. You Can Eat Dinner in the Sky
The Tower of the Americas is San Antonio's most recognizable skyline feature. This 750-foot tower is topped with a revolving restaurant called the Chart House, a 4-D theater ride, and an observation deck. Take a panoramic photo of San Antonio while you sit down to dinner with the best view in the city.
22. You Can Check Out The Pearl of the City
This booming cultural and shopping mecca is located near the heart of San Antonio. Within the 19th century structures of this former brewery, which operated for over a century from 1883-2001, San Antonio's future blends seamlessly with its past.
LEED-certified architecture mixes with the industrial framework of the former brewery. With open and dog-friendly green spaces, a plethora of top-notch culinary options, and a wide range of high-end retail options, The Pearl is a smartly designed epicenter of urban growth that still manages to pay tribute to the cultural history of the city.
Pearl residents enjoy the music and culture provided by places such as Jazz, TX which is located in the cellar of The Bottling Department. Every weekend, rain or shine, the Pearl Brewery hosts a Farmer's Market where local vendors can come and sell some of the best regional produce in all of Southern Texas.
23. You Can Witness Teams Fighting for Glory
Alamodome Stadium is a 64,000 seat indoor domed multi-purpose stadium. The Alamodome hosts the annual college football Alamo Bowl with timeless matchups such as the 2006 matchup between the UT Longhorns and the Iowa State Hawkeyes or the 2007 matchup between the Texas A&M Aggies and Penn State.
In 2005, the Alamodome briefly hosted the New Orleans Saints for three of their home games in the wake of Hurricane Katrina. The Alamodome has also hosted the NCAA Men's Basketball Final Four Championship in 1998, 2004, 2008, and 2018. The NCAA Final Four will be returning to San Antonio in 2025.
24. You've Gotta Love Warm Weather
Summers in Texas are HOT, like 100+ degrees hot. The average summer highs are in the scorching 86°F (30°C) to 98°F (36.7°C) zone, while the average low temperatures are between a balmy 67°F (19.4°C) to 76°F (24.4°C). Summer is hot and humid in eastern Texas, while western Texas is hotter and drier than the east.
So be sure the A/C in your car and home are working properly, and remember to never leave a pet or child inside an unattended vehicle.
25. It's The Best of Both Worlds
San Antonio is the perfect balance of urban and rural life. Due to the wide availability of cheap land, San Antonio's urban center has had the privilege to expand outwards rather than upwards.
As more and more issues continue to arise from America's hyperdense cities such as New York and San Francisco, Texas urban cities have largely avoided these issues due to our unique growth patterns and our genuine connection/symbiosis with the land and our surrounding rural areas. San Antonio's dispersed growth gives it a small-town feel with big-city amenities + economy.
26. You Get New Neighbors Every Year
San Antonio is growing at a higher rate than Dallas, Houston, El Paso, and Corpus Christi. This means that every year, new faces join one of the most diverse populations in the country.
With a 9-Year population growth of 16.7%, San Antonio's economy is constantly growing alongside its population. High growth is good for driving higher property values, higher median income, and greater development projects in the future.
27. Business is Booming
San Antonio's economy employs around 717,000 people and this number is growing at about 1.42% annually.
The largest industries in the market are health care and social assistance, retail, accommodation and food services. The highest wages are realized by those who work in the oil and gas industry and in utilities.
28. Stay On Alert for Pesky Bloodsuckers
If you are moving during the spring or summer, be sure to pack mosquito repellent. These pesky critters are everywhere during the warm seasons, and won't hesitate to swarm you if you forget to prepare for them.
There are more than 80 different types of mosquitoes in Texas, and many of them are quite large. Everything really is bigger in Texas, including the mosquitoes!
29. Prepare to Save
The Texas Constitution forbids personal income taxes. Texas' tax situation makes it an attractive location to those who live in heavily taxed states such as New York and California.
There is no corporate tax as well which makes Texas a business-friendly environment for all entrepreneurs, large or small.
30. Smiles Are Everywhere
In San Antonio, a smile is about as commonplace as the sun shining. The city has its own unique brand of Southern charm, and it's weird if you don't hear a resident say "please" and "thank you". Strangers smile and actually acknowledge others in public. And yes, some residents really do bring pies and treats over to greet new neighbors. Once you try a fresh homemade pecan pie, you'll never want to live in another city again.
31. Fiesta Is San Antonio
This annual San Antonio festival encapsulates the core of the city's spirit. While some of the main events such as the Battle of Flowers Parade, A Night in Old San Antonio, Texas Cavaliers River Parade, and Fiesta de los Reyes at Market Square all occur in central-downtown San Antonio, there are over 100 events annually that occur across the entire city and surrounding areas during the two weeks of Fiesta.
This celebration of San Antonio's rich culture and history is a must-see annual spectacle full of local music, extravagant parades, and an endless array of events. With over three million people taking part in the festivities each year, this spectacular annual celebration of culture and tradition connects the entire city.
32. ACL Who?
Mala Luna (late October 26th and 27th) is an annual music festival in San Antonio is the city's answer to Austin's well-known Austin City Limits festival. Spanning two days in late October, this massive musical experience welcomes hundreds of festival goers each year to the Nelson W. Wolff Stadium, home to the San Antonio Flying Chanclas baseball team.
Artists from past star-studded lineups included Cardi B, Tyler the Creator, 2 Chainz, Lil Pump, Dillion Francis, Young Thug, and Smokepurpp among others. Whether you attend for the music, the social scene, the refreshments, or for the perfect Instagram photo, Mala Luna is the festival for you.
33. You Can Visit the Deutschland
New Braunfels is a beautiful city in the Texas Hill Country. This summer oasis lies Northwest of San Antonio and is famous around the state for its Germanic roots dating back to the 1800s.
New Braunfels' Germanic heritage manifests itself in the local cuisine, its renowned dance/live music venue, Gruene Hall, and in the city's most popular annual event, Wurstfest.
Wurstfest is one of the biggest festivals in the world dedicated to celebrating the German festival, Oktoberfest, with beer, good food, and vibrant German music, and it draws in crowd sizes of more than 100,000 over its ten-day span.
34. You Can Channel Your Inner Warhol
With rotating galleries, San Antonio Museum of Art is positioned on the northern section of the San Antonio Riverwalk and contains over 30,000 objects which embody over 5,000 years of history and culture.
Visitors can experience traveling across continents and through history without ever leaving the diverse array of galleries that this historic San Antonio museum has to offer. From the pottery of the Greeks to the stone carvings of the Egyptians to 19th-century American oil paintings, this museum is home to one of the most diverse and globally encompassing art collections in all of Texas.
We also recommend:
35. You Will Live Like Royalty
In San Antonio, land and square footage is cheaper, so you'll need to buy some new furniture to fill your substantially larger new house. With an average listing price per square foot that is $5 lower than the state average, there is no better big city in Texas to save your hard-earned income.
Maximum Square-Footage for your Dollar:
*San Antonio median listing price per square foot: $124
*Texas' median listing price per square foot: $129
*Florida's median listing price per square foot: $167
*New York's median listing price per square foot: $205
*California's median listing price per square foot: $324
*Washington D.C.'s median listing price per square foot: $547
36. You Can Shop 'Til You Drop
Those who love to shop will never run out of options here in San Antonio. With a wide range of indoor and outdoor malls, you'll never have to order another ill-fitting item off of the internet again. Here are a few of the most popular shopping centers in the city.
The Shops at La Cantera
For those who enjoy open air and sunshine, this popular north-side San Antonio open-air mall is the place for you. With a wide array of shops and features, you can lose track of time and easily spend the whole day here.
On the weekends, you can go grab a coffee and chicken biscuit from Chick-fil-A for breakfast, then make your Genius Bar appointment at the Apple Store in the mall. After dropping off your device, you can stroll the mall's natural stone pathways, lined with trees, flowers, and greenery with a scoop of ice cream from Marble Slab Creamery.
Take a seat in the shade on the many available seating areas and enjoy the calm sounds of the bubbling water features before you go buy a stylish shirt from Hugo Boss and a new pair of jeans from Nordstrom to pair with it. Before you know it, it's already dinner time, and you make your way over to Yard House for a flight of beers and a savory burger.
North Star Mall
Easily identifiable by the largest cowboy boot sculpture in the world which resides right outside this expansive indoor mall, North Star Mall is one of the great landmarks of San Antonio.
Whether you need to up your fashion game, decorate your home, revamp your skincare routine, or all of the above; North Star Mall has a store to suit your needs. Shoppers can easily check-in for a Genius appointment at the Apple Store, then take their kids over the Disney Store or Build-a-Bear Workshop to reward them for being patient after a long day of shopping at one of the many retail options such as Saks Fifth Avenue or Dillard's.
Alamo Quarry Market
This 580,000 square-foot open-air complex is built around the Regal 16-plex Cinema whose structures include the iconic smokestacks of the former Alamo Cement Plant which helped produce the building blocking of Texas for over a century.
With over a dozen restaurants and over 60 retail stores, this bustling commercial center makes it easy to stop by any one of the shops to revamp your closet with some new digs, grab a bite to eat, and then catch a movie without ever leaving the area.
37. You Can Connect With Your Spiritual Side
The San Fernando Cathedral is the oldest standing building in Texas! Designed to be the center of San Antonio, this Catholic cathedral was erected in 1731 which makes it more than 289 years old.
Over 5,000 participate at weekend Masses, and over 900 baptisms, 100 weddings, 100 funerals, and countless other services are performed each year. Symphonies, concerts, and television specials are also held in the cathedral regularly.
38. Prepare to Eat Well
According to a study done by Wallethub, San Antonio has the #3 ranked local foodie scene in the state. Residents of the Alamo City are never lacking in options when it comes to fine dining and authentic cuisine. Listed below are a few of our local favorites.
Paloma Blanca Mexican Cuisine: Known for its amazing enchiladas and margaritas, this San Antonio gem is located near the intersection of Broadway and Austin Highway.
Savor: Experience the excitement and intrigue of dining in an active classroom of one the country's premier culinary institutes, the Culinary Institute of America.
Soluna: Dinner at Soluna is always a happy and festive environment, especially when Soluna's famous chispas are involved.
We also recommend:
39. You Can Enjoy A Slice of Mexico
Experience Historic Market Square, the largest Mexican market in the United States. This three-block outdoor plaza is lined with shops and restaurants in downtown San Antonio.
Chow-down on gourmet Mexican cuisine at the popular Mi Tierra Cafe Y Panaderia and La Margarita Mexican Restaurant & Oyster Bar which both offer an electric environment full of colorful decorations and authentic music.
The El Mercado and the Farmer's Market Plaza sections boast over 100 locally-owned shops and stalls within their indoor air-conditioned areas with a variety of specialty items such as clothing, wood carvings, tasty local treats that celebrate the cultural, artistic and ethnic influences of the Southwest and Mexico.
40. It's a Political Powerhouse
San Antonio is no stranger to successful politicians. Former Mayor Julian Castro and Rep. Joaquin Castro are a political powerhouse duo, born and raised as twins in San Antonio. Julian Castro is the former San Antonio mayor, former Secretary of the Department of Housing and Urban Development under the Obama administration, and 2020 Democratic Presidential candidate.
Joaquin Castro is the current U.S. Representative in the House of Congress for the TX-20 district here in San Antonio, and his district office is located downtown next to the Tower of the Americas.
Senator John Cornyn of Texas was born in Houston, however, he attended Trinity University for his undergraduate education and attended Saint Mary University's Law School to earn his J.D. here in San Antonio. His district office is located downtown as well at 600 Navarro Street in Suite 210.
What Can You Expect: Housing Stats
San Antonio is growing at an exponential rate, and it doesn't seem to be slowing anytime soon. The Alamo City's population (2010-2019) has been growing at a higher rate than Dallas, Houston, Corpus Christi, and El Palso!
South Texas' best-kept secret is not so secret anymore as more and more potential citizens are seeing the benefits of San Antonio's favorable tax situation, cheap real estate, and family-friendly culture. Let us here at BHGRE HomeCity help you find your dream home in San Antonio before prices go up.
Here are some quick facts:
*Population: 1,547,253
*Average Age: 33.7
*Average Monthly Rent: $1,049
*Median Housing Price: $136,800
*9-Year Population Growth: 16.7%
*Median Household Income: $50,980
What Can You Expect: Neighborhoods
There is a neighborhood for every type of person in San Antonio. Due to the city's relative affordability, you won't be forced to make many compromises when searching for your dream home in the '210'. For more information and more neighborhoods, feel free to browse our website.
1. Uptown: Terrell Hills, Alamo Heights
These incorporated cities lie about four miles north of downtown San Antonio. With neatly manicured lawns, tree lined streets, and booming commercial corridors nearby, these communities embody the best of what San Antonio has to offer.
Residents in these communities enjoy their own city halls, police forces, and fire departments. Their location gives these communities easy access to all your daily essentials, from groceries to entertainment to medical care to household items, so anything residents could possibly need is within a fifteen-minute drive.
Close proximity to the Broadway corridor allows residents a direct line to some of San Antonio's most spectacular features such as Brackenridge Park, the San Antonio Zoo, the Witte Museum, and the Pearl Brewery. With Fort Sam Houston directly to the east, these neighborhoods share close ties with the military community and the brave servicemen and women who proudly serve in our nation's armed forces.
2. Southtown: King William District
This charming Southtown neighborhood is located in the heart of San Antonio, surrounded by arts, culture, and history. These stunning mansions range in style from Victorian to French Renaissance to Greek Revival.
The neighborhood's proximity to the downtown financial district, the San Antonio River, and its historical pedigree have made it one of the most sought after residential areas in all of San Antonio.
In July of 2011, King William was designated a Cultural Arts District by the Texas Commission on the Arts, making this one of the most picturesque and culturally important areas in all of South Texas.
3. Northside: Stone Oak
This collection of deed-restricted, master-planned communities lies North of 1604 and west of I-281. With a large array of gated-communities, security is never an issue for these happy residents. A plethora of large and small shopping centers populate the area, ensuring that residents are never short on dining or household item options.
Stone Oak is a well-designed 4,380-acre master-planned community located in North Central San Antonio. Originally four ranches, the area boasts rolling hills, landscaped medians and gated communities.
Stone Oak is all about convenience, with area schools, plus parks, shopping and dining all in or near this "everything in one place" community. It is ideally situated on Loop 1604 and Highway 281 and is just 10 miles from the San Antonio International Airport and 16 miles to Downtown.
While close proximity to urban San Antonio is a major benefit of life in Stone Oak, the community also offers a taste of the Hill Country with scenic views and a number of great local parks. Stone Oak Park and Panther Springs Park are particularly notable for their fantastic trails and peaceful surroundings.
Additionally, golfers will delight in the Canyon Springs Golf Club, a nearby course that boasts a tranquil setting and challenging holes. Also located within Stone Oak, Methodist Stone Oak Hospital is part of the new Medical Center and is an award-winning health care provider.
What Can You Expect: Transportation
Having your own automobile is a near necessity in San Antonio. Unlike other large cities in the United States, San Antonio developed outwards rather than upwards meaning that everything is a bit more spread and not easily walkable.
No need to worry, three major interstates run through San Antonio which makes commuting around the city a breeze. Those major freeways, that alleviate the flow of traffic in San Antonio, include I-10 which runs East towards Houston and West towards El Paso, I-35 which runs North towards Austin, and South towards Laredo, and Loop 410 & Loop 1604 which both make a complete loop around the city.
What Can You Expect: Schools
The school system in San Antonio is diverse and growing in reputation. With schools that have educated some of the most prominent figures in Texas such as U.S. Senator John Cornyn (Trinity University and Saint Mary's University Law School), the potential for success in San Antonio is sky high!
Notable Universities include Trinity University, Saint Mary's University, Texas A&M San Antonio, and the University of Texas-San Antonio.
Notable High Schools include Alamo Heights HS, Lee HS, New Braunfels HS, Jefferson HS, Judson HS, Steele HS, Churchill HS, Reagan HS, Johnson HS, Clark HS, Saint Mary's Hall, Antonian Preparatory, and the Texas Military Institute.
What Can You Expect: Recreation
Texas has one of the best public and state park systems in the country, which more than makes up for its dearth of National Parks. While Texas only hosts two National Parks (Big Bend and the Guadalupe Mountains), Texas is home to over 80 state parks, the most popular of which is Enchanted Rock State Natural Area.
Pro Tip: some parks fill up reservations for the most popular campsites a year in advance, so follow the links to make your reservations now!
Aside from Medina Lake and Canyon Lake that lies outside of city limits, San Antonio is home to over 200 parks. The Trust for Public Land ranked San Antonio's park system #75 in the country in 2020, and 43% of residents live within a 10-minute walk of a park.
San Antonio is the perfect blend of Mexican and Texan cultures, a melting pot that gives us a glimpse into a potential future for the state and the country.
With the #3 ranked local foodie scene in the state, San Antonio is the perfect city for those who are seeking authentic Mexican dishes, breakfast tacos, and some of the best BBQ in the country.
With a #10 state-wide ranking in affordability, San Antonio prides itself in being the most affordable major urban center in Texas. Its dispersed outward growth allows residents to enjoy the benefits of a large city while still feeling like they live in a small town. Thinking about moving to San Antonio? Find your perfect house here!