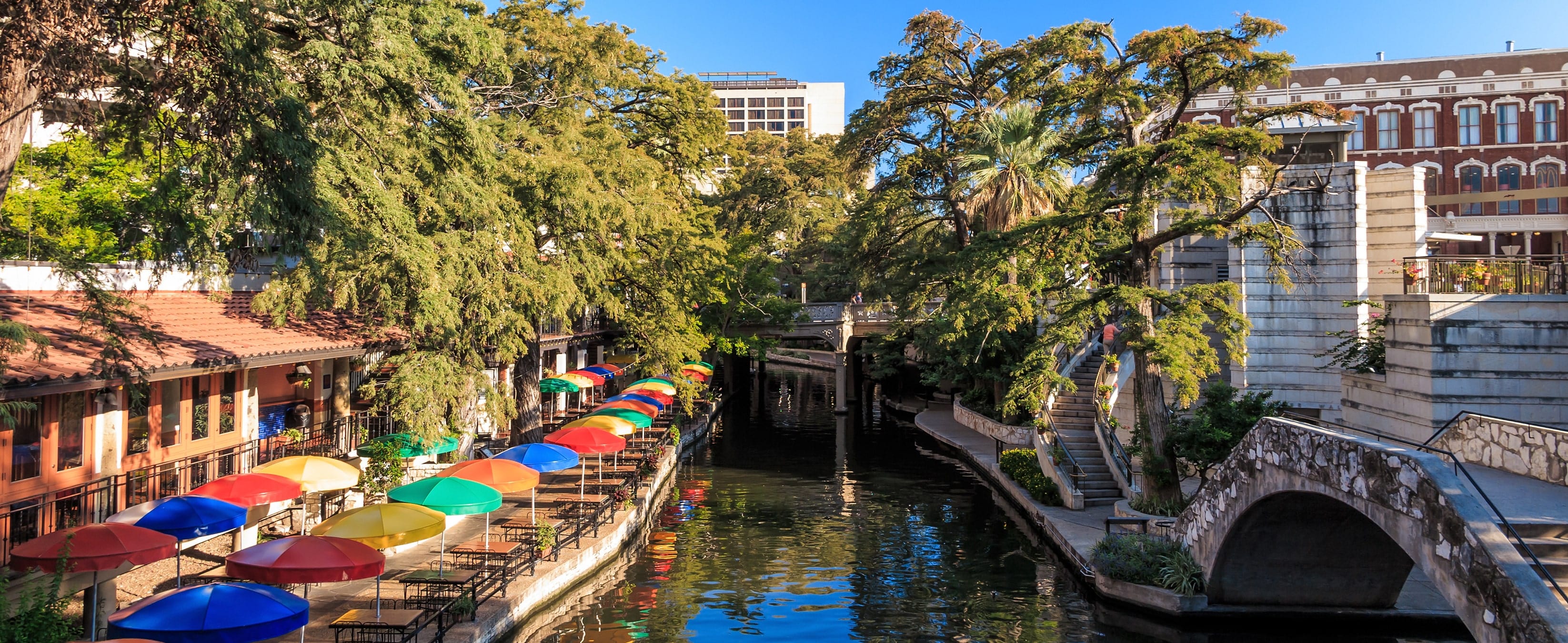 If someone has only ever heard of the city of San Antonio but never visited, they might picture San Antonio as a tourist destination. While San Antonio might be famous for its critical role in the history of Texas' independence, the city is so much more than that.
San Antonio is an ideal mix of Texas charm and a big-city draw. Situated in the Texas Hill Country, San Antonio has gorgeous rolling scenery, exciting attractions, and a robust economy. Not only is it a hotspot for tourism, but the San Antonio job market and real estate market are some of the most desirable in the country.
Thinking about moving to Texas and considering San Antonio to make your next home? Keep reading to find out about several master-planned communities that are REALLY rocking it when it comes to community recreation, amenities, and activities in San Antonio.
1. Johnson Ranch
Land Area: 767 acres
County: Comal county
ZIP Code: 78163
Year Built: 2014 till date
Highschool: Smithson Valley High School
Median Home Price: $615,000
Homes for Sale in Johnson Ranch
Johnson Ranch, a 767-acre master-planned community, is located north of San Antonio along the Hwy 281 north corridor in the town of Bulverde. Johnson Ranch, which consists of approximately 1,000 homes, has become a haven for those seeking a lifestyle that feels like Hill Country living while still having access to big-city amenities.
Given the rustic, ranch-style appeal, the community was designed with open spaces in mind, with natural open areas, amenity parks, and trails on the remaining one-third of the property. Furthermore, sidewalks and trails meander through the native areas along the main boulevard, connecting the neighborhoods and forming a cohesive community.
Each of the Johnson Ranch neighborhoods, which include Corriente Estates, The Homestead, La Creciente, The Oaks, and The Vistas, offers something different. These neighborhoods, both gated and non-gated, offer a wide range of home prices. However, the median sale price of homes in the Johnson Ranch community hovers at $615,000.

Johnson Ranch students attend Johnson Ranch Elementary, Smithson Valley Middle School, and Smithson Valley High School, all of which are part of the highly regarded Comal Independent School District. Johnson Ranch offers sought-after amenities both inside and outside of the community, whether you want to spend time outdoors, shop, or dine. Enjoy the community's playground, sports court, walking trail, swimming pool, and clubhouse.
Standout Feature: ¼ Mile Loop Nature Trail
2. Cibolo Canyons
Land Area: 2200 acre
County: Bexar
ZIP Code: 78261
Year Built: 2000
Highschool: Johnson High School
Median Home Price: $560,000
Homes for Sale in Cibolo Canyons
Cibolo Canyons, a master-planned community on San Antonio's far north side, is distinguished by its tranquil rolling hills and sophisticated style. This desirable neighborhood is close to both Loop 1604 and Highway 281. It is conveniently located in the nearby Village at Stone Oak, a vibrant shopping area with popular retailers, dining, and entertainment venues.
The community offers a wide range of quality and custom homebuilders, distinctive residences, and community amenities. Cibolo Canyons' seven gated neighborhoods (Amorosa, Campanas, Cielos, Palacios, Sueos, Vallitas, and Ventanas) cater to a wide range of tastes, price points, and preferences.
Cibolo Canyons caters to a wide range of real estate needs, with prices starting at the $300,000's and rising to $1 million. Cibolo Canyons is known for its excellent neighborhood amenities, which include miles of walking and biking trails, a fitness center, a playground, a Junior Olympic-size swimming pool, and a water park with a lazy river.
Children living in Cibolo Canyons are zoned to attend some of the best schools in the Northeast Independent School District, including Cibolo Green Elementary, Tex Hill Middle School, and Johnson High School.
Standout Feature: Water Park With a Lazy River

3. Stillwater Ranch
Land Area: 1100 acre
County: Bexar
ZIP Code: 78254
Year Built: 2007
Highschool: Taft High School
Median Home Price: $375,000
Homes for Sale in Stillwater Ranch
Stillwater Ranch, located in San Antonio's rapidly expanding northwest sector, has its finger on the pulse of the city's exciting growth. The easy charm and family-oriented atmosphere of the neighborhood are enhanced by spacious backyards and sought-after amenities.
Stillwater Ranch, located just a few miles from Loop 1604 and State Highway 151, offers a rural feel with easy access to big-city amenities. Stillwater Ranch is conveniently located near the best shopping and entertainment in San Antonio. The nearby retail complex Alamo Ranch offers convenient and luxurious restaurants, entertainment, and shopping.
Within the boundaries of Stillwater Ranch, there are numerous benefits. Stillwater offers a pool with beach entry, a community clubhouse, a fitness room, an imaginative playscape, and lighted sports courts to foster a sense of community, fun, and fitness.
The coveted Northside Independent School District adds to the area's allure. In general, students are assigned to Evelyn Scarborough Elementary, Folks Middle School, and Taft High School. Stillwater Ranch offers both new and existing homes since it's a newer master-planned community.
A diverse range of trusted builders and flexible plans allow you to personalize your home, with prices ranging from the low $300s to over a million. Stillwater Ranch's variety of home styles and prices ensures you can find the perfect home, whether you're a new family looking for a starter home, a military family looking to establish temporary roots, or a retiree looking to downsize!
Standout Feature: Specially designed playscape
4. Horizon Pointe
Land Area: Not Available
County: Bexar
ZIP Code: 78109
Year Built: 2007 till date
Highschool: Karen Wagner High
Median Home Price: $440,000
Homes for Sale in Horizon Pointe
Horizon Pointe is a neighborhood in Converse, Texas, a small town in northeast San Antonio. Homes in this community were built within the last ten years and range in price from $321k to almost a million, with sizes ranging from a modest 970 square feet to a comfortable 3487 square feet.
Horizon Pointe is located just off I-10, almost due east of the city center, making it a modest neighborhood far removed from the hustle and bustle of the big city while still being within a short drive of San Antonio's entertainment and fun.
This community has many amenities to offer its residents, the most popular of which is a community clubhouse. Horizon Pointe students are zoned for the Judson Independent School District and will most likely attend James L Masters Elementary, Henry Metzger Middle, and Karen Wagner High.
Standout Feature: Large community park
5. Rogers Ranch
Land Area: Not Available
County: Bexar
ZIP Code: 78258
Year Built: 1997 to 2017
Highschool: Clark High School
Median Home Price: $657,000
Homes for Sale in Rogers Ranch
Rogers Ranch, one of North Central San Antonio's most popular subdivisions, offers unparalleled convenience as well as attractive housing. It not only has an unbeatable location near three major highways, but it is also masterfully positioned for private tranquility and incredible Hill County scenery. The options are limitless, ranging from grand estate homes to luxury garden homes.
Rogers Ranch is known for its garden homes, large heavily wooded estate lots, and sprawling mansions. It is divided into four subsections: Falling Brook, Crosstimber, Salado Canyon, and Point Bluff. With an average home size of around 3,000 square feet, many Rogers Ranch homes have four bedrooms, at least two and a half baths, and open floor plans. Prices for properties in the neighborhoods range from $375,000 to over $900,000.
While the diverse home selection is a big draw, the neighborhood amenities are also highly sought after. The sections of Rogers Ranch are not only gated, but they also have pools, walking trails, greenbelts, a community center, playgrounds, tennis courts, and other amenities.
Residents of Rogers Ranch also have access to more than just shopping, dining, gyms, and theme parks. Northside Independent School District and North East Independent School District, both premier San Antonio public school districts, serve Rogers Ranch students.
Standout Feature: Large-sized swimming pool
6. Alamo Ranch
Land Area: 3000 acres
County: Bexar
ZIP Code: 78253
Year Built: 2006 to 2021
Highschool: Brennan High School
Median Home Price: $415,000
Alamo Ranch, San Antonio's fastest-growing master-planned community, has quickly earned a stellar reputation for its neighborhood culture, which includes beautiful and affordable homes, a natural landscape, and a convenient location near many area amenities. Because of its location in the northwest corner of the city, off State Highway 151 and Loop 1604, Alamo Ranch provides its residents with a tranquil, private living experience while still being close to all of San Antonio's shopping and entertainment options.
Because of the community's size, Alamo Ranch provides an extremely diverse range of home styles and prices in several smaller neighborhood sections. This diverse range of homes ensures that you can find a home that meets your specific requirements, whether you're looking for an affordable starter home or a home in a luxury community. Prices range from $350,000 to $575,000.
Alamo Ranch has an outdoor aquatic center, jogging trails, an Olympic-sized pool, multi-purpose fields, basketball courts, and playgrounds among its amenities. While the small-town atmosphere is relaxing, the location's proximity to shopping, employment, and downtown San Antonio makes city life easily accessible.
Aside from entertainment and luxury amenities, Alamo Ranch provides strategic access to some of San Antonio's best public and private schools, as well as area employers. One of the most desirable aspects of Alamo Ranch is its location in the highly regarded Northside Independent School District.
Standout Feature: Outdoor aquatic center
7. Front Gate
Land Area: 173 acre
County: Bexar
ZIP Code: 78015
Year Built: 2013 to 2021
Highschool: Boerne - Samuel V Champion High School
Median Home Price: $609,000
Front Gate in Fair Oaks is a private and gated master planned neighborhood created for families that want to experience the natural majesty and beauty of the Hill Country. It is part of the Greater San Antonio area. Front Gates in Fair Oaks also has its own exquisite country club with numerous wonderful features.
With the I-10 only a few minutes away, residents of Front Gate in Fair Oaks can quickly access the soothing benefits of adjacent historic Boerne. There is plenty to keep your heart and spirit fulfilled in this amazing little town, with its stunning trails and nature center, historic downtown, and cultural events such as the Guadalupe Valley Poetry Celebration. For a more exciting adventure, take I-10 south towards San Antonio to get to wonderful attractions like Six Flags Fiesta Texas!
Ashton Woods, Highland Homes, and Gehan Homes construct homes in Front Gate in Fair Oaks. Front Gate in Fair Oaks also offers quick move-in houses in two models. The Villanova is a one-story family home with three bedrooms, two bathrooms, and three garages on 2,900 square feet for $450,000. The Dartmouth two-story offers 4 bedrooms, 2.5 bathrooms, and 3 garages on 3,275 square feet and is priced at $464,000.
Standout Feature: Family-friendly parks
8. Stone Oak
Land Area: 4,380 acre
County: Bexar
ZIP Code: 76258
Year Built: 1985 till date
Highschool: Reagan High School
Median Home Price: $475,000
Stone Oak is a gated master planned community located outside of the city limits but close to everything San Antonio has to offer. Stone Oak provides a flexible living lifestyle by offering a wide range of houses to choose from, such as easy garden home living, energy-efficient homes, and some series that are totally personalized for luxury home purchasers.
Stone Oak homeowners will enjoy peace and tranquility while being close to major freeways for convenient access to great shopping, golf courses, restaurants, entertainment, military facilities, and employment. Stone Oak residents have access to all of the neighborhood's outstanding amenities, which include a gated entry, junior Olympic-size swimming pool, leisure center, clubhouse, playground, walking trails, a soccer field, and more.
Stone Oak residents have the advantage of attending schools in the prestigious North East Independent School District. These schools may change, however, they are now Hardy Oak Elementary, Lopez Middle, and Ronald Reagan High School. Stone Oak is the place to be if you want to live in a gated community with a wide range of house selections and a profusion of facilities.
Standout Feature: Leisure Center with an indoor swimming pool

9. Valley Ranch
Land Area: 667 acre
County: Bexar
ZIP Code: 78254
Year Built: 2015 to 2022
Highschool: Medina Valley High School
Median Home Price: $525,000
Homes for Sale in Valley Ranch
Valley Ranch is a lovely new development in Northwestern San Antonio, Texas, that is quickly gaining popularity. Valley Ranch feels like an oasis in the heart of the desert, with a number of stunning residences placed among its parks and lovely streams.
There are playgrounds, multiple ball courts for various sports, an amphitheater, multiple pools, a slide tower, waterfalls, a pavilion, a recreation center with a 24-hour gym and kitchen, outdoor cooking spaces, and numerous gorgeous trails!
Aside from its natural beauty and excellent amenities, Valley Ranch is in an ideal location, making it simple to commute across the Greater San Antonio area. From this location, you can easily reach SeaWorld, and a bit further out, you can reach Six Flags Fiesta Texas.
Great shopping and restaurants are also nearby, both in Valley Ranch and further into San Antonio. Many world-class attractions in the city, including its major art museums, botanical gardens, zoo, and classic sites like the RiverWalk and the Alamo, will undoubtedly entice you!
Valley Ranch homes are spacious and beautiful, with prices starting at $400,000. If you are interested in the new and great community of Valley Ranch, please contact us and we can help you look for a home in the area.
Standout Feature: Waterfalls and multiple pools
10. Inwood
Land Area: Not Available
County: Bexar
ZIP Code: 78248
Year Built: 1987 to 2021
Highschool: Churchill High School
Median Home Price: $747,000
Inwood is a small and close-knit community for families seeking elegance and security. With its tree-lined streets, tennis courts, Olympic-sized pool, and miles of quiet streets ideal for walking or bicycling, this is one of the most attractive communities in Greater San Antonio.
Inwood is near Loop 1604, giving you convenient access to San Antonio and its many amazing activities and landmarks. The Alamo and San Antonio Missions National Famous Parks (now a UNESCO World Heritage Site! ), the River Walk, San Fernando Cathedral, the Majestic Theatre, HemisFair Park, La Villita, Market Square, and the historic Menger Hotel are among the top attractions.
Many lovely golf courses, as well as the Botanical Gardens, the San Antonio Zoo, and tons of theaters, are close for your leisure. To the north of Inwood, in the Texas Foothills, you may also enjoy the grandeur of nature in the forests and canals around Boerne, a historic town founded in the nineteenth century by free-thinking German immigrants.
Inwood students attend the Northside Independent School District and the North East Independent School District. While young children are zoned to Patricia Blattman or Huebner Elementary Schools, older students attend Rawlinson or Bradley Middle Schools, as well as Clark and Churchill High Schools.
Inwood real estate is of gorgeous and elegant design, with a rustic tone amidst the neighborhood's thick woods. Due to the variety of housing stock across the neighborhoods of Inwood, home styles and prices range greatly. While it is possible to find homes starting at $300k in a few neighborhoods, it is not uncommon to find homes upwards of $1 million. Overall, the average price across all of the neighborhoods hovers in the mid to upper $500k range.
Standout Feature: Its botanical gardens

Each of these distinctive master-planned communities offers its residents an entertaining way of life. These communities have a lot to offer people looking to relocate to the San Antonio area, with gorgeous views, great amenities, and easy access to the city of San Antonio. Homes in these communities are available at a wide variety of price points and are designed to meet a variety of needs.
One thing these communities have in common is that they have plenty of parks and trails to enjoy the many warm months that Texas gets each year. These communities provide a beautiful and engaging place to live, with plenty to do.
Have you found a master-planned community in San Antonio that sparks your interest? If you need help finding the right master-planned community in San Antonio for your family, reach out to us at BHGRE HomeCity today to speak to a local real estate expert in San Antonio!