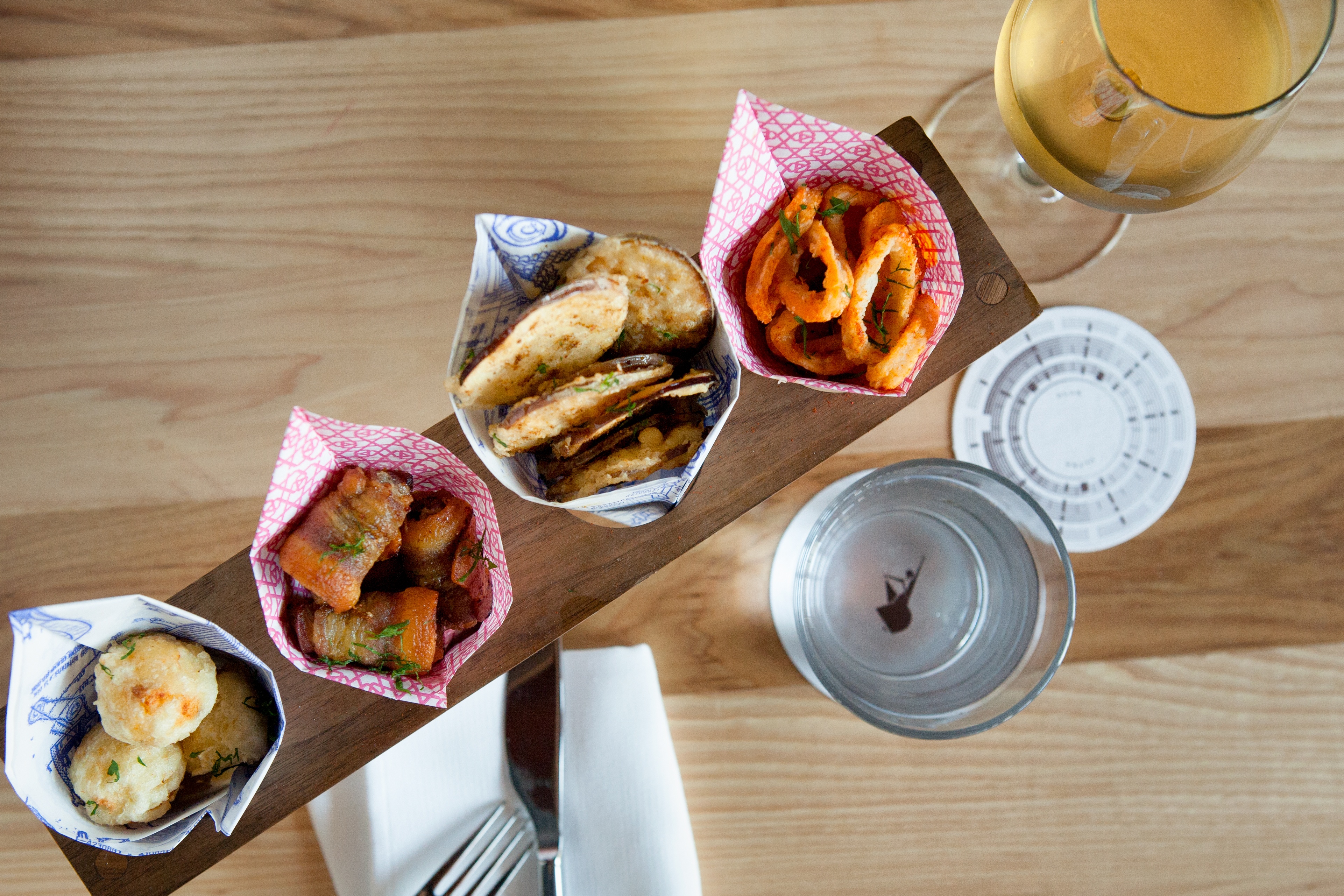 Eating establishments in Austin come and go, and each year a few open up that really create a buzz. Of those newcomers, there are usually even fewer that live up to the hype they've created. We spent the last few months trying out some of Austin's hottest restaurants and can now report back with the favorites. We're no food critics, but we like to think we know how to enjoy a good meal. Here's our list of new, hip, and tasty restaurants you should try!
Bullfight Tapas: Bullfight's tapas offer Austin residents a modern twist on traditional tapas, and are a great addition to the burgeoning Airport Blvd restaurant scene. Executive chef Ryan Sheilds serves up attention-getting food: from cured meats such as Jamon Iberico and cheeses to tasty Spanish snacks in paper cones. Pallea, croquettes, bocadillos and other classics share the menu with regional seafood, meat, and veggie offerings.
We enjoyed their lamb burger (more like a slider, but perfectly cooked), and their mushroom dish was superb. The service was excellent: attentive, professional, and friendly. If you enjoy tapas, a relaxing, stylish atmosphere, and a good Spanish wine, this is a place you'll want to try out soon!
Voodoo Doughnut: The anticipation for Voodoo Doughnut's Austin location was strong in 2015. Originating from Portland, Oregon, Voodoo vends uniquely decorated, supremely delicious morsels of goodness out of its brightly painted Sixth Street storefront. Upon entering one can see their creations in a lovely, cased oscillating display. Treats range from doughnuts topped with cereal, candy, and frosting, classic glazed, cake doughnuts, filled doughnuts, and their famous voodoo doll shaped doughnut.
Our favorite was the ODB; a chocolate glazed creation topped with Oreo crumbles and peanut butter. Another favorite was the purple doughnut, which was less painfully sweet than the ODB. While these doughnuts are delicious, use some self-control and stick to one per sitting. We stuffed our faces, which resulted in a bit of a stomachache!
Geraldine's: Geraldine's, the first Austin restaurant concept from Kimpton Hotels & Restaurants, is located on the fourth floor of the Hotel Van Zandt. In homage to its location, the restaurant is named after Rainey Street's famous former resident, Geraldine the guinea fowl. In addition to its contemporary Austin menu and cocktail program, Geraldine's features daily live music and breathtaking views of Lady Bird Lake.
The menu, curated by Chef Frank Mnuk, offers seasonally driven dishes inspired by the flavors of the city. Designed as a shared dining experience, Geraldine's encourages customers to socialize, taste and share bites from a variety of small plates and select large format dishes. We enjoyed the grilled carrots, smoked yellowtail tacos, and the goat cheesecake!
Counter 3FiveVII: Counter3FiveVII offers a unique dining experience centered around a 25-seat chef's counter, serving fixed course options. Patrons can choose 3-course, FIVE-course, or VII-course offerings with optional wine pairings, and the menu changes seasonally. Owner Eric Earthman has over a decade of experience in the food and beverage industry, and Executive Chef Damien Brockway has experience working at some of the best dining establishments in the country. Together, the two have created a dining experience focused on quality, thoroughness and pride. Current menu offerings range from Tasmanian ocean trout to Mishima strip loin, and king crab dishes.
Cafe No Se: One of the new restaurants opening beneath the new South Congress Hotel, Café No Se offers brunch, central standard, and American cuisine. The atmosphere is comfortable, bright, rustic chic, and the drinks are on par with some of the best in Austin. Try their sangria, which was one of the best we've had. Executive Chef Michael Paley, formerly of the 21c Museum Hotel and Garage Bar in Louisville and the 21c Museum Hotel in Cincinnati, did an excellent job of offering fresh and delicious menu items. Their brunch is tasty, with favorites being the Bigeye tuna poke, the avocado egg toast, and the burger. Don't forget to try their pastry menu curated by Amanda Rockman of Top Chef: Just Desserts fame!