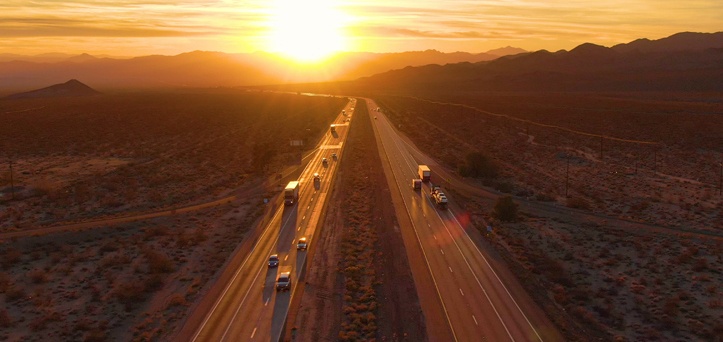 According to recent data from the U.S. Census Bureau, around 7 million Americans moved from one state to the other over the last year. And while data on the number of persons in the United States intending to buy a home in another state is limited, one study found that one in every five Americans moved or knew someone who relocated to another state during the Covid-19 pandemic in 2020.
There are numerous reasons you would want to buy a property out of state, including the desire to live closer to family or a new career, invest in a second home, or take advantage of a remote work environment. Whatever your reasons may be, long-distance house hunting takes time, but with careful planning, you may discover the perfect home across state lines, or even across the country.
Here's a rundown of the steps involved in acquiring a home in a different state, from locating an on-site real estate agent educated about the local market to touring potential properties before deciding.
1. Understand the Reasons Behind Your Move
First and foremost, let's get to the heart of your strategy. Understanding the major cause of your relocation will allow you to conduct preliminary research on the higher-priority items. For example, are you relocating for a job or furthering your education? If this is the case, your search should consider properties near your new workplace, educational institution, or public transportation.
If you are relocating to another state to experience life, your house search will most likely extend and present you with more possibilities, including interests and lifestyle.
Top Reasons Why Americans Move to a New State
According to United Van Lines research, 34.6% of respondents moved to another state due to a job transfer. On the other hand, the research revealed that around 34.5% of respondents relocated to another state for proximity to family members.
Going with the above research, below are some of the top reasons why millions of Americans moved to another state over the last year:
* New job opportunity or company transfer
* Closer to family
* Retirement
* Lifestyle change
* Home Affordability
Before packing your bags and bidding your friends goodbye, it is important to analyze the reasons behind your moving out of state. Assessing your decision should help you make the right home buying choice regarding location and other important factors.
2. Do your research—and then do some more
You wouldn't go on vacation without first planning what you'd like to do and where you'd like to stay. It's no different when house hunting and relocating to a new city or state. You must be ready for the best outcomes.
But relax; this isn't going to be a weekend, week, or month-long adventure. Because this is your new life, you must conduct extensive research. If you don't know what you want, phoning Realtors at random or attending a flurry of open houses will be fruitless.
What Should You Research When Buying a House Out of State?
Here are a few things to think about:
* Your Children's Wellbeing: Annie E. Casey Foundation's KIDS COUNT data book tracks children's and families' wellbeing by state and county. This can help you decide where you want to live, if you're on the fence.
* The Crime Rate: It can be stressful living in a high-crime neighborhood. Do some research on the crime rates of the various towns and areas you're looking into and consider it when making your decision.
* The School System: If you have children, the local schools should be a major consideration. Test scores, class size, educational philosophy, financing, and other statistics are available on the websites of state departments of education and local school districts.
* Property Tax Rates: Rates of property taxes vary greatly. Property taxes make up a significant portion of monthly housing costs, so do your homework on the rates in the towns and cities you're considering.
To begin, research the state and location you'll be moving to by visiting tourism, chamber of commerce, and government websites. You can also try Googling for information on the different areas you're considering. Popular activities, cost of living, business landscape, as well as population and population density are all available on these websites.
3. Map Out A Relocation Plan
Now that you have decided to buy a house out of state, the next step is to design a financial and strategic game plan for moving that meets your requirements. You'll need to consider several financial, personal, and collective factors when coming up with a plan.
Factors to Consider When Drawing a Relocation Plan
Below are some factors to consider when looking to buy a house out of state:
Financial Factors
Aside from the general cost of the home you intend to buy, there are other financial expenses you may encounter when looking to buy a house out of state. Expenses such as:
* Moving expenses
* Down payment and closing costs
* Renovation and energy upgrades
* Insurance and home warranties
Home Preferences
You also need to consider all the must-haves you want in your potential home. Factor in your family size and any other personal plans you may have when deciding. Start by having a basic idea of:
* The number of bedrooms and bathrooms you'd like, as well as their size.
* Any criteria for the land or yard
* Your preferred house design
* One-story or two-story home, depending on your preferences.
* Other personal features like garage, patio, pool, or fireplace, among other things.
More importantly, you also need to decide on the type of neighborhood, proximity to school districts, recreation centers, HOA rules, and commute time to work.
4. Talk To A Relocation Specialist
The aim of a relocation professional is to make the moving process as painless as possible. They may assist you with the logistics of the move, such as locating a moving company, shipping service, and storage facility for you. Others may assist with planning travel for you, your family, and your pets, enrolling your children in school and even managing contract work being done to your new house.
If you don't want to pay for all of the services they provide, you can easily request for free relocation information. While the information may not be as personalized as you'd like, it will still provide some insight and address any relocation questions you may have as you narrow your search.
Factors to Consider Before Hiring a Relocation Specialist
* Customers' feedback and past reviews about the company
* The use of modern technology in their day-to-day relocation activities
* Affordability
* Safety guarantee
Before choosing a high-priced relocation specialist, think about if the fee is justified. If the answer is no, less expensive DIY options like truck rentals or moving containers should be considered. Whatever you choose, carefully consider the advantages and disadvantages of each option before choosing a move strategy.
5. Find A Real Estate Agent
Your cousin's closest buddy may be a great person, but when it comes to one of the most significant financial transactions you'll ever make, you'll want to know you're in good hands.
You'll need some help along the way to find your dream home in the new state, and you'll want to put together a strong squad to help you make the transition as smooth as possible.
What Are The Benefits Of Working With A Real Estate Agent?
* To begin, only a localized, experienced real estate agent will be able to accommodate your preferences in assisting with your property search.
* Realtors do a lot more than find houses. They will walk you through the full home-buying process from beginning to end.
* They understand the local real estate market and can use that to your advantage when creating an offer for your out-of-state home.
Look for real estate agents with CRP (Certified Relocation Professional) or a relocation-specific agency in your new state. These agents have the knowledge and experience to guide you through the process of purchasing a home in another state.
Don't be afraid to interview a few different real estate agents to ensure you find the proper communication style and experience fit. It's also a good idea to request references and then inquire if the references would work with that agent again.
6. Ask Your Agent For Virtual Tours
Once you've located a credible realtor whose working style matches yours, ask them to assist you in finding and virtually touring different houses. These real estate pros can assist you in your property hunt by communicating with brokers, networking with other agents, and examining internet listings.
They can also assist you in getting a firsthand look at properties, whether that means using virtual tour alternatives like TourWizard and VisualStager that are currently available online or physically swinging by to shoot films or photos. Many cellphones now have real-time videoconferencing capabilities, so your realtor can call you and give you a firsthand 3D look whenever you're available.
The Benefits of Virtual Tours for Out of State Homebuyers
Virtual tour/360-degree view technology, which is also available on mobile devices, has benefited home buyers who are buying a house out of state for years. The advantages of virtual tours for homebuyers include...
* Ease of access
* It saves time and money
* Easy comparison across properties
* Transparency
According to a Redfin survey, with around 63% of home buyers making an offer on a property that they hadn't seen in person, the role of virtual tours is here to stay. This is especially true for individuals looking to buy a home in another state.
7. Visit The City And Tour Potential Homes
Of course, nothing beats seeing a house in person — not only to get a better feel for the home but also for the surrounding area. Driving past and taking a good look at several communities and potential homes that you've already seen via virtual tour could be part of this.
This could also include driving around different parts of town at different times of day or night to understand traffic patterns better, checking out restaurants and entertainment alternatives, and seeing how pleasant or walkable a certain location is.
Also, draw a map of your neighborhood and check for grocery stores, pharmacies, shopping malls, and other places you might frequent to see how convenient they are.
Top Questions to Ask When House Hunting in a New City
While everyone's goals are different, here are some questions to think about when evaluating a potential neighborhood in another state.
* How high are property taxes?
* What's the area crime rate?
* Is the neighborhood diverse?
* What's the projected growth rate?
* Do historic or homeowners associations enforce restrictions?
* What businesses, parks, churches, and recreational facilities are included?
* Are you close to public transportation?
* Is the home in a flood zone?
* How are the neighborhood school district and school system?
Just because a neighborhood is nice doesn't mean it's necessarily right for you. If the neighborhood matches your criteria yet still feels off, look for another location. After all, you're the one who has to live there. Trust your instincts.
8. Secure Mortgage Financing
You'll need to secure a mortgage for your new residence out of state unless you plan to pay cash. Begin by researching licensed mortgage lenders in your new state; some may only operate in your current state or a certain location.
Consider the lender's interest rates and costs, as well as what you value in terms of experience. Do you wish you could meet with a loan officer in person? Is it possible to apply using an app? Is it possible to close within a specified amount of time? You can easily narrow down your options by looking at a lender's total customer satisfaction or "best of" ratings.
Once you've narrowed down your options, get prequalified or preapproved. Both methods require you to provide the lender with information about your credit and financial condition, but with a pre-approval letter, you'll be able to make bids on homes with financing to back it up.
How to Get Preapproved for a Mortgage
* Get a free credit report. Before contacting a lender, you should be aware of your current financial situation. You can get a free credit report at Experian and Annual Credit Report. It is suggested that you have a credit score of at least 620, and a higher credit score will qualify you for better rates.
* Examine your credit history. Request copies of your credit reports and file a dispute if there are any mistakes. If you discover outstanding accounts, communicate with creditors to rectify the issues before applying.
* Determine your debt-to-income ratio. The debt-to-income ratio, or DTI, is the percentage of your gross monthly income toward debt payments, including credit cards, school loans, and car loans. Borrowers with a DTI of 36 percent or less, including the mortgage, are preferred by lenders; however, it can be higher in specific instances.
* Collect your earnings, financial accounts, and personal information. This contains your and your co-Social borrower's Security numbers, current addresses, and work information. You'll also need to submit details about your bank and investment accounts, as well as evidence of income.
* Make contact with more than one lender. Comparing rates and fees from multiple lenders can help you save thousands of dollars on a 30-year mortgage.
9. Send in Offers
Once you've decided on a house, you'll need to put an offer on it. However, in addition to the amount of money you're ready to spend, you'll need to consider how long you'll have before closing and any terms or contingencies.
Please keep in mind that buying rules in different states may differ. For example, in states where properties move more slowly on and off the market, you may be able to incorporate inspection conditions and contingencies.
However, in states where the real estate market is thriving, you may want to reevaluate some of them. Again, your real estate agent can assist you in gaining a greater understanding of the standard practice in your area.
When making an offer, what information should you include?
If your purchase offer is accepted by the seller, it will become a legally binding sales contract, also known as a purchase contract or earnest money agreement. As a result, the offer must include all necessary elements to serve as a model for the ultimate sale. The following should be included in these purchase offers:
* Address and, in some cases, a legal description of the property
* Sale price terms—for example, this is an all-cash transaction, or the agreement is contingent on you receiving a mortgage for a certain amount.
* Seller's pledge to deliver clear title (ownership)
* Closing date (the actual sale)
* The amount of earnest money deposited with the offer—whether it's a check, cash, or a promissory note—and how the earnest money will be returned to you if the offer is refused (or kept as damages if you back out of the deal for no good reason).
* Provisions governing who will pay for title insurance, surveys, termite inspections, and other such services.
* The type of deed that will be awarded
* Other state-specific requirements, such as the opportunity for an attorney to evaluate the contract, notification of specific environmental hazards, or other state-specific stipulations
* A provision that allows the buyer to conduct a last-minute walk-through examination of the property immediately before the closing.
* A time restriction (ideally short) after which the offer will expire
* Contingencies
10. Obtain A House Inspection
A home inspection is an evaluation of the state of a home that can assist you in identifying any areas that require repair and determining whether to proceed with the purchase. Your real estate agent can refer you to a local home inspector in your new state, but you must pay for the inspection. The cost varies depending on location and the age and size of the home.
While an on-site inspection is typically a good idea, it is not required and may not be possible if you are many states away. In this scenario, your agent can come along and share the inspection report with you and discuss the following steps.
Home Inspection Checklist for Out-of-State Home Buyers
Outside the House
* Exterior: Are the gutters and downspouts securely fastened and draining away from the house? What type of siding is used on the house? Is it in decent condition?
* Roof: Do you notice any stains, black spots, or moss? Are there any missing shingles or tiles? Inquire about the date the roof was replaced.
* Foundation: Do you notice any significant cracks in the foundation? Are there any trees around the foundation? Is there any damp, spongy, or sinking earth around the foundation?
* Windows: Do your windows and doors open and close easily? Do any appear to be misaligned? Is there any moisture around the frames or between the panes?
The Inside Of The House
* Have you noticed any odd odors? Look out for an odor that suggests the presence of mold or mildew.
* Is there any evidence of moisture or water intrusion in the attic or basement? What kind of insulation do you see in an unfinished attic or basement? Is it in decent shape?
* What heating and cooling systems are in existence, and are they operational? To determine the age of the system, look for a serial number or manufacturing date.
* How is the water pressure in the home? Do the fixtures function properly? Are there any indicators of leaks in the under-sink cabinets? What is the age of the water heater?
* Do all of the light switches function properly? Are all of the outlets properly grounded? (If you see any with two prongs, they are most likely not grounded.) Is the house's electrical panel older with fuses, modern with circuit breakers, or both? Outdated wiring can be a hazard in and of itself, as well as a pain to replace.
* What is the condition of major equipment such as the oven, refrigerator, washer, and dryer if included in the sale?
11. Close on the Home
You'll also agree on a closing date for the sale of the property as part of your home offer, which is when ownership of the home passes from the seller to the buyer. You'll need to work with a title firm and your mortgage lender to ensure that all legal and contractual requirements are completed before you can close.
It's critical to work with your realtor, mortgage broker, title company, and any other parties involved in the transaction from the time an offer on a home is accepted until closing to ensure that all outstanding questions are answered, documents are filed, and legal requirements are met during the time between acceptance and closing.
On the plus side, several states don't even require you to be present in-person to sign documents on the day of closing, allowing you to do it remotely. And if you decide to close remotely, you'll also be expected to pay closing costs by electronic or wire transfer, so be sure you understand how transfers work by contacting the institution where the funds are coming from several days before the closure.
What You Need To Bring To The Closing
Ask your mortgage representative, closing agent, or real estate attorney what you'll need to produce at closing well ahead of time. You'll want to have at the very least:
* A driver's license or other kinds of personal identification.
* You'll get the Closing Disclosure three days before closing so you can compare it to the documents you'll be signing.
* For the funds you owe at closing, you'll need a cashier's check or a wire transfer receipt.
If you plan on closing on your home remotely, you should find out from your real estate agent whether the state allows for remote closing and the type of eClosing allowed.
12. Make Final Moving Preparations
Finally, prepare a move-in checklist of any other minor activities that must be accomplished before moving in. Hire movers, file a change of address with the post office, notify your utility companies, and register to vote in your new state, for example. You should also contact your cable and Internet providers and any furniture delivery companies that may be required.
Purchasing a home in another state may necessitate a few more steps and a little ingenuity. After all, you want to find a property you like from afar while still figuring out the logistics of your relocation. Although technology is useful, nothing compares to the efforts of friends, family, new neighbors, relocation specialists, and a reputable real estate company like HomeCity in Texas.
Thinking of purchasing a home in Texas? Why don't you search for your next out-of-state home with BHGRE HomeCity. Feel free to reach out to our qualified and experienced real estate agents for proper assistance regarding your home buying and selling needs.