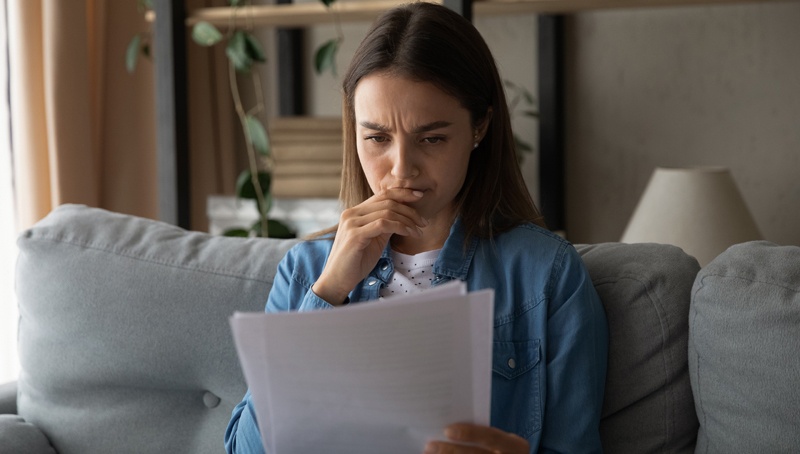 The first thing you'll find in any article about how to secure a home loan is to "check your credit!" As you investigate the housing loan process, you'll discover that practically every aspect is linked to your credit score: whether you can even acquire a loan, the interest rates, the conditions, and the type of insurance you'll need to add.
And if you're like millions of Americans looking to secure a mortgage, you may be asking, can I buy a house with bad credit?
The short answer is: Yes. Even if you have bad credit, you can still enjoy the perks of homeownership. Instead, it may simply necessitate more research while looking for mortgage financing. You can qualify for a mortgage with a government-backed loan, such as an FHA loan, even if your credit score is in the high 500s.
Remember that, while having good credit is crucial, your lender considers other components of your financing. In the following sections, you'll learn several ways to secure a mortgage for your home, even if you have bad credit or low income.
What Do Lenders Consider a Bad Credit Score?
Before we delve into buying a house with bad credit, you should first grasp what mortgage lenders consider to be a bad credit score.
To decipher the table in the previous section, any FICO scores lower than 670 are considered lower end. However, certain mortgage choices are available with credit scores as low as 580. A FICO score of 740 or higher, on the other hand, is deemed "very good" and will assist you in securing the highest available interest rate and mortgage package.
Borrowers with decent, very good, or exceptional credit can obtain almost any mortgage loan they desire. They also usually get offered lower interest rates. However, this does not mean that buyers with lower credit ratings are automatically barred from becoming homeowners.
The most typical type of house loan, a conforming mortgage, accepts credit scores as low as 620. On the other hand, FHA loans require only a 580 score to be accepted by some lenders.
What Score Is Too Low to Buy a House?
Borrowers with credit scores below the 500 mark are less likely to qualify for mortgage loans across mortgage lenders and mortgage programs. Work on getting your score into at least the low 600s before applying for any mortgage loan or credit.
Steps to Buying a House With Bad Credit
When looking to buy a house with bad credit, it is essential that you are aware of what to expect and how to navigate your home buying journey. In this article, we'll show you several ways to buy a house, even with bad credit.
Step 1: Know Your Credit Score
Whatever your financial condition may be, knowing your credit score is an excellent place to start when beginning your home hunt. You'll be able to decide if you need to improve your credit circumstances before applying for a home loan, and it'll also help you assess if lenders are treating you fairly.
Furthermore, you want to be sure that you can qualify for a mortgage before you go through the lengthy process of shopping for a property... Credit Karma and FicoScore both provide free access to your credit score.
Most Texas lenders look at Equifax, Experian, and TransUnion credit reports, and your FICO ratings based on these reports. They will base their decision on your middle score. So, if you have a credit score of 720, 680, and 620, the lender will usually base their decision on the 680 scores.
Step 2: Save Up As Much Cash As You Can
Even if your credit is less than ideal, if you have enough money for a substantial down payment, you may be able to secure a mortgage. Because they have more equity from the outset, many lenders consider borrowers who make a significant down payment on a property less likely to fail on their mortgage.
While a conventional loan can be obtained with as little as a 3% down payment, lenders may be more willing to grant a loan if you can comfortably afford a larger percentage.
Aside from helping you make a bigger down payment, saving enough money can help you qualify for a bigger mortgage. Lenders will look into your bank statements if you apply for a mortgage to ensure you aren't spending all of your money on the house.
Having enough money in the bank means you can cover the down payment and any unforeseen needs that arise, such as home upkeep or repairs, without having to take on more debt. Many lenders search for six months' worth of mortgage payments in savings.
How To Save for a Down Payment
You'll probably question how you will accomplish your savings target once you've set one. While saving money whenever possible is an excellent place to start, here are a few other strategies to expedite the process.
* Ask for a raise
* Start a side hustle
* Use windfall money such as inheritance, stimulus checks, and tax returns
* Explore special programs for home buyers like the Fannie Mae HomeReady mortgage program
* Take advantage of down payment assistance programs like the Austin Down Payment Assistance Program and the Central Texas Home Down Payment Assistance Program.
* Tap into your retirement savings. First-time homebuyers can also tap into an IRA without penalty up to $10,000 for a down payment. However, you should consult a tax professional before withdrawing retirement funds.
Step 3: Budget for Higher Interest Rates
A low credit score indicates that you are a higher risk to lenders. They will often charge a higher interest rate on any loan offers (e.g., a 5 percent annual interest rate instead of 3 percent with a good score).
A higher interest rate means you'll pay more money in interest throughout the loan's life. For instance, if you borrow $120,000 for a 30-year mortgage at a 4.5 percent interest rate, you will pay $98,888 in interest over the life of the loan. If you accept the same loan with a 6% interest rate, you'll pay $139,005. This equates to an additional $40,000 in interest paid on the same amount of principal.
Fortunately, just because you start with a high-interest rate on your mortgage doesn't mean you'll be stuck with it for the rest of your life. When your credit improves, you may be able to refinance your mortgage at a reduced rate.
Step 4: Research Loans With Low Credit Score Requirements
If your credit is 'fair' or 'poor,' you can look into the below loan options. Before applying for any of the mortgage loan programs described below, you should study the typical credit score criteria.
* Conventional loan: Conventional loans require a 5% down payment (3% for special loan programs for low-income applicants), but you'll have to pay private mortgage insurance if you put down less than 20%. In most cases, a credit score of 620 is required. If you have a high income or make a significant down payment, you may be able to qualify even if your credit score is lower than 620.
* FHA loan: Backed by the Federal Housing Administration, FHA loans have less stringent qualification standards, making them excellent for first-time homebuyers. You can qualify for this loan with a 10% down payment and a credit score of 500-579. You can buy with a 3.5 percent down payment if your credit score is 580 or higher. One downside of this loan is that you will be required to pay a mortgage insurance charge for the loan duration.
* VA loan: If you are a veteran or active-duty military member, or if you are married to a veteran or service member, you may be eligible for a VA loan. A down payment is not required when purchasing a home with a VA loan. You will, however, be required to pay a VA funding fee. Although most lenders do not need a minimum credit score, the VA does.
* USDA loan: This loan is backed by the United States Department of Agriculture and is designed to assist low-income borrowers with inadequate credit or a history of credit troubles in purchasing a property with no down payment. Lenders frequently require a minimum credit score of 640, but the USDA has no fixed requirement, so if you want to buy a property in a rural region and have a score lower than 640, you may qualify.
Step 5: Find a Lender You Can Trust
Find a loan officer you can rely on and with whom you feel comfortable asking many questions. This is a crucial step when your credit score is less than ideal, and you're looking for bad credit house loans.
While federal mortgage programs have restrictions that qualified lenders must follow, there is no rule that all lenders must participate in such programs. You may need to contact several lenders to inquire about programs for attempting to buy a house with bad credit.
If you contact a lender who doesn't clearly explain your options or gives you a hard time, they're probably not the right lender for you. The ideal lender will be willing to explain their programs, explain how your profile fits into each one, and openly discuss the terms and repercussions.
Ideally, it is advisable that you pick several lenders with whom you feel comfortable, and then you can compare the terms and rates they offer before making your decision about who to work with.
Step 6: Find a Realtor to Guide You
When looking for a home and working towards a mortgage loan with bad credit, it's vital that everyone is on the same page. It's critical to work with a local realtor that understands your credit situation and can collaborate with your broker. An experienced realtor can make the entire process less stressful while also assisting you in finding a great house at the best price.
A local real estate agent is typically associated with an MLS (multiple listing service), the listing source of all properties for sale in and around your desired location. They can assist you in identifying residential neighborhoods and homes that fulfill your criteria, such as price, location, size, and even house plans that are suitable for your needs. Your agent will also make arrangements for you to view the houses you select.
Working with a local real estate agent like the ones at BHGRE HomeCity to buy a new home might be more advantageous than you can imagine. More importantly, local realtors typically have vast knowledge of an area's comp data which can help ensure you make an attractive offer on a home.
Step 7: Be Prepared for Some Rejections
When you apply for a loan, lenders look at your borrowing history, represented in your credit scores. They want to see a proven track record of borrowing and repaying debts. However, if you haven't borrowed much in the past, or if you've had some difficulties and even defaulted on loans, your loan application may be denied.
If you apply for a mortgage with a bad credit score and history, expect to get rejected by at least one lender. You may need to speak with several brokers or lenders before finding one prepared to take on a risky loan. If your credit score is really low and no lenders appear to be interested, you will most likely need to spend the following 12 months working to improve your creditworthiness before you apply again.
You have the right to ask your lender why they denied your application under the Equal Credit Opportunity Act (ECOA), as long as you do so within 60 days. Following your request for an explanation, the lender must give you a precise rationale for your refusal. You can use the information they provide to assist you in resolving any concerns.
More importantly, your lender and a local realtor may be willing to suggest several ways you can improve your credit score within a shorter time frame.
Options If Your Loan Is Rejected
When a lender rejects your mortgage loan application due to bad credit, it can be an unpleasant experience. While you may be at a loss deciding on what to do, you can take action to improve your chances of approval for future applications. We'll walk you through the steps you need to take following a rejection and options for acquiring financing when a loan is declined due to bad credit.
Get a Co-signer With a Good Credit Score
If you have bad credit, you may want to explore co-signing your mortgage with a family member or friend who has better credit. This can assist in bolstering your application – but only if the co-signer is capable and willing to assume the obligation. Additionally, you may qualify for a greater loan amount with a co-signer, even if you have bad credit, which might provide a larger budget for house hunting.
However, whether you are allowed to have a co-signer is determined by the type of loan you take out. Co-signers are most frequently used on two types of mortgages: conventional and FHA.
If you're applying for a conventional loan with a co-signer, they must sign the loan and promise to repay the mortgage if the principal occupant fails to make payments. However, the co-signer is not required to be listed on the property's title. The lender will consider both your credit and that of the co-signer when determining whether you qualify for a loan.
If you wish to obtain an FHA loan with a co-signer (up to two), your co-signer must be a family member or close friend. More importantly, discuss your decision to add a co-signer with your lender and the requirements for each loan type.
Improve Your Credit Score
While it may take time, establishing or improving your credit will help you meet lenders' minimum credit score requirements when looking to buy a home. Typically, it is legally required of your lender to reveal the reasons behind your rejection, but most of the time, it is going to be one of the following:
* Poor credit score
* Credit report errors
* No credit history
* Debt and other liabilities too high
* Employment history too short or unstable
* Insufficient reserves
* Low down payment
Depending on the reason for your mortgage denial, you may need to follow one or more of the actions below. The more you improve, the more likely you will qualify for a mortgage and earn the best interest rates.
Increase Your Available Credit
Once you've regained control of your finances and begun improving your credit score, increasing your available credit can accelerate the process. This can be accomplished by paying off large amounts or requesting a credit limit increase.
This effort contributes to improving your credit score by lowering your credit utilization, which is a significant factor in determining your score. Bear in mind that it is preferable to have a higher credit score while purchasing a home and applying for mortgages.
And guess what? Most credit card issuers allow you to request as many increases as you like without triggering a hard credit draw.
Add New Accounts
Adding new accounts increases accessible credit and improves your credit mix overall. This is significantly better when done in quantity, as it keeps your credit utilization ratio on track. Your queries will all expire on the same day, any new accounts will age concurrently, and you'll increase the amount of available credit on your credit report.
This update enables you to build a more robust payment history on your credit report. Adding bulk, new accounts to your report typically take less than 30 – 45 days to see the benefits.
Pay For Deletions
A collection is one of the worst things you can have on your credit record. Collections demonstrate to lenders that you owe money to someone and have failed to repay it.
Even if you pay off the collection, it will still appear on your report as "Paid," which is preferable to having an outstanding collection. However, if you make a late payment, a more preferable option is to request that the late payments be removed from your credit report.
Make sure you get the transaction in writing before paying for removals. It will appear that you never got the collection, raising your credit score and providing lenders one less cause to reject you.
Stay Away From Hard Credit Inquiries
While obtaining an insurance quote will not affect your credit score, applying for new credit will. Having excessive hard inquiries on your credit report is not a good thing.
When applying for any financial transaction that needs a credit check, always verify if the credit check is a hard or soft draw. Avoid anything that requires a hard pull when you apply for a mortgage.
Frequently Asked Questions
Below are several frequently asked questions (and answers) regarding buying a house with bad credit and low income.
What's the lowest credit score to buy a house?
While the minimum credit score for a mortgage is ultimately determined by the loan type, it usually varies between 580 and 620. Minimum credit score criteria for various types of mortgages vary. And even if your credit score is 500, which is considered very low by the FICO criteria, you may still have a chance to acquire your dream home.
Can I buy a house with under a 500 credit score?
While getting a mortgage from a hard money lender is possible if your credit score is below 500, it is not advisable due to the unfavorable loan terms and interest rate. At BHGRE HomeCity, we always advise our readers to improve their credit before applying for a mortgage loan.
How can I buy a bad credit and low-income house?
Despite a low income and credit, you must first determine which mortgage programs will accept your application to purchase a home. Several popular options include the following:
* FHA loans (allow low–income buyers to put down as little as 3.5 percent with a 580 credit score).
* USDA loans (for low–income buyers in rural and suburban areas).
* VA loans (zero–down loans for veterans and service members).
* HomeReady or Home Possible conforming loans (for low–income buyers to put down as little as 3 percent).
Alternatively, you can apply for a mortgage jointly with a co-borrower and qualify based on your combined income and credit.
How do I get a mortgage with no credit?
While obtaining a mortgage without a credit score will require additional documentation, it is not impossible. Numerous loan programs now accept borrowers with no credit history as long as they can make the down and monthly mortgage payments.
FHA loans are offered to first–time home buyers who have 'weak credit' or no credit at all. Most mortgage lenders provide these loans, but you'll need to hunt around for one that has a lenient credit policy.
Conventional mortgages, VA loans, and USDA loans may be available. However, the eligibility requirements for these mortgages are slightly tighter for borrowers with no credit history. Additionally, it may be more challenging to locate a willing lender.
In general, borrowers with no credit score can obtain approval for items such as:
* Rent
* Utilities
* Insurance
* Childcare
* School tuition
* Internet or cell phone services
* Car lease
If you are applying for a mortgage with no credit history, manual underwriting may be required. If one lender declined your application due to this reason, contact more lenders until one accepts your application.
What's the easiest mortgage to qualify for?
A mortgage sponsored by the Federal Housing Administration (FHA) may be easier to qualify for than a conventional loan. Because the FHA insures the mortgage, FHA-approved lenders can offer first-time homeowners more favorable rates and terms. It is common for borrowers to get approved for an FHA mortgage loan even with bad credit and low income.
Final Thoughts
Even if you have bad credit, you can still enjoy the perks of homeownership. Instead, it may simply necessitate more research while looking for mortgage financing.
Thinking of purchasing a home in Texas with bad credit? Search for your next home with BHGRE HomeCity. Our team of experienced real estate agents are on standby to answer any question or concern you may have about buying a house with bad credit.