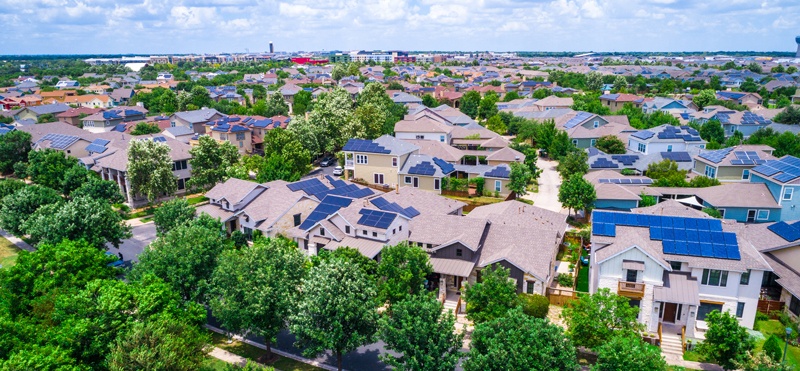 You're all set with your down payment. Your credit score is now greater than it has ever been. You've got a local real estate agent lined up. You're about to hit "submit" on that mortgage pre-approval application when you pause to ask: is this the right time of the year to buy a home in Austin?
Timing determines so much when you're buying a house. And for many real estate experts, the best time to buy a house in Austin is usually late summer or early fall when home prices are low, and inventory is high.
However, while the best time to buy a house is when you're ready both financially and emotionally, other factors such as seasonality can impact different parts of the home-buying process.
Keep reading to learn how the time of year affects home buying, plus other factors to consider. From there, we'll show you how to score a great home deal in Austin.
What Is the Best Time of Year to Buy a House in Austin?
Your readiness to stop renting and buy a house isn't just affected by your financial circumstances. It's also determined by seasonality and the current state of your local real estate market.
And with thousands of potential home buyers relocating to the Austin region each year, knowing the right time of the year to buy a house in Austin can help you get the best bang for your buck.
Buying a House in Spring
Welcome to the peak months for both property supply and the number of home buyers looking for a home. Because most families want to move after their children are out of school, there's a significant incentive to buy a property this time of year, especially because many home buyers need to allow 30 to 60 days for closing.
Warmer weather also makes open houses more entertaining, landscaping easier to judge, and inspections more thorough. Despite being widely recognized as the best time of year to buy a home, there are some drawbacks to the spring market.
To begin with, you'll face more competition from other home buyers, which means you'll need to act quickly when a nice property comes on the market. Bidding wars are more common, you have less negotiation leverage, and home prices tend to rise in the spring.
Buying a House in Summer
The summer is still a busy buying season, but you can get a great deal if you're willing to sit tight until the end of the season. This is because the market is full of battle-ready buyers early in the season. Like spring, be ready to move quickly.
Expect to come in with a firm offer and not just on price. Sellers want to go with a buyer who is serious and can close the deal. If you need to sell your home to purchase a new one, it's a perfect time to do so. There's a better chance you can time your sale and purchase together since many buyers are on the hunt.
The market slows down a bit in most Austin areas as it gets closer to August. This means you are more likely to find great deals as we approach late August because sellers tend to slash prices even further. However, if you need to get into a home before this time, expect to pay top dollar and move quickly with your offer.
Buying a House in Winter
Winter isn't such a bad time to buy a house in Austin. Though there is less inventory — fewer homes for sale — there are also fewer home buyers, so you have less competition.
That implies there's a decreased chance of a bidding war, which can be a stressful experience for property purchasers. Another benefit of buying a home in Austin during the winter months is that home prices are often the lowest they'll be all year.
Still, there are certain disadvantages to purchasing a home between January and March. Snow or ice may make it difficult to drive around and examine homes, or to conduct a complete home inspection of some aspects, such as a roof.
Buying a House in Fall
Outside of winter, buying a house in the fall can be ideal for cash-strapped home buyers. One of the main reasons why fall is a great time to buy a house is that sellers often have an increased urgency to sell after the summer months come to an end. Just as you may not want to be in the middle of a move in the depths of winter, neither do the sellers. This means that sellers are more eager to sell and buyers can score better deals.
Fall also brings a less saturated market of buyers, as those looking to purchase a new home with children will often be dissuaded during term time. Not wanting to disrupt the education of their children, many parents will wait until spring or summer break before resuming their property search. With fewer people looking to buy a house, there are fewer people who can swoop in and buy your perfect home before you have the chance.
And with increased urgency to sell comes more potential for price cuts. This scramble to complete a move before the holidays means the price that sellers are willing to accept may become lower. This means you could find your dream home and pay under the asking price for it.
What Is the Best Month to Buy a House in Austin?
Nailing down a specific month to buy a house in Austin will depend on your goals and the real estate market. If your goal is to find an abundance of choice along with a deal, the best month to buy a house in Austin is September.
This is because inventory is still abundant in early fall, but the market has cooled off enough for you to negotiate a reasonable price. However, if you're after the best possible price, January and February are the most likely to offer that.
Going by the ABOR market data as presented in the following table, in 2021, the best time to buy a house was probably around September—when existing home prices had a pretty nice drop of $15,000 and inventory was around 1.1 months. October wasn't too bad either with a price jump of $11,000 and a drop in inventory of 0.1 months.
Now compare that to buyers who waited until December—home prices went up $30,000 and inventory dropped by 0.6 months! However, January and February of 2022 provided a bit of relief for homebuyers in terms of home price but inventory was at its lowest.
If you plan on getting the best housing deal in Austin as a buyer, it's best to team up with a real estate agent who works in your area, as they'll be the local expert. Working with real estate agencies like the BHGRE HomeCity can help you find suitable months and homes that suit your budget and home-buying needs.
Is the Austin Market Cooling?
When compared to previous years, it is apparent that the Austin housing market is gradually cooling. According to a report from Realtor.com, the asking price for properties in the Austin metro region decreased 10.3% from June to September 2022, the largest drop among all major U.S. metro areas surveyed.
And with the percentage of home sellers who reduced their initial asking price increased by roughly 252% since last year, local market experts believe the housing market has normalized. On top of that, the current Austin housing market is now characterized by increasing inventory for buyers, fewer multiple offers, and sales prices mostly at or below list prices.
In addition, a market report by the Austin Board of Realtors revealed that the Austin-Round Rock MSA housing market continues its normalizing trend, with months of inventory rising from 2.4 months to 3.0 months. And for the first time since 2019, the Austin-Round Rock MSA median sales price did not increase, remaining flat, at 0% growth versus 2021.
Predictions for the Coming Years
It is no longer news that the Austin real estate market was one of the hottest in the country throughout 2021 and into 2022. This was partly due to an inflow of buyers from other sections of the country as part of a pandemic-fueled nationwide home purchasing spree. While no one can accurately foresee future economic or housing patterns, we can make educated guesses based on existing situations.
More Inventory for Home Buyers: For the majority of 2021 and Q1 of 2022, the limiting factor for many homebuyers was the historically low inventory of homes for sale in Austin. Every media story you read at the time warned that there were not enough homes for sale, but that changed in 2022.

Since April 2022, the number of active for sale listings in Austin has increased monthly. Dampened buyer demand driven by higher mortgage rates has allowed the inventory of homes for sale to build. As a result, listings are sitting on the market for weeks or months compared to the weekend bidding wars of 2021 and early 2022 that felt more like auctions than home sales.

And with months of inventory rising from 2.4 months to 3.0 months in November, there is hope for homebuyers in 2023 in terms of available inventories. As a result, home buyers looking to make a home purchase this year will undoubtedly have more properties to choose from than those who bought a home in 2021 or early 2022.
Additional (Though Slower) Home-Price Growth: It's relatively straightforward to forecast that home prices in Austin will continue to rise in 2023, but at a slower rate than in prior years. Between 2016 and 2022, the median home price of homes in the Austin area more than doubled. However, the rate of increase in housing prices has continued to experience a decline in the second half of 2022 and into 2023.

And with the introduction of more houses on the market in the latter part of 2022, many sellers were forced to lower their asking prices to entice buyers. This approach is expected to continue in 2023, making it one of our top predictions for the Austin real estate market.