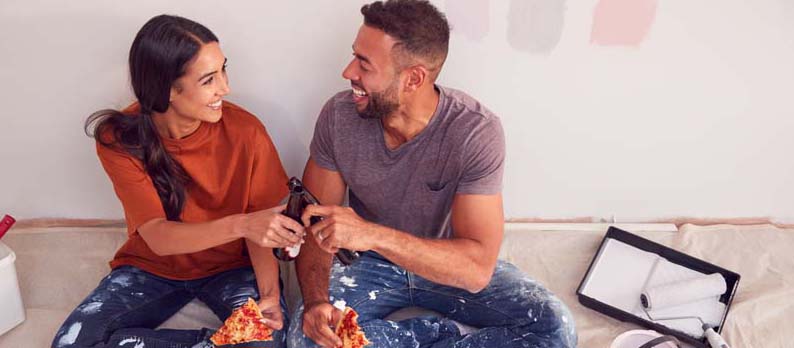 Buying a home may be an exciting as well as overwhelming experience—especially for first-time buyers. Though buying a home can be a daunting endeavor, understanding the process can make the process a lot more enjoyable. You'll feel much more in control of the situation if you fully comprehend what's going on and what needs to be done at each stage.
While it's important to know what you should do as you prepare to buy a home, it's also important to know what you should avoid doing if you want the home-buying process to go successfully.
We've compiled a list of frequent first-time homebuyer pitfalls and tips on how to avoid them as you embark on your first home-buying journey! Here are 16 tips for first-time home buyers.
1. Always Get Preapproved For a Mortgage
Pitfall: Not Being Approved for a Mortgage
With around 87 percent of recent buyers financing their house purchase, qualifying for a mortgage is one of the most challenging aspects of the typical home buying process. However, if you're serious about buying a new house, being pre-approved is an essential step.
It can help expedite the process once you've found the perfect home, and it can also signal to sellers that you're a serious buyer. Unfortunately, many first-time homebuyers are either unaware of the opportunity to be pre-approved for a mortgage or completely disregard it.
Solution: Get Pre-Approved Before Touring Homes
Once you've determined that purchasing a house is something you'd want to explore and you're ready to begin finding the perfect property in Texas, start the pre-approval process with one or more mortgage lenders in your area. During the pre-approval process, you may have to submit several personal and financial documents to a lender. So come prepared!
2. Choose a Home That You Can Afford
Pitfall: Purchasing a Home That's Out of Your Comfortable Price Range
Many first-time homebuyers are unaware of how much they can afford to spend on a house. This is not entirely surprising, given that there are numerous aspects to consider when considering how much money you should save aside for a down payment on a property. As a result, it's all too easy to fall in love with a more expensive home than your budget allows.
Solution: Budget Realistically Before You Start Your Home Search
Start by finding what home price range is affordable, what's a stretch, and what's aggressive. Work with a mortgage lender to determine how much you can afford to spend and stick to a budget that you are comfortable with!
Remember that you'll be paying more than just the mortgage charges each month, so remember to include taxes, utilities, mortgage insurance, and other expenses when calculating your monthly payment. You should also estimate your closing fees to know how much money you'll need upfront before you start paying your monthly mortgage.
3. Utilize Low Down Payment Mortgages
Pitfall: Waiting to Save 20 percent for Down Payment Before Buying
It's a frequent myth in finance and real estate that you need a 20% down payment to buy a house, but this is not true. According to a recent NAR report, the average first-time homebuyer puts a six percent down payment.
A more significant down payment can get you a better rate, lower your monthly payment, and improve your equity, so it's a good option if you can afford it. However, you can purchase a property with as little as 3% down or finance the entire mortgage. Different loans have different credit scores and down payment requirements, and none of them start at 20%.
Solution: Choose a Down Payment That Works For Your Timeline
Determine the appropriate down payment amount depending on your specific financial goals and budget. You don't want to spend all of your savings on a down payment, so don't be discouraged by other purchasers' substantial down payments.
More importantly, you should look at government-backed loans, such as VA and USDA loans, which allow you to make a zero-down payment if you qualify. There are also FHA loans available to people who meet the criteria.
4. Get Your Finances in Order
Pitfall: Failing to Do a Personal Credit Check Before Applying for Mortgages
With the average credit score for a first-time homebuyer being 725, having an excellent credit score can earn you some of the most incredible loan terms.
In addition, if you are a first-time homebuyer applying for a mortgage, your lender will check your credit report as part of the pre-approval process. While it is normal for some house purchasers not to conduct personal credit checks, checking your credit score can help you determine what loans you are eligible for, allowing you to make the best personal option.
Solution: Get a Personal Credit Check Before Applying for a Mortgage
Check your credit report for free before you apply for a mortgage or begin your home-buying process. Checking your credit report early on also allows you to detect and remedy any errors and address any unfavorable marks on your record. You can also attempt to improve your credit to get a cheaper interest rate and additional loan possibilities.
5. Choose Your Agent Carefully
Pitfall: Failing to Work With Realtor With Solid Experience
Buying a home for the first time may be immensely confusing, involving everything from home financing jargon to sophisticated contractual obligations. Fortunately, a first-time homebuyer who selects a real estate agent with the requisite skills and expertise is doing themselves a favor. Unfortunately, the same may not be applicable to a first-time home buyer who does not work with a seasoned Realtor.
Solution: Interview Several Agents Before Choosing
With 87% of buyers recently purchasing their home through a real estate agent or broker, a first-time homebuyer must choose a reputable and experienced buyer's agent to guide them through the entire process. A top-tier Realtor should be well-versed in the local market and capable of handling all legalities. Read our article on questions to ask a Realtor here.
6. Keep Certain Credit Lines Open
Pitfall: Closing All Credit Lines Prior to Applying For a Mortgage
Just as opening new lines of credit can influence your credit and ability to qualify for a mortgage, so can closing lines of credit during the home buying process. FICO calculates your credit score depending on the number of active/healthy credit lines. If you have three credit lines and decide to close two credit cards before getting your credit pulled, it might significantly lower your score!
Solution: Keep All Credit Lines Open Until Your Mortgage Application Is Approved
Consider your options carefully before canceling any accounts or credit lines while you are obtaining a mortgage. If you're unsure whether closing an account would affect your credit, consult with your mortgage lender before proceeding.
7. Remember There Are Other Mortgage Costs
Pitfall: Saving Only for a Down Payment
One of the many mistakes potential home buyers make is failing to budget for other costs associated with buying a home. The cost of buying a home, especially in Texas, goes beyond the typical mortgage down payment. As a potential home buyer, you will need to pay for homeowners insurance, mortgage insurance, property tax, months of mortgage payments, closing costs, and other living expenses.
Solution: Budget Enough For All Closing Costs
While your down payment will account for a bulk of your home savings, it is not the only cost to consider. When you buy a property, you will be responsible for any closing costs. Closing costs may comprise the following items:
* A down payment of at least 3% of the home's purchasing price is required.
* Loan origination fees are 1% of the purchase price of the house.
* The cost of title insurance varies depending on where you live.
* 1 year of premiums for homeowner's insurance
* Private mortgage insurance — a one-time fee or monthly installments
* 6 months of property tax
* Escrow fees are 2% of the home's purchasing price.
You should also save money for your move-in expenses. This may be as little as a couple of hundred dollars for skilled movers. You might also want to put up a fence or get new kitchen appliances. You'll be able to estimate your moving costs better once you've chosen a home, but you should budget for these extra charges from the start.
8. Tour Many Houses
Pitfall: Settling for the First House You Visit
The process of looking for a home can seem interminable. According to a National Association of Realtors (NAR) report, the average homebuyer will visit 10 homes over ten weeks before finding "the one"—that special place that inspires an offer. This may not be the case in fast-moving markets like Austin, Texas, however, so being prepared and realistic about your timeline is crucial.
Solution: Check Out Several Houses, Virtually and In-Person
Before you "officially" start touring homes, do a good amount of online research to decide on features and layouts you like. Decide what your "make or break" items are, and what neighborhoods you want to live in. In hot markets, you may need to put in an offer the same day you view a home, but try to tour at least two or three that day so that you have some comparison.
If you're in a less hot market, use that to your advantage and tour as many homes as you can before deciding. Choosing a home that you believe is ideal for you is critical in terms of amenities, location, and price.
Thinking of buying a house in Texas? Start here today.
9. Insist On a Home Inspection
Pitfall: Failing to Conduct A Home Inspection
Home inspectors will assess a home to identify severe structural flaws, home repairs, and the condition of included appliances. Their purpose is to ensure that the house is habitable and that everyone understands the residence's condition before the transaction is finalized.
Homebuyers may forego an inspection to save money and time upfront while making an appealing offer to the seller. In addition, it can help you win the offer in a competitive market. Still, it can be a costly mistake if you discover substantial damage after you close, especially when you consider that 86 percent of house inspectors find at least one needed repair.
Solution: Hire an Experienced Inspector
Consult your real estate agent, as well as friends and relatives, for advice on house inspectors. Homebuyers can save at least $14,000 in negotiation by performing a home inspection, according to a recent Porch report. You can use the home inspector's report to determine whether the house is suitable for you and negotiate any necessary repairs.
10. Deposit Sourced Funds
Pitfall: Depositing Funds Without a Paper Trail Into Your Account for Mortgage Costs
Many first-time homebuyers try to save every penny they can while saving for a property. This frequently entails putting money from various sources into a single account. Banks want to see money in your account when applying for a mortgage, but they don't want to see unsourced deposits.
Solution: Have a Detailed Explanation for All Account Inflow and Outflow
If you intend to make any large deposits or transfers around the time you apply for a mortgage, explain where the funds came from! Banks dislike hearing that you had the money lying around the house.
11. Do a Serious Assessment of the Potential Neighborhood
Pitfall: Choosing a Neighborhood in Haste
You may have found the house of your dreams, but have you taken a close look at the community in which it is located? Of course, there's nothing wrong with buying a home in a borderline community – and there's a significant upside if you get in early on in an up-and-coming neighborhood – but you must consider the consequences of your home choice.
The first potential issue? You might not enjoy living there. If there are always parking challenges or you have to drive a long distance to get to the store, you may grow to dislike your current location. And if property values remain low, you may have difficulty selling it when you're ready to move on.
Solution: Research the Neighborhood Before You Commit
Before buying a new house, you should thoroughly investigate the neighborhood you intend to relocate to. To make an educated decision:
* Understand the facts. Discover the neighborhood's crime figures, school quality, road conditions, and future development plans, among other things.
* Walk around the neighborhood. Visit at various times of the day and strike up talks with your neighbors.
* Do some online research. A quick Google Maps search can show you if there are any nearby schools, food stores, physicians, transit stops, and other amenities.
12. Apply Logic When Buying a Home
Pitfall: Making Home Buying Decisions Without Regulating Emotions
Purchasing your first house is a financial as well as an emotional commitment. However, when you go to an auction or an open house and convey your enthusiasm to the real estate agent, you may fall in love with a property.
This could cause you to overlook flaws in the home that otherwise would have been deal-breakers. In addition, being emotionally attached to a home makes weighing the price vs value more challenging.
Solution: Create a List of Non-Negotiables and Stick to It
While it may be difficult not to exhibit your feelings when you fall in love with the house and are already visualizing how it will look once you move in, avoid rose-colored glasses. Compare your list to the house and if there are too many deal-breakers, be realistic about what it will cost to fix them.
Another idea? Read about the home, its likely price, and the neighborhood before you visit so that you are an informed buyer. By doing so, you can avoid making a rash decision.
13. Take Your Time With the Closing Process
Pitfall: Rushing Through the Home Buying Process
It might be challenging to wait for the home buying process to complete once you've located the right home. While it usually takes four weeks at the low end to six months (or more) to shop for and close on a house, some first-time homebuyers try to speed up the process by skipping the home inspection and foregoing other critical stages. Unfortunately, this can lead to issues and unforeseen costs on the road.
Solution: Don't Cut Corners
Be prepared for the home-buying process to take time. Even if everything goes smoothly, it can take 4 to 6 weeks from the moment an offer is accepted to the date you close on the house and can formally move in. Try to be patient and resist the urge to skip steps to expedite the procedure. You'll most likely come to regret it afterward.
14. Avoid Changing Jobs During the Mortgage Process
Pitfall: Quitting or Changing Jobs During The Mortgage Process
This may seem obvious, but many people looking for a home will relocate and begin a new job. Quitting or changing jobs while amid the mortgage procedure could complicate matters. In addition, just because you've been preapproved doesn't mean you'll be able to get a loan if your income suddenly drops.
Solution: Stick With Your Current Position Until Closing If Possible
Plan to be employed for the entirety of the home-buying process, and make alternative plans if this is not possible. You'll want to be sure you have a consistent and predictable income before taking on a mortgage that must be paid monthly. Most lenders will carefully verify that you can make the monthly payments before agreeing to issue you a loan.
15. Buy With a Long-Term Plan in Mind
Pitfall: Buying A Home For a Short Term Stay
Purchasing a home is a significant financial investment, and you want to stay long enough to establish equity. Of course, your first home does not have to be your forever home, but establishing a long-term plan might help you find a house that meets your lifestyle goals.
Solution: Identify Your Short and Long Time Goals for a Purchase
Long-term demands, such as a growing family or career aspirations, must be balanced with what you can afford and what is available in the places you tour. Good local schools and parks are ideal if you plan to have children, although public transportation and walkability may be something you want short term.
Keep an eye on housing values and economic activities in the region. Are housing prices increasing or decreasing? Are businesses expanding or contracting? What's going on in the area can tell you how valuable a neighborhood is. It may take a bit longer to discover a home that will be a solid long-term investment, but it is worth it, especially for your first home.
16. Take Advantage of First-Time Home Buyer Assistance
Pitfall: Not Researching All Options Available To You
Many individuals are unaware that there are first-time homebuyer programs and subsidies available to assist you in paying to buy a property. According to a recent Urban Institute Report, there are over 2,500 grant and loan programs in the United States, with at least two active programs in each state.
These programs are only available in certain states and towns, so check your local government websites to see if you qualify for further funding. There are also several national programs to assist low- to moderate-income house purchasers in purchasing a home with as little as 3% down.
Solution: Research and Apply to Various First-Time Home Buyer Assistance Programs
Begin with the National Homebuyers Fund, which provides low-income buyers with grants. But don't stop there; each state has its subsidies, down payment assistance programs, and other support for first-time home purchasers. In addition, the Department of Housing and Urban Development (HUD) has a list of local initiatives that can be of assistance.
Some institutions, such as Bank of America and Chase, also connect homebuyers with down payment grants and other forms of assistance. You can also reach out to your local community banks and credit unions in addition to the major corporate banks since they may have their local initiatives.
17. Apply to FHA, VA & USDA Loans
Pitfall: Overlooking Government-Backed Loan Programs
When it comes to mortgages, most first-time homebuyers think of conventional loans — but alternative forms of home loans that are sometimes overlooked may be more inexpensive. Some of these mortgage loans demand no down payment, have a lower credit score requirement, and offer a variety of down payment assistance packages.
Solution: Research and Apply to Both Conventional and Government-Backed Loans to Find the Best Rates
As a first-time homebuyer, learning about the various mortgage programs and their services is the first step toward obtaining a great mortgage. Then, compare different offers to understand how the term of your mortgage will affect your monthly payments and total interest.
* The Federal Housing Administration created the FHA mortgage program primarily to assist first-time homebuyers with low incomes and less-than-perfect credit. With a credit score of 580, you may be able to qualify for a 3.5 percent down payment loan. Borrowers with credit scores ranging from 500 to 579 can also be eligible for only a 10% down payment.
* VA loans are hard to beat for service veterans. For qualified customers, these come with an unbeatable 0 percent down payment.
* Buyers in rural areas can also take advantage of 0% down payment loans from the United States Department of Agriculture (USDA).
Why Home Buying Is Getting Harder For First-Time Buyers
2021 and 2022 may have been a roller coaster for prospective homebuyers, but reports suggest that the property market in 2023 may be slowing down.
As a result, prices may see a slight correction, or at least stagnation, which is good news for first-time home buyers!
While it's tough out there for first-time homebuyers, remember— if the numbers work for you, now is still a good moment to buy a house.
Buying a home for the first time provides you with a strong sense of independence. It's vital, however, to avoid making mistakes that will land you in hot water for years to come. Hopefully, you can avoid some of the above-mentioned first-time house buyer blunders and have a positive buying experience.
Make sure you choose a great local real estate agent to deal with and rely on their knowledge. Unfortunately, many buyers choose an agent randomly, leading to a very unpleasant experience.
Are you ready to begin your home-buying experience in Texas? BHGRE HomeCity can help you find your new home.