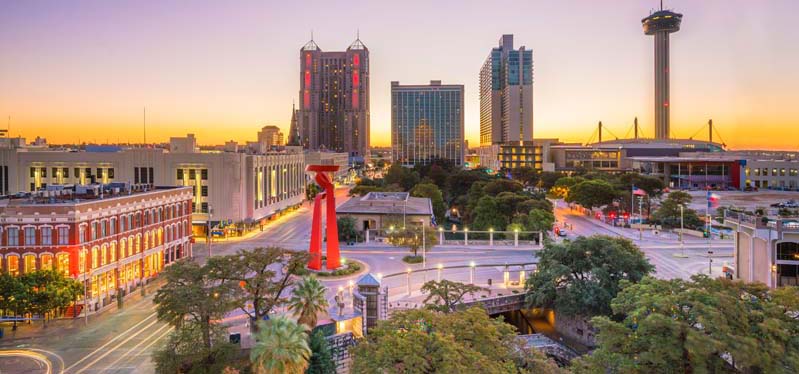 If you're looking for a great place to buy a house, then the lovely city of San Antonio, Texas might just be your final destination. Thanks to its booming economy, thriving employment market, and numerous recreational amenities, it's quite easy to see why around 13,626 people moved to the region over the last year.
And while San Antonio is considered one of the affordable housing markets in the state of Texas, it is still a seller's market due to the lack of housing inventory to match its rising housing demands.
In this guide, we'll give you all the information you need to make an informed purchasing decision, especially as a first-time home buyer in San Antonio. We'll start by discussing the current state of the San Antonio housing market, trends, first-time home buying tips, and top neighborhoods to buy a house in San Antonio.
Whether you're a first-time buyer or an experienced homeowner, this guide has something for you! Here are some tips you should know if you're considering buying a home in the competitive San Antonio housing market.
Key San Antonio Real Estate Market Stats
According to experts, the San Antonio real estate market is expected to outperform other Texas cities in 2022, with home values rising by 3.5 percent by year's end. In fact, Curbed named San Antonio one of the top five places where homes could be a solid investment in 2020 a few years ago.
Twenty-four months later, it appears that Curbed's prognosis of the San Antonio real estate market outperforming was correct. According to the San Antonio Board of Realtors (SABOR), the median price of a single-family house in San Antonio has climbed by 16% in the last year (as of May 2022), but the days on market has decreased to 27 from 34 at the same time last year.
Below are some key market stats in San Antonio real estate:
* In San Antonio, home values have risen by 24.8 percent in the last year.
* San Antonio property values have soared by roughly 67 percent in the last five years.
* According to Realtor.com statistics from November 2021, the median listing price of properties in San Antonio is $295,000.
* A single-family home offered for sale in San Antonio costs $164 per square foot.
* According to Realtor.com, the most expensive neighborhood in San Antonio is Downtown San Antonio, which has a typical listing price of $699,000.
* Prospect Hill has the lowest median listing price in San Antonio, at $147,800.
San Antonio Housing Market Trends
It is no longer news that housing market trends in San Antonio have been impacted by the pandemic or efforts made by the economy to lessen its effects. In reality, low-interest rates and government stimulus measures have led to a surge in demand for years.
The market doesn't show signs of cooling anytime soon, but The Fed's most recent move to raise interest rates by 75 basis points could signal a turn in the tide. Let's examine the history of San Antonio's housing market patterns and where they are most likely to go over the next 12 months as the Fed fights inflation:
House Supply Trends:
It is no longer news that the pandemic has failed to slow down the San Antonio housing market. The San Antonio area's housing market is hot as demand outpaces supply. Although the growth is beneficial for many participants (sellers) in the local market, supply patterns need to improve significantly before they reach a balanced state.
According to local realtors, the new housing stock is growing faster than demand, though it has a long way to go to catch up. This scarcity of inventory, or available properties, is what keeps prices high and creates a seller's market. The time spent on the market now is about a month and 7 days less than last year.
The Fed's move to raise interest rates is anticipated to reduce demand and somewhat boost inventory. The San Antonio real estate market will likely experience further price increases in the interim due to low inventory levels.
Home Price Trends:
Over the past year, the local housing market has seen a 24.8 percent gain in value. The rise corresponds with historically low-interest rates and extensive government stimulus measures. The San Antonio housing market tendencies that we have been seeing are anticipated to persist in the future.
Due to supply and demand issues, prices are expected to appreciate over the course of the following year. The predicted slower rate of appreciation could be brought on by multiple additional rate hikes, which could make buying a home in San Antonio even more challenging.
Interest Rate Trends:
In an effort to fight inflation, interest rates have been rising throughout 2022. The average commitment rate for a 30-year fixed-rate mortgage increased from 3.45 percent to 5.23 percent over the first half of the year. The rate increase is one of the highest increases in recent memory and could keep rising.
As a result, the demand for homes in San Antonio should eventually begin to even out. The rate hike could discourage purchasers from entering the market and could finally put a halt to the current historic appreciation rates.
When Is the Best Time To Buy A Home In San Antonio
Many prospective homeowners wonder, "When is the best time to buy a property in San Antonio?" It depends, is the answer. There are many months in San Antonio that are great for purchasing a new house, depending on what is most essential to you.
Best Months For:
For those looking to buy a home in San Antonio, the best time to buy is always right now. While certain months may be better than others due to the aforementioned causes, the cost of real estate in San Antonio is generally rising. The earlier you begin the home-buying process, the better the deal you will get in the long run—and the more equity you will develop in the home.
A Quick Guide For First-Time Homebuyers in San Antonio
Being a first-time home buyer in San Antonio is an exciting experience, but it can quickly become daunting. Banks, real estate agents, sellers, mortgages, and house inspections can quickly add stress to the home-buying process. Several simple recommendations, however, can assist to shorten the process and make buying a property a lot more enjoyable.
1. Understand Your Credit
One of the best things you can do when you start the planning process and start to think more critically about your finances is to assess and improve your credit health. Lenders who are considering you for a mortgage won't only look at the figure; they'll also review the information on your credit report to get a better idea of your overall financial situation.
Find out what is on your credit report, and work with the credit agency to correct any errors or concerns. If you want to apply for a mortgage in the near future, here are a few pointers:
* Pay down any outstanding sums on credit cards or trade lines.
* Don't shut down any old credit lines. Having older credit lines is a component of the FICO scoring methodology, and the longer you have had solid credit, the higher your score will be.
* Don't start too many new business lines shortly before applying for a mortgage. All obligations from newly created credit will be added to your overall debt to income ratio, reducing your purchasing power.
2. Nail Down Your Budget
Consider not just how much house you can afford, but also how much you can shoulder in ongoing expenses after you've bought your home. While the three main monthly costs of homeownership are a mortgage, insurance, and property taxes, you'll also have to pay for utilities and maybe HOA dues. It's also a good idea to set aside some cash on a regular basis to cover maintenance and unforeseen problems.
According to Steve Sivak, a certified financial planner and managing partner of Innovate Wealth in Pittsburgh, "as a matter of thumb, I encourage clients to prepare to spend 1 percent to 3 percent of the value of their homes each year on residential [expenses]". If the property you eventually purchase is larger, older, or has facilities that require a lot of maintenance, like a pool, you might need to set aside extra money.
3. Shop Multiple Lenders
By now, you ought to be aware of your ideal monthly payment, the geographic locations you can afford, and down payment. It's time to start looking for a mortgage!
You can determine whether now is a good time to lock in your rate by comparing mortgage rates from various lenders and mortgage types. Although there are affordable rates and services available in the San Antonio real estate market, pay special attention to the response and communication of the lenders, says DiBugnara, president of New York City-based Home Qualified, an online resource for homebuyers.
It's a good idea to pay attention to all of the mortgage's terms as well, not simply the rates you're being given. How much do late fees cost? How much will it likely cost to close? Is there a penalty for early payment?
Will you receive a better deal if you are able to obtain a mortgage through the bank with which you currently have an account? If the loan's overall terms are better, it may make sense to select one with a somewhat higher interest rate.
4. Get Pre-Approved
Once you have chosen a lender, the next step is to get pre-approved for a mortgage. Pre-approval is a formal letter from a lender outlining the exact amount of credit they will offer you, as opposed to prequalification, which is a prediction of the size of the loan you might be able to acquire.
Once your offer has been accepted and you are ready to apply for your loan, having a preapproval will make the process much simpler and place you in a much stronger position when you are making an offer on a home.
Pre-approvals typically go invalid after 90 days; find out how long yours will be valid by speaking with your lender. You might want to apply for a preapproval right away if you're a first-time home buyer with a lot of debt or average credit so that you can identify problems to fix.
Once you have a preapproval in place, stay keeping to your budget and savings strategy and keep making timely payments on all obligations. More importantly, avoid unusual purchases and do not incur further debt.
5. Hire a Local Real Estate Agent
After you have your financing squared away and a preapproval letter in hand, your next step as a first-time homebuyer looking to buy a house in San Antonio is to hire a real estate agent.
An experienced real estate agent who knows the area you're looking to buy in especially well can advise you on market conditions and whether homes you want to make offers on are priced properly. Your agent can also identify potential issues with a home or neighborhood you're unaware of, and go to bat for you to negotiate pricing and terms.
"As a buyer, it costs you nothing to work with a Realtor, but they can save a lot of time and hassle [in your search]," says Lindsay Shores, assistant manager of Real Estate Originations with SchoolsFirst Federal Credit Union in Sacramento.
"You can start by asking friends, relatives, or co-workers for referrals. Don't just pick [an agent] blindly — make sure it's someone who works in the general area you're looking in and whom you feel comfortable with. And despite the competitive San Antonio housing market, new listings come up every day, and a good Realtor will be on top of that and get you to see new listings as soon as they become available."
What to look for in a REALTOR®
When buying a home, it's important that you find a knowledgeable, reputable REALTOR® specific to your needs and personality.
* You'll want to ensure that your agent is certified in all the necessary areas. For example, if you're working with luxury real estate, you might want to check and see if your real estate agent has experience with upper-tier home sales.
* Your agent should know the San Antonio area very well so that he or she can help you find the right neighborhood for you. Since San Antonio is quite spread out, there is a lot of ground to cover. If you choose a real estate agent who isn't familiar with the city, there's a real chance you could miss out on the best home for you and your family.
* Ensure your locally sourced real estate agent also has connections with local lenders, builders, or others who might need to be involved in your home buying process.
6. Research the Market
While you don't have to be an expert, knowing what the real estate market is like when you're seeking to buy a home helps save you from getting caught off guard by unexpected trends and will enable you to work out a better game plan with your agent.
Examine the appreciation rates, mortgage interest rates, housing price increase rate over the last ten years, available inventory, and median offer prices when investigating the San Antonio housing market. Your real estate agent should be able to present you with comp data so that you may conduct a comprehensive analysis.
The San Antonio housing market, for example, exhibits many of the same features as the national real estate market in terms of increasing demands. Local property prices, in particular, continue to hit new highs, inventory remains limited, and demand remains strong. For all intents and purposes, the San Antonio real estate market is humming along; there simply aren't enough listings to meet demand. As a result, prices are increasing.
7. Draw Up a List of Needs & Wants
As you become more serious about purchasing a new house and the enthusiasm associated with it grows, you will need to sit down and consider what is most essential to you and what is less important to you.
When you initially meet with your real estate agent, they will almost certainly ask you to sit down and develop a list of everything you want in your future house. By doing so, your real estate agent will be able to better assist you in finding a house that suits your criteria.
Sometimes you don't know what you want in a house until you start looking at them. For example, you may have thought you wanted 1,500 square feet of living space, but after visiting numerous homes of that size, you realize you need more like 2,000 square feet to suit your family. The larger square foot home has now become a NEED rather than a WANT.
8. Don't Be Afraid to Ask Questions
This is all new to you, and that's fine. When you start your home-buying search for the first time, it's natural to have a lot of questions. So, ask away! Your representative will gladly assist you in understanding the process.
Asking questions and actually listening to the answers can broaden your knowledge of a situation, allowing you to learn more and ask even better questions that will make your life as a first-time buyer much easier. However, a tip is that you don't have to wait until you start the procedure to start asking questions.
Even if you just starting to consider becoming a homeowner, you can meet with a mortgage lender to determine where you stand. Also, ask yourself questions. Do you intend to stay in this area for the foreseeable future? The average mortgage length is 30 years. Do you intend to start a family? Keep school districts in mind.
9. Check Out Several Areas
There's a reason why the phrase "location, location, location" is so popular in real estate. The address of your home can have a considerable impact on its value as an investment. And if you intend to live in the house for even a short time, you should make sure it's a place where you feel at ease. Before buying a home in San Antonio, consider the following:
* Lifestyle and preferences: Are you looking for a calm suburban home or a downtown condo? Do you want an acre of land or do you want to forego lawn care entirely? Are you happy with a house on a busy road, or do you prefer something more secluded? Having these basic lifestyle criteria can assist you in narrowing your search.
* The school district: If you have children or intend to have children in the future, school districts may be an important consideration in your home search. Schools can have an impact not just on your children's education, but also on property prices.
* Property taxes: Look at the last decade of property taxes in the counties where you're interested in viewing properties to get a sense of how your property taxes may fluctuate over time. Property tax increases aren't always a bad thing; they can be a sign of growth, improvement, and additional services and resources for residents. Just make sure to factor the expenditures into your budget.
* The neighborhood and its environs: Investigate total livability scores for characteristics such as crime, amenities, and walkability. Consider driving around any potential neighborhoods to examine how well-kept the homes, streets, and local parks are.
* Future zoning and infrastructure: Inquire with your real estate agent and/or the listing agent about any major changes anticipated for the region. Are there any major development or infrastructure projects in the works? New projects can bring more traffic, but they can also imply higher property values.
Consideration of these location-specific factors will help you get a better idea of where you would like to buy a house in San Antonio.
10. Research First-Time Homebuyer Programs
Knowing the many mortgage options you have available to you is crucial when you're ready to buy a home in San Antonio as a first-time home buyer. The down payment and closing costs can quickly pile up, which many first-time buyers are unaware of. Fortunately, there are a number of down payment assistance programs in San Antonio and the State of Texas that help first-time homebuyers afford to own a home.
When looking at housing choices in Texas, it's a good idea to start with the Texas Department of Housing and Community Affairs. Below are several first-time homebuyer programs available to home buyers in San Antonio and the state of Texas in general.
Mortgage Credit Certificate Program in Texas
The Texas Mortgage Credit Certificate Program is one well-known Texas home purchase program. The Texas Mortgage Credit Certificate Program (MCC), often known as a tax credit, lowers qualified buyers' federal income taxes when they purchase a qualified house.
The amount of the yearly tax credit provided by the MCC program might be anywhere between 20 and 25 percent of the annual interest paid on the mortgage loan.
You must be a first-time home buyer, a veteran, or a buyer who hasn't bought a house in the previous three years in order to qualify for the Texas Mortgage Credit Certificate Program. A vast network of collaborating lenders makes the service accessible statewide. Additionally, there is no required minimum FICO score for the standalone MCC option.
My First Loan for a Texas Mortgage
Homebuyers who qualify can choose from a variety of mortgage choices from My First Texas Mortgage Loans that include down payment and closing cost help. Both first-time homebuyers and former homeowners have options available through this lending program.
Numerous government financing alternatives, including FHA loans, VA and USDA structured loans, as well as programs for down payment and closing cost assistance up to 5% of the loan amount are available. The advantages of both programs may also be obtained by combining a My First Texas Mortgage with a Texas Mortgage Credit Certificate.
Texas Heroes Program's Home
For those looking to buy a house in a community-focused profession, the Homes For Texas Heroes program offers options and help. Public school teachers, incarceration officers, emergency medical technicians, firemen, police officers, school counselors, school nurses, veterans, and active military members are among the occupations that qualify.
The program's financial requirements are quite similar to those of many other Texas homebuying programs, with the exception that you don't have to be a first-time buyer. Several affordable 30-year fixed-rate loans are available through this loan program, and down payment assistance up to 5% of the loan amount is available as a grant (i.e., it never needs to be repaid).
Statewide access to the Home For Texas Heroes program is provided by a network of cooperating lenders. However, extended income and purchase price limits can be applied in selected areas. Income limits would vary by county.
Best Places to Buy a Home in San Antonio
Looking for the ideal neighborhood in San Antonio to purchase a home? You'll be happy to learn that the San Antonio real estate market is incredibly diverse, whether you already reside in Alamo City or are moving to Texas from another state. The top five San Antonio areas to buy a home are listed below!
1. Alta Vista
Median Home Price: $390,499
Located only a few miles north of the city center is Alta Vista, a beloved old San Antonio neighborhood. Alta Vista, which is tucked away between I-10, I-35, and Highway 281 between Tobin Hill and Monte Vista, is close to San Antonio College and just a short drive from San Pedro Springs Park, the second-oldest park in the country. It is also not far from San Antonio College.
In the early 1900s, the area was primarily made up of single-family homes; today, it also includes apartments. Alta Vista residents are assigned to the San Antonio Independent School District and are most likely to attend Cotton Elementary, Mark Twain Middle, and Edison High.
This neighborhood caters to everyone from young people to retirees because of its proximity to Fort Sam Houston, Trinity University, the University of the Incarnate Word, and businesses located in downtown San Antonio. The homes in Alta Vista range from Victorian to bungalows with the median listing price around $370,000.
The San Antonio Botanical Gardens, the San Antonio Zoo, the Witte Museum, the DoSeum, the well-known Pearl Brewery district, the Riverwalk, and the Brackenridge Golf Course are just a few of the nearby attractions for visitors looking for dining and entertainment within a short drive.
2. Northwest Crossing
Average Home Price: $275,000
Another popular San Antonio neighborhood for property buyers is Northwest Crossing! Northwest Crossing is a great place for San Antonio residents of all lifestyles who are ready to settle down, offering affordable real estate, roomy residential neighborhoods, a variety of neighborhood parks, and housing options ranging from ranch-style homes to enormous Craftsman houses.
The neighborhood's western boundary is marked by Loop 1604, which offers rapid access to important local employers like Valero and the San Antonio Medical Center as well as convenient commutes into the city. Families will also be pleased to discover that the area has top-notch schools including John B. Connally Middle School and Northwest Crossing Elementary School.
With 35 acres of parkland, walking trails, clubhouses, a soccer field, and a sports facility, NWC is a close-knit community. The homeowner organization has carefully thought out programs that go with each amenity. A classic example of community programming is the swim squad for young kids that competes in the summer league.
3. Stone Oak
Average Home Price: $502,000
Stone Oak's distinctive master-planned structure welcomes everything from entertainment and leisure to commerce and medicine. It was initially intended with varied land uses to support community growth. Around Stone Oak's vibrant heart, the surrounding community has developed, elevating its subdivisions from peripheral subdivisions to sought-after, up-and-coming San Antonio real estate.
Even though Stone Oak may be one of San Antonio's larger neighborhoods, a variety of homes can be found here in over twenty different subdivisions, including the Canyons, the Glen, the Heights, the Hills, Mesa Verde, the Springs, Stone Oak Meadows, Stone Oak Parke, Stone Oak Villas, The Forest, The Gardens, Panther Creek, The Villages, The Summit, the Vistas, and The Ridge (among others).
When compared to properties in gated communities like The Heights and The Forest, many homes in Stone Oak were developed in the early 1990s and sell for roughly $250,000. Although Stone Oak properties for sale currently range in price from $255,000 to over $1 million, the typical listing price is $460,000 for all of them.
Homes in Stone Oak are either zoned to attend the renowned Comal Independent School District or the prestigious North East Independent School District, which adds to the neighborhood's popularity.
4. Windcrest
Average Home Price: $313,000
The incorporated municipality of Windcrest, located at the intersection of I-35 and Loop 410, expertly combines the conveniences and urban appeal of the Eastern I-35 corridor with the attractions of uptown San Antonio.
Windcrest offers a distinctive perspective on the metro region and is within a short drive from Randolph AFB and 15 miles east of the iconic Alamo Heights neighborhood. In order to build a real neighborhood where individuals might live and raise their children in peace and safety, Windcrest was established in 1959.
With only 5,364 people as of today, this city is still a modest, cozy community on the verge of becoming a bustling metropolis. Despite being a small town, Windcrest is committed to giving its citizens all they could possibly want.
The city preserves rich green areas and neighborhood amenities such as lovely parks, gazebos, picturesque walking trails, baseball fields, a peaceful duck pond, a 9-hole golf course, a swimming pool, and a well-known Christmas light display. Roosevelt High School, Edward H. White Middle School, and Windcrest Elementary School are often the designated schools for students living in this area. The Academy of Creative Education is one of the private institutions in the region.
Windcrest real estate is found on calm streets and features everything from charming mid-century architecture to contemporary style. With a median listing price of $359,900, costs might range from $300,000 to $500,000. The price per square foot is now around $143.
5. Alamo Heights
Average Home Price: $765,000
If one thing is certain about Alamo Heights, it's that there's no such thing as "standard" or tract builders in the area. The homes along the tree-lined avenues of Alamo Heights can vary greatly in style, amenities, and cost because many of them were constructed in the early 20th century.
Many of the residences have been either recently built or tastefully refurbished, and they range from tiny, endearing cottages to enormous, opulent Mediterranean manors. Alamo Heights is home to some of San Antonio's wealthiest citizens, but there are also plenty of homes in that neighborhood that are for sale for between $250,000 and $350,000.
Alamo Heights offers a top-notch school system in addition to good walkability, a lot of green space and things to do, and some of San Antonio's greatest restaurants. Parents can feel secure sending their kids to reputable schools like Alamo Heights High School and Cambridge Elementary.
Residents in Alamo Heights can marvel at the impressive McNay collection—which includes more than 22,000 paintings, sculptures, and installations—at Texas' first museum of modern art, McNay Art Museum. Hike, birdwatch, or enjoy a bike ride through the scenic Jack Judson Nature Trails.
There are many great reasons to buy a house in San Antonio. From its awesome entertainment scene to diverse culture, San Antonio is also a great place to live due to its growing job market and range of affordable housing.
And with the San Antonio market experiencing several changes, it can be challenging to keep up with some of the latest home buying trends. That is why it is important to have a local real estate company like BHGRE HomeCity by your side all throughout the home buying process. Reach out to us today to get started.